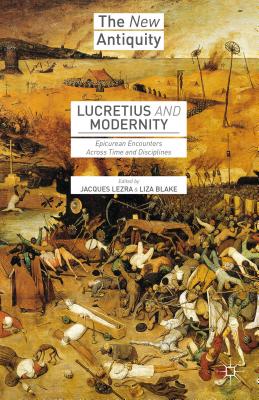 Lucretius and Modernity
Epicurean Encounters Across Time and Disciplines (New Antiquity)
Paperback

* Individual store prices may vary.
Other Editions of This Title:
Hardcover (1/27/2016)
Description
Lucretius's shadow is long and extends across the Humanities. Bringing together essays by scholars at the top of their field, this book examines the relationship between Lucretius and modernity. Nuanced and passionate, these essays offer an account of what is at stake when we claim Lucretius for modernity.
Palgrave MacMillan, 9781137591890, 225pp.
Publication Date: February 10, 2016
About the Author
Jacques Lezra is Professor of Spanish and Comparative Literature at New York University, and a member of the Departments of English and German. He is the co-editor of Dictionary of Untranslatables (Princeton, 2014), with Emily Apter and Michael Wood; the author of Wild Materialism: The Ethic of Terror and the Modern Republic (Fordham, 2010; Spanish translation 2012; Chinese translation 2013); and the editor of the Northwestern University Press book series IDIOM, with Paul North. Lezra won the PEN Critical Editions Award for his translation into Spanish of Paul de Man's Blindness and Insight. Liza Blake is an Assistant Professor of English and Drama at the University of Toronto Mississauga and an Assistant Professor in the Graduate Department of English at the University of Toronto. She has published in the journals postmedieval and SEL: Studies in English Literature, and in the edited volumes Ornamentalism: The Art of Renaissance Accessories, ed. Bella Mirabella, Speculative Medievalisms: Discography, ed. Eileen Joy et al, and the Palgrave Handbook of Early Modern Literature, Science, and Culture, ed. Evelyn Tribble and Howard Marchitello, forthcoming 2015.