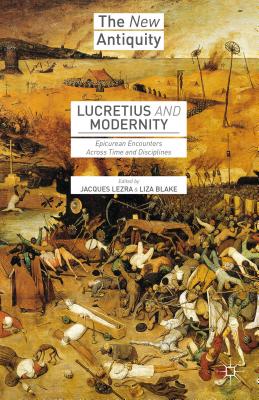 Lucretius and Modernity (Paperback)
Epicurean Encounters Across Time and Disciplines (New Antiquity)
Palgrave MacMillan, 9781137591890, 225pp.
Publication Date: February 10, 2016
* Individual store prices may vary.
Description
Lucretius's long shadow falls across the disciplines of literary history and criticism, philosophy, religious studies, classics, political philosophy, and the history of science. The best recent example is Stephen Greenblatt's popular account of the Roman poet's De Rerum Natura (On the Nature of Things) rediscovery by Poggio Bracciolini, and of its reception in early modernity, winner of both a Pulitzer Prize and National Book Award. Despite the poem's newfound influence and visibility, very little cross-disciplinary conversation has taken place. This edited collection brings together essays by distinguished scholars to examine the relationship between Lucretius and modernity. Key questions weaving this book's ideas and arguments together: What is the relation between literary form and philosophical argument? How does the text of De rerum natura allow itself to be used, at different historical moments and to different ends? What counts as reason for Lucretius? Together, these essays present a nuanced, skeptical, passionate, historically sensitive, and complicated account of what is at stake when we claim Lucretius for modernity.
About the Author
Jacques Lezra is Professor of Spanish and Comparative Literature at New York University, and a member of the Departments of English and German. He is the co-editor of Dictionary of Untranslatables (Princeton, 2014), with Emily Apter and Michael Wood; the author of Wild Materialism: The Ethic of Terror and the Modern Republic (Fordham, 2010; Spanish translation 2012; Chinese translation 2013); and the editor of the Northwestern University Press book series IDIOM, with Paul North. Lezra won the PEN Critical Editions Award for his translation into Spanish of Paul de Man's Blindness and Insight. Liza Blake is an Assistant Professor of English and Drama at the University of Toronto Mississauga and an Assistant Professor in the Graduate Department of English at the University of Toronto. She has published in the journals postmedieval and SEL: Studies in English Literature, and in the edited volumes Ornamentalism: The Art of Renaissance Accessories, ed. Bella Mirabella, Speculative Medievalisms: Discography, ed. Eileen Joy et al, and the Palgrave Handbook of Early Modern Literature, Science, and Culture, ed. Evelyn Tribble and Howard Marchitello, forthcoming 2015.