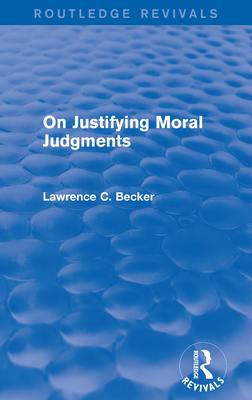 On Justifying Moral Judgements (Routledge Revivals)
Paperback

* Individual store prices may vary.
Other Editions of This Title:
Hardcover (1/20/2014)
Description
Much discussion of morality presupposes that moral judgments are always, at bottom, arbitrary. Moral scepticism, or at least moral relativism, has become common currency among the liberally educated. This remains the case even while political crises become intractable, and it is increasingly apparent that the scope of public policy formulated with no reference to moral justification is extremely limited.
The thesis of On Justifying Moral Judgments insists, on the contrary, that rigorous justifications are possible for moral judgments. Crucially, Becker argues for the coordination of the three main approaches to moral theory: axiology, deontology, and agent morality. A pluralistic account of the concept of value is expounded, and a solution to the problem of ultimate justification is suggested. Analyses of valuation, evaluation, the 'is-ought' issue, and the concepts of obligation, responsibility and the good person are all incorporated into the main line of argument.
Routledge, 9781138016750, 200pp.
Publication Date: April 2, 2021
or
Not Currently Available for Direct Purchase