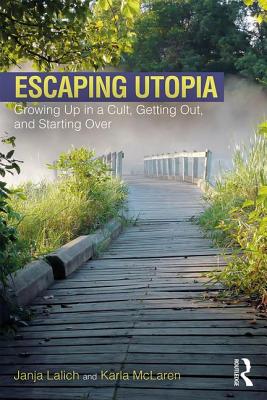 Escaping Utopia
Growing Up in a Cult, Getting Out, and Starting Over
Paperback

* Individual store prices may vary.
Other Editions of This Title:
Digital Audiobook (12/4/2019)
Hardcover (8/24/2017)
Description
We think of cults as bizarre, inexplicable, or otherworldly places that only strange people inhabit, but cults and other abusive and high-demand groups (and relationships) are actually quite commonplace. In fact, the behaviors, social pressures, and authoritarian structures that create cults exist to a greater or lesser extent in every human relationship and every human group.
In the first in-depth research of its kind, the author interviewed sixty-five people who were born in or grew up in thirty-nine different cultic groups spanning more than a dozen countries. What's especially interesting about these individuals is that they each left the cult on their own, without outside help or internal support. In Escaping Utopia: Growing Up in a Cult, Getting Out, and Starting Over, the authors craft Lalich's original and groundbreaking research into an accessible and engaging book, the first of its kind focusing on this particular population.
Routledge, 9781138239746, 176pp.
Publication Date: October 1, 2017
About the Author
Janja Lalich is a researcher, author, and educator specializing in self-sealing systems (cults, terrorist groups, situations of undue influence, and ideological extremism), with a particular focus on recruitment, indoctrination, and methods of influence and control. She is Professor Emerita of Sociology at California State University, Chico and has been studying the social psychology of controversial groups and exploitative and abusive relationships for thirty years.Her publications include Take Back Your Life: Recovering from Cults and Abusive Relationships (Bay Tree Press 2006) and Bounded Choice: True Believers and Charismatic Cults (University of California Press 2004).Karla McLaren is an award-winning author and social science researcher who grew up in a New Age healing cult in the San Francisco Bay Area. Her recent publications include The Art of Empathy: A Complete Guide to Life's Most Essential Skill (Sounds True 2013) and The Language of Emotions: What Your Feelings Are Trying to Tell You (Sounds True 2010).