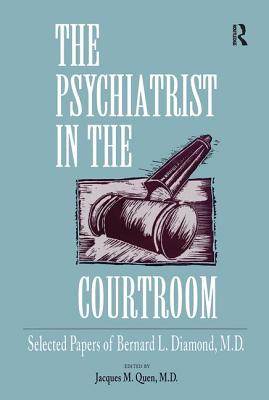 The Psychiatrist in the Courtroom
Selected Papers of Bernard L. Diamond, M.D.
Paperback

* Individual store prices may vary.
Other Editions of This Title:
Hardcover (1/1/1995)
Description
Over the course of an illustrious career, the late Bernard Diamond established himself as the preeminent forensic psychiatrist of the century. The Psychiatrist in the Courtroom brings together in a single volume Diamond's pivotal contributions to a variety of important issues, including the nature of diminished capacity, the fallacy of the impartial expert, the predictability of dangerousness, and the unacceptability of hypnotically facilitated memory in courtroom proceedings. Ably introduced and edited by Jacques M. Quen, M.D., a close colleague of Diamond's and leading historian of forensic psychiatry, these writings enable experts and neophytes alike to track Diamond's evolving positions while clarifying where current legal and psychiatric opinion converge -- and diverge -- on a host of critical topics.
For the forensic specialist,
The Psychiatrist in the Courtroom
is not only an invaluable reference work but a compassionate reminder of the clinician's obligation to protect patients in legal proceedings. And in an age when clinicians are increasingly called into court, the book will be no less valuable to psychoanalysts and other mental health professionals eager for an introduction to the intricacies of judicial reasoning. Then, too, owing to Diamond's clinical acumen, the book is a compelling human document. With great erudition and deep compassion, Diamond tackles these and other knotty questions, always with an eye to clarifying the legal and clinical implications of the answers. By combining superb clinical gifts with an incisive understanding of legal principle, Diamond produced a seminal corpus whose relevance to discussions of therapeutic ethics and to legal debates will continue well into the next century.
Routledge, 9781138881617, 376pp.
Publication Date: January 23, 2019