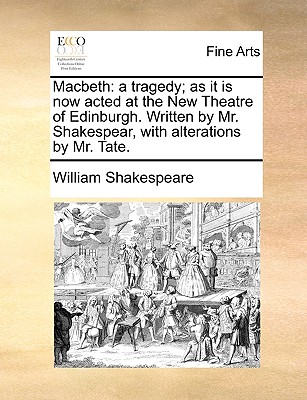 Macbeth (Paperback)
A Tragedy; As It Is Now Acted at the New Theatre of Edinburgh. Written by Mr. Shakespear, with Alterations by Mr. Tate
Gale Ecco, Print Editions, 9781170968680, 86pp.
Publication Date: June 10, 2010
Other Editions of This Title:
Paperback (3/1/2010)
Paperback (5/29/2010)
Paperback (4/20/2019)
Paperback (7/9/2019)
Paperback (1/23/2019)
Paperback (3/4/2009)
Paperback (5/29/2010)
Paperback (2/11/2009)
Paperback (7/17/2019)
Paperback (5/29/2010)
Paperback (11/14/2017)
Paperback (6/4/2019)
Paperback (5/20/2009)
Paperback (6/22/2017)
Paperback (5/2/2016)
Paperback (5/30/2019)
Hardcover (10/17/2018)
Hardcover (11/2/2015)
Paperback (11/13/2018)
* Individual store prices may vary.
Description
The 18th century was a wealth of knowledge, exploration and rapidly growing technology and expanding record-keeping made possible by advances in the printing press. In its determination to preserve the century of revolution, Gale initiated a revolution of its own: digitization of epic proportions to preserve these invaluable works in the largest archive of its kind. Now for the first time these high-quality digital copies of original 18th century manuscripts are available in print, making them highly accessible to libraries, undergraduate students, and independent scholars.The eighteenth-century fascination with Greek and Roman antiquity followed the systematic excavation of the ruins at Pompeii and Herculaneum in southern Italy; and after 1750 a neoclassical style dominated all artistic fields. The titles here trace developments in mostly English-language works on painting, sculpture, architecture, music, theater, and other disciplines. Instructional works on musical instruments, catalogs of art objects, comic operas, and more are also included. ++++The below data was compiled from various identification fields in the bibliographic record of this title. This data is provided as an additional tool in helping to insure edition identification: ++++National Library of ScotlandT170599Edinburgh: printed by T. and W. Ruddimans for Allan Ramsay, 1731. 2],72p.; 12.