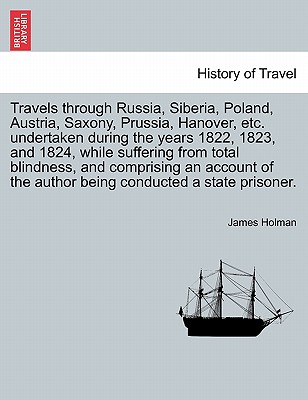 Travels Through Russia, Siberia, Poland, Austria, Saxony, Prussia, Hanover, Etc. Undertaken During the Years 1822, 1823, and 1824, While Suffering fro
Paperback

* Individual store prices may vary.
Other Editions of This Title:
Paperback (10/21/2013)
Hardcover (8/22/2015)
Hardcover (8/22/2015)
Paperback (2/1/2018)
Paperback (2/1/2018)
Paperback (1/10/2011)
Hardcover (4/28/2016)
Hardcover (5/20/2016)
Hardcover (5/22/2016)
Paperback (2/8/2018)
Hardcover (9/2/2015)
Description
Title: Travels through Russia, Siberia, Poland, Austria, Saxony, Prussia, Hanover, etc. undertaken during the years 1822, 1823, and 1824, while suffering from total blindness, and comprising an account of the author being conducted a state prisoner from the eastern parts of Siberia.Publisher: British Library, Historical Print EditionsThe British Library is the national library of the United Kingdom. It is one of the world's largest research libraries holding over 150 million items in all known languages and formats: books, journals, newspapers, sound recordings, patents, maps, stamps, prints and much more. Its collections include around 14 million books, along with substantial additional collections of manuscripts and historical items dating back as far as 300 BC.The HISTORY OF TRAVEL collection includes books from the British Library digitised by Microsoft. This collection contains personal narratives, travel guides and documentary accounts by Victorian travelers, male and female. Also included are pamphlets, travel guides, and personal narratives of trips to and around the Americas, the Indies, Europe, Africa and the Middle East. ++++The below data was compiled from various identification fields in the bibliographic record of this title. This data is provided as an additional tool in helping to insure edition identification: ++++ British Library Holman, James; 1832. 2 vol.; 8 . 10292.d.13.
British Library, Historical Print Editions, 9781241336691, 848pp.
Publication Date: March 24, 2011