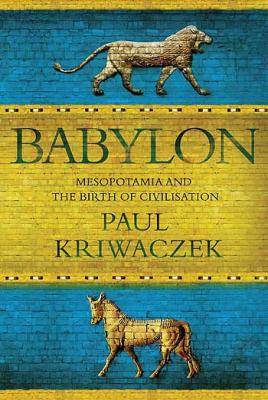 Babylon (Hardcover)
Mesopotamia and the Birth of Civilization
Thomas Dunne Books, 9781250000071, 320pp.
Publication Date: March 27, 2012
Other Editions of This Title:
Paperback (3/27/2012)
Paperback (3/1/2012)
* Individual store prices may vary.
Description
Civilization was born eight thousand years ago, between the floodplains of the Tigris and Euphrates rivers, when migrants from the surrounding mountains and deserts began to create increasingly sophisticated urban societies. In the cities that they built, half of human history took place.
In "Babylon, "Paul Kriwaczek tells the story of Mesopotamia from the earliest settlements seven thousand years ago to the eclipse of Babylon in the sixth century BCE. Bringing the people of this land to life in vibrant detail, the author chronicles the rise and fall of power during this period and explores the political and social systems, as well as the technical and cultural innovations, which made this land extraordinary. At the heart of this book is the story of Babylon, which rose to prominence under the Amorite king Hammurabi from about 1800 BCE. Even as Babylon's fortunes waxed and waned, it never lost its allure as the ancient world's greatest city.
Engaging and compelling, "Babylon "reveals the splendor of the ancient world that laid the foundation for civilization itself.
About the Author
PAUL KRIWACZEK was born in Vienna. He travelled extensively in Asia and Africa before developing a career in broadcasting and journalist. In 1970, he joined the BBC full-time and wrote, produced, and directed for twenty-five years. He also served as head of Central Asian Affairs at the BBC World Service. He is the author of "Yiddish Civilisation: The Rise and Fall of a Forgotten Nation, "which was shortlisted for the Jewish Quarterly Wingate Literary Award, as well as "In Search of Zarathustra: The First Prophet and the Ideas that Changed the World."
Praise For Babylon: Mesopotamia and the Birth of Civilization…
Praise for Babylon
"The lively mixture of topicality, politics, history, myth and culture in this anecdote is typical of Babylon at its best."
--The Independent (UK)
"Historical detail gives authority to this tale of human misery and military magnificence."
--The Times (UK)
"Eloquent and consistently thought-provoking account of ancient Mesopotamia."
--Scotland on Sunday
Praise for Yiddish Civilisation
"An outstanding survey of a civilization that endured against great odds but has now essentially vanished."
--Booklist (starred)
Praise for In Search of Zarathustra
"A landmark book."
--Library Journal
"Lively and fast-paced."
 --Publishers Weekly
or
Not Currently Available for Direct Purchase