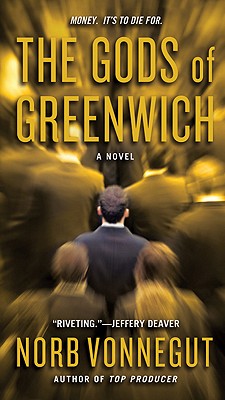 The Gods of Greenwich
Mass Market Paperbound

* Individual store prices may vary.
Other Editions of This Title:
Digital Audiobook (4/25/2011)
MP3 CD (4/26/2011)
MP3 CD (4/26/2011)
Compact Disc (4/26/2011)
Hardcover (4/26/2011)
Compact Disc (4/26/2011)
Compact Disc (4/26/2011)
Description
Norb Vonnegut's "Top Producer "met "the gold standard for financial thrillers" as it put the "frenzied, cutthroat world of Wall Street on brilliant display ("Publishers Weekly," starred review). Now the author, a veteran wealth manager, lends an explosive insider's perspective to the high-stakes, winner-takes-all world of hedge funds in
Jimmy Cusack is the tough kid from a blue-collar neighborhood who made good on Wall Street. Well, almost. After a sterling start to his career, things have suddenly soured
His hedge fund has collapsed. The bank is foreclosing on his upscale condominium. And Jimmy's wife is two months' pregnant. That's the good news. When Cusack is met with an offer he can't refuse, he takes a job with LeeWell Capital. Based in the affluent enclave of Greenwich, Connecticut, LeeWell is a fund that's impervious to the capital market woes and is guaranteed to bring in billions. But making big money always comes with a cost. And soon Jimmy will have to pay the price
Praise For The Gods of Greenwich…
"A riveting thriller… racing relentlessly from the bedrooms of Manhattan to the boardrooms of Connecticut to the banks of Iceland. Bravo!" —Jeffery Deaver, New York Times bestselling author of Edge
"The pieces of this plot mesh as smoothly as a well executed trade."—Bloomberg News
"Frighteningly plausible...a recession-era nail-biter."—HedgeCo.net
"A first-rate thriller."—Library Journal
"This is way beyond just being a fast-paced financial thriller. I've not read such a rich portrayal of downfall through hubris since Tom Wolfe's Bonfire Of The Vanities."—Peter James, internationally bestselling author of Dead Like You
"The Gods of Greenwich is compelling, suspenseful, high-energy, a terrific read!"—Thomas B. Sawyer, bestselling author of No Place to Run and head writer of Murder, She Wrote
"A fast-paced and satisfying locomotive of a financial-based thriller, Dominick Dunne meets Barbarians at the Gate. Vonnegut has opened the vaults of Greenwich's elite, and oh what secrets and schemes pour out! "—Andrew Gross, #1 bestselling James Patterson co-author
"Vonnegut follows his debut, Top Producer, with another invigorating dip into the shark pool of Wall Street's hedge fund industry…Vonnegut, a financial professional himself, not only gets the language and tone of Wall Street right but has an instinctive feel for dialogue and action. Especially enjoyable is the rip-roaring finale at the Bronx Zoo."—Publishers Weekly
Top Producer
"Norb Vonnegut, who has made a career out of wealth management, pulls off a compelling thriller that centers on the murder of hedge-fund schemer Charlie Kelemen: He's tossed into a public aquarium and munched by sharks…This novel ponders the age-old ramifications of greed, but Vonnegut gives it a fresh, timely twist." —USA Today

"Vonnegut's debut meets the gold standard for financial thrillers as it puts the frenzied, cutthroat world of Wall Street's best stockbrokers (aka the 'top producers') on brilliant display. Ripples from the bizarre murder of Charlie Kelemen, wealthy hedge fund operator, quickly reach his best friend, Grove O'Rourke. A top producer at the boutique investment bank Sachs, Kidder and Carnegie, O'Rourke tries to help Kelemen's widow sort out some financial questions. This process leads him deeper and deeper into a labyrinth of deceit. As fallout from Charlie's death and dealings start to taint O'Rourke, the sharks, inside and outside his own firm, smell blood and begin to circle. O'Rourke won't go down without a fight, and not all the blood in the water will be his. Vonnegut, himself a veteran fund manager, handles the arcane terminology and slang of Wall Street with aplomb, never letting it get in the way of the story." —Publishers Weekly (starred review)

"An entertaining debut…The story mirrors reality—in ways that may now surprise even its author, who finished the book before the economic meltdown. The two decades Vonnegut spent as a wealth advisor are evident in the venom he brings to descriptions and in his grasp of the cutthroat world of finance."—SmartMoney magazine  (A Smart Book "Best Of" pick)
"Norb Vonnegut makes a sterling debut in Top Producer, a financial thriller extraordinaire that reads like a 2009 version of Tom Wolfe s brilliant Bonfire of the Vanities for a world that has lost its taste for Wall Street excesses….A former wealth manager himself, Vonnegut paints a vivid picture of life lived between million-dollar trades. But he also writes with an aplomb that makes Top Producer a literary reimagining of the film Wall Street where murder, as well as money, never sleeps." —Providence Journal-Bulletin
"Shockingly accurate."—Bloomberg on the Economy
"Though it's hard these days to feel sympathy for investment bankers and stockbrokers, Vonnegut makes his irreverent protagonist someone we can root for as he pursues crooks who use the redemptive language of hedge funds to hide financial malfeasance. A promising debut."
—Library Journal

"Norb Vonnegut's Top Producer begins where Liar's Poker and The Bonfire of the Vanities left off and puts an electrifying spin on the winner-take-all culture of Wall Street. Turn to the first page and plunge into the shark-infested waters of high finance and greed." —Brent Ghelfi, ITW Award-nominated author of Volk's Game and The Venona Cable

"A timely read as Vonnegut opens the kimono exposing the intricate cause and effect of finance and murder. He shares his well-earned insights and literary acumen in a manner that entices the reader to reach out for the next chapter.  A must for all investors wishing to avoid the next Bernie Madoff!" —Joe Grano, Former CEO UBS/PaineWebber
"Vonnegut knows what he's talking about." —Cosmopolitan book editor John Searles, The Today Show
St. Martin's Press, 9781250000354, 496pp.
Publication Date: January 3, 2012
About the Author
NORB VONNEGUT writes thrillers about the people of Wall Street their quirks, their behavior, the things that happen behind closed doors and seldom make it to the business media. He has appeared on "Bloomberg News" as well as the Judith Regan and Laura Ingraham shows. "Top Producer, " his debut novel, was a featured pick of "Today, SmartMoney" and is published in eight languages. Norb spent most of his long career in wealth management with Morgan Stanley. A Harvard graduate, he is a trustee with the American Foundation for the Blind and bicycles whenever possible. Visit norbvonnegut.com or Acrimoney.com to learn more."
or
Not Currently Available for Direct Purchase