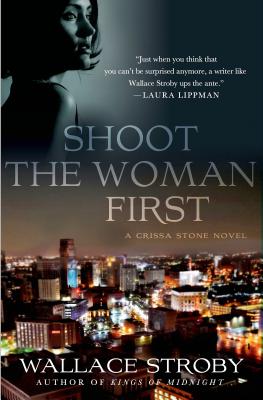 Shoot the Woman First (Hardcover)
Minotaur Books, 9781250000385, 288pp.
Publication Date: December 3, 2013
* Individual store prices may vary.
Description
A half million dollars in drug proceeds, guarded by three men with automatic weapons. For Wallace Stroby's determined heroine, professional thief Crissa Stone, and her team, stealing it was the easy part. But when the split goes awry in a blaze of gunfire, Crissa finds herself on the run with a duffel bag of stolen cash, bound by a promise to deliver part of the take to the needy family of one of her slain partners.
In pursuit are the drug kingpin's lethal lieutenants and a former Detroit cop with his own deadly agenda. They think the money's there for the taking, for whoever finds her first. But Crissa doesn't plan to give it up without a fight, even as her mission of mercy puts her and a young child in mortal danger, with forces on both sides of the law closing in. After all, a debt is a debt even if it has to be paid in blood.
With "Shoot the Woman First," Wallace Stroby delivers another powerful, lyrical novel, his third featuring one of the most original female characters in hardboiled fiction.
About the Author
WALLACE STROBY is an award-winning journalist and a former editor at The Star-Ledger in Newark, New Jersey. Shoot the Woman First is his sixth novel, following the acclaimed Kings of Midnight. He lives in New Jersey. The Crissa Stone novels are in development for a TV series by Showtime.
Praise For Shoot the Woman First…
"This third Crissa Stone novel is delivered in propulsive prose and smart dialogue reminiscent of Robert B. Parker or Elmore Leonard and laid on with the same kind of dry brush. For fans of noir, this is among the best of the current breed."—Hallie Ephron, The Boston Globe

"Stroby's Crissa Stone is emerging as one of the more compelling female criminals in mystery fiction…Stroby nails this taut, gripping contest between well-matched opponents."—Publisher's Weekly (starred review)

"Crissa's third is another superior thriller—fast, tough and nasty—without a single extra sentence."—Kirkus Reviews (starred review)

"It's a familiar plot: slimeball hires another slimeball to get his money back. The shootouts have been staged in many a gangster—and western—tale. But when they're done as skillfully as this, who cares?"—Booklist

"[Stroby] has a great grasp of pace, which is a terrific talent. At no point in the novel does Stroby give the reader a chance to wander off and wonder. You just keep turning pages. The years of journalism show in his economy; there's not an extra word, a wasted thought."—[New Jersey] Star-Ledger

"I consider Stroby to be one of the heirs to the great Elmore Leonard in style, substance and sheer entertainment."—Milwaukee Journal Sentinal (One of the Best Mysteries of 2013)
or
Not Currently Available for Direct Purchase