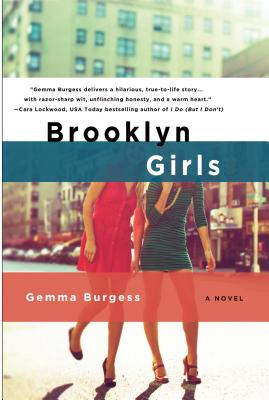 Brooklyn Girls (Paperback)
A Novel
St. Martin's Griffin, 9781250000859, 320pp.
Publication Date: July 2, 2013
Other Editions of This Title:
Paperback, Spanish (11/11/2014)
* Individual store prices may vary.
Description
Fantastically funny, fresh and utterly relatable, Brooklyn Girls by Gemma Burgess is the first novel in her brand new series about five twenty-something friends—Pia, Angie, Julia, Coco and Madeleine—sharing a brownstone in hip, downtown Brooklyn, and discovering the ups and downs and ins and outs of their "semi-adult" lives. The first story belongs to sophisticated, spoiled, and stylish Pia, who finds herself completely unemployed, unemployable, and broke. So what is a recent grad with an art history degree and an unfortunate history of Facebook topless photos to do? Start a food truck business of course! Pia takes on the surprisingly cutthroat Brooklyn world of hybrid lettuce growers, artisanal yogurt makers and homemade butter producers to start SkinnyWheels—all while dealing with hipster bees, one-night-stands, heartbreak, parental fury, wild parties, revenge, jail, loan sharks, playboys, karaoke, true love, and one adorable pink food truck. And that's without counting her roommates' problems, too. Gemma Burgess has captured the confusion, hilarity and excitement of the post-graduate years against a backdrop of the pressures and chaos of New York City life, with heartfelt empathy, fast humor and sharp honesty.
A charming debut series about five twenty-something girls and the humor, heartbreak, and drama that bring them together
About the Author
Gemma Burgess spent her 20s getting lost, drunk, dumped, fired or in a state of mild hysteria, and still managed to have some of the best times of her life. She is the author of Brooklyn Girls and Love and Chaos. She lives in New York City with her husband and baby.
Praise For Brooklyn Girls: A Novel…
"A sassy summer confection." —The New York Times
"Entertaining." —New York Daily News, "The Summer's Best Beach Reads"
"Hilarious and touching, this is a page-turner that will leave readers wanting more!" —Romantic Times
"In this fun, frothy read about making it in the Big Apple, twentysomething Pia is the proud owner of Skinnywheels, a pink food truck. You'll gobble up her misadventures in navigating the cutthroat world of hipster organic farmers and fending off Bianca, a sneaky ex-colleague out to steal her business plan." —Fitness Magazine
"I tore through this hilarious book, laughing out loud and realizing more than once that my jaw had dropped open. Gemma has created a witty and wonderful world of surprising modern heroines." —Joanna Goddard, Cup Of Jo
"Gemma Burgess delivers a hilarious, true-to-life story about twenty-somethings living their not-so-dream-lives in Brooklyn with razor-sharp wit, unflinching honesty, and a warm heart. Brooklyn Girls is a must-read." —Cara Lockwood, USA Today bestselling author of I Do (But I Don't)
"Fast, funny, and fresh: Brooklyn Girls is a wonderful laugh-out-loud novel for anyone trying to figure out what she wants in life, and how the hell she's going to get it." —Kim Gruenenfelder, author of Wedding Fever and There's Cake in My Future
or
Not Currently Available for Direct Purchase