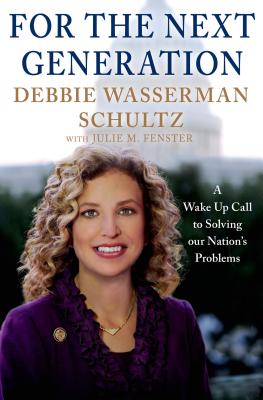 For the Next Generation (Hardcover)
A Wake-Up Call to Solving Our Nation's Problems
St. Martin's Press, 9781250000996, 308pp.
Publication Date: October 15, 2013
* Individual store prices may vary.
Description
Congresswoman and Democratic National Committee Chair Debbie Wasserman Schultz challenges the nation to resolve tough political issues for future generations.
America has witnessed the dangers that come with shortsightedness, writes Debbie Wasserman Schultz in "For the Next Generation." If we want to ensure prosperity for ourselves and an improved way of life for young Americans, we have to change, starting now. We must:
. Create jobs
. Turned around our economy
. Formulate a long-term energy solution
. Reform immigration policies
. Enhance and expand health-care coverage
Yet these important issues have been sidelined by gridlock in a Congress that is too concerned about the next election to worry about the future. The group of Americans who have the most to lose from this dysfunction are the ones least represented in government: America's children. "For the Next Generation" is a call to action, one mother's challenge to her congressional colleagues and to the rest of the nation, to adopt a parent's perspective for doing right by kids.
Marked by clarity and by Debbie's characteristic poise, this polemic is informed by the congresswoman's own personal and professional experiences. It digs deep, exposing very real threats that America faces as a result of its failure to confront tough decisions in politics. Debbie conveys a vision of an America that has learned hard lessons from its recent past, an America galvanized by a renewed sense of purpose for applying that wisdom through forward-thinking policies on education, civil rights, and foreign policy. She describes how she will fight to overcome the legislative obstacles that inhibit progress, and she calls upon fair-minded Americans to lend their own strengths to securing a better tomorrow for the next generation.
About the Author
DEBBIE WASSERMAN SCHULTZ was the youngest woman elected to the Florida state legislature and the first Jewish Congresswoman elected from Florida. Wife, mother of three, and breast cancer survivor, she is currently the Chair of the Democratic National Committee.JULIE M. FENSTER is the author of FDR's Shadow, The Case of Abraham Lincoln, and Ether Day, and co-author of the New York Times bestseller Parish Priest.
Praise For For the Next Generation: A Wake-Up Call to Solving Our Nation's Problems…
"Elected to the Florida legislature at 26, Schultz was determined to be a children's advocate even before she'd started her own family. At the end of her eight-year career in state office, Schultz went on to Congress and has continued her child-centric perspective in legislation on improved public education and affordable health care, gun control and reproductive rights, immigration policy and foreign policy. She recalls her experiences with the legislative process of partisanship and gridlock that threatens any efforts at constructive legislation, ultimately at the cost of American children. Noting how few women with young children are members of Congress, Schultz appeals for resolution of political discord and issues a challenge to adopt a parent's perspective on how lawmaking or the lack of it will affect future generations.

Throughout, she offers remembrances of her three children growing up—constant reminders of the significance of her job to the future of her children and other children. An interesting perspective on parenting and lawmaking." —Booklist Review

"Democratic National Committee chair Schultz assembles a party platform and memoir organized around improving the lives of America's children, in a debut co-authored by Fenster (FDR's Shadow: Louis Howe, the Force that Shaped Franklin and Eleanor Roosevelt, 2009, etc.).
A frankly partisan political treatment anticipating the upcoming midterm elections, the author's detailed discussion of the issues chronicles the effects of legislative obstructionism and should help fill in the record for all voters. At age 26, Schultz was the youngest woman ever elected to Florida's state legislature, and she was elected to Congress in 2005, where she has specifically championed the rights of women and children. She is an advocate for bipartisanship and policies based, above all, on fairness. She reviews the major planks in the Democratic Party's platform, from reform of the financial system to global defense issues and health care, but she also examines social security, Medicare and Medicaid. She takes up particular legislative initiatives dealing with children, women and the family and documents which Republican leaders have represented the most consistent opposition. Schultz is active in the fight against hunger in the United States, and she sponsored the PROTECT Our Children Act of 2008, which aimed the largest law enforcement effort ever against sexual predators and child pornographers and mandated different agencies to cooperate. She also fought for the renewal of the Violence Against Women Act, originally passed in 1994, which was obstructed in the House by tea party supporters. In previous eras, writes the author, these proposed laws, like many others she discusses, would have readily found bipartisan support, not systematic obstruction. Schultz also provides an inspiring account of former Congresswoman Gabrielle Giffords' successful bipartisan efforts to improve border security in Arizona.
Though the author doesn't break much new ground, she delivers a forceful statement that cross-party cooperation is necessary to improve political discourse for future generations." —Kirkus Review

"In For the Next Generation, Debbie Wasserman Schultz sets forth why the progressive agenda is the best solution for America's challenges more persuasively than any I have ever seen. The book is a must read for anyone interested in our nation's future." —former Governor Ed Rendell (D-PA)

"Having served with Debbie in Congress, I saw her play many roles:  mom, talented legislator, party leader. This excellent book is written by Debbie the mom, and recommends strategies for meaningful reform in our schools and to improve the quality of life and well-being of America's children, like having towns and cities across the country create a Community Report Card for Children. Both parties should embrace this thoughtful proposal." —Jane Harman, former member of Congress (D-CA), Director, President, and CEO of the Woodrow Wilson International Center for Scholars

"Debbie Wasserman Schultz's personal stories in For the Next Generation reveal a woman with the grit of a fighter, the courage of a leader, and the heart of a mom.  If you want to ensure a better world for your children and grandchildren, you cannot help but be inspired by this book." —Carole King, singer, songwriter, environmental activist


"Despite today's rancorous partisanship, Debbie and I are friends. She brings passion and commitment to everything she does, whether it's being in Congress, fighting cancer, leading her daughter's Girl Scout troop or being captain of the Congressional Women's Softball Team. We disagree on policy issues, including many of the ones she writes about here. Debbie Wasserman Schultz will have a leading role on the political stage for a long, long time. It's useful to know how the other side thinks. That's why Republicans and Democrats should read this book." —Ana Navarro, Republican Strategist, CNN Political Commentator
or
Not Currently Available for Direct Purchase