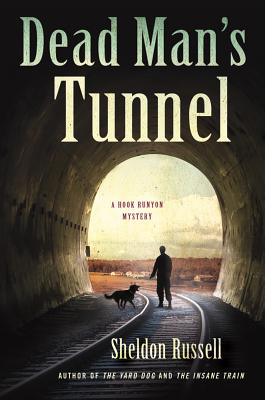 Dead Man's Tunnel (Hardcover)
Minotaur Books, 9781250001009, 308pp.
Publication Date: June 19, 2012
Other Editions of This Title:
Paperback (6/19/2012)
* Individual store prices may vary.
Description
"Dead Man's Tunnel" is the third installment in Sheldon Russell's 1940s series featuring yard dog Hook Runyon.
Near the end of WWII, Hook Runyon, railroad bull, and his dog, Mixer, are sent to the West Salvage Yard in the high desert of Arizona. Not far away is the Johnson Canyon Tunnel. Though remote and ordinary as tunnels go, it is the gateway to the steepest railroad grade in North America and a potential bottleneck for the delivery of war supplies. So vital is this tunnel to the war effort that a twenty-four hour military guard has been assigned for the duration. Hook's orders are to catch copper thieves and to stay out of sight and out of trouble. But things go awry when Hook receives a call that one of the guards has been killed mid-tunnel by an oncoming train. Lieutenant Allison Capron from the Army Transportation Department is called in to help with the investigation. At first, suicide by train is suspected, but the evidence soon suggests homicide resulting from a love triangle. Unable to fit his own findings into either of these theories, Hook suspects something more sinister.
About the Author
DR. SHELDON RUSSELL is the author of five novels. He lives in Guthrie, Oklahoma.
Praise For Dead Man's Tunnel…
Praise for Dead Man's Tunnel:
"...richly atmospheric...A humane, credible lead bolsters a carefully constructed plot." -- Publishers Weekly (starred review)
"Plenty of twists and turns added to the wealth of historical detail about railroads and the Southwest should provide an enjoyable read for fans of World War II mysteries and the earlier books in the series." -- Library Journal
"Sheldon Russell delivers another outstanding addition to this compelling historical mystery series. His tightly woven narrative gives you an excellent feel for the location and time, as well as the complex characters involved. Can't wait for Hook's next thrilling adventure." -- Fresh Fiction
"It's hard to come up with a wholly unique character in the burgeoning mystery game, but Oklahoma's Sheldon Russell has managed it with Hook Runyon, an aptly named, one-armed, 1940s railroad bull... [T]he intimate colour Russell imparts to the era...makes this third Runyon caper a compulsive page-turner. The battered bull's insult-laden jabberings with a cantankerous junkyard owner, his unsympathetic boss and hard-bitten rail crews are just laugh-out-loud funny.
Toss in a comely-but-cagey army lieutenant, an AWOL soldier on a holdup spree and various (and hilarious) transportation challenges, and Runyon's travails become a reader's delight."--Winnipeg Free Press
Praise for The Insane Train:
"There's a train you want to catch in Sheldon Russell's terrific historical crime novel THE INSANE TRAIN. … [Protagonist] Hook [Runyon] sets the rugged-but-sensitive tone of this outstanding series, which delivers thrilling action, great scenery and a full cast of complex characters searching for peace in a troubled postwar environment."--New York Times
"The story unfolds with the stark clarity of a Clint Eastwood movie, underscored with rough, laconic humor and driven by strong characterizations and a powerful sense of time and place. The insights into railroad life and the treatment of the insane...flesh out the suspenseful storyline, as does the low-key romance between Hook, a complex man with an unexpected passion for collecting rare books, and a lonely, dedicated young nurse. Fresh and original, it's easily one of the best mysteries of the year."--
Denver Post
 "This atmospheric historical crime novel is a thrilling ride." --
San Francisco Chronicle

"Russell's acute sense of the historical elevates "The Insane Train." Russell excels at sharp dialogue and believable characters. "The Insane Train" chugs along at a brisk pace as it skillfully depicts a slice of American history."--
Florida Sun Sentinel

 "Sharply sketched characters and a vivid sense of place and time...highlighted the first Hook Runyon novel, The Yard Dog. This one has both of those attributes and adds sad but fascinating insights into the treatment of mental patients; the sclerotic, self-important rail industry; and the lingering pain of the Great Depression. A fine crime novel made even richer with solid historical background." --
Booklist
 "Russell's book is full of well-drawn characters, especially the homeless veterans who have returned to take up the wandering ways they'd lived during the Depression. Readers who enjoy exploring out-of-the-way corners of history will like the details about railroads and care of the mentally ill in 1940s that the author has used to help set the stage. For fans of historical mysteries." --
Library Journal
 "...a fresh take on the classic 1940's noir mystery with a mesmerizing plot, intriguing characters and an interesting setting. It's another great read from this talented author." --FreshFiction.com
Praise for The Yard Dog:
"...a marvelous read."--Booklist
"The plot is brilliant and riveting; the characterization is rich and vivid; the setting is distinctive and intriguing." -- Fresh Fiction
"Russell has created one of the most noteworthy characters in modern detective fiction. The Yard Dog is not only one of the best debuts of the year, it is among the best mysteries of the year."--Mysterious Reviews "...strong writing, great characters and a terrific plot. This is a powerful book." --The Mercury News
or
Not Currently Available for Direct Purchase