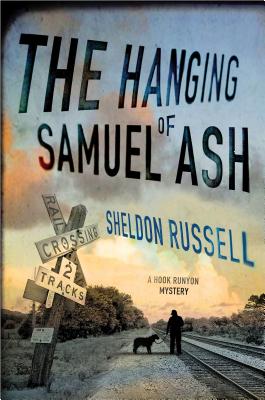 The Hanging of Samuel Ash (A Hook Runyon Mystery #4) (Hardcover)
Minotaur Books, 9781250001016, 320pp.
Publication Date: August 20, 2013
Other Editions of This Title:
Paperback (8/20/2013)
* Individual store prices may vary.
Description
Railroad bull Hook Runyon and his dog, Mixer, are chasing persistent pickpockets on the Santa Fe line, when Hook is called to investigate a malfunctioning wigwag signal in the middle of nowhere. A young man has been strung up there, hung from the signal, and left strangled to death. Hook finds no identification on the body, other than a bronze hero's medal around the corpse's neck, with the name Samuel Ash engraved on it. Refusing to bury what seems to be a World War II hero in a pauper's grave, Hook vows to find the dead boy's family, as well as his killer.
With the casket in tow, and slowed down by an over-educated sidekick, Junior Monroe, and a stream of new tasks from the head of division, Hook finally finds his way to Carmen, Oklahoma. But no one there has ever heard of anyone named Samuel Ash. There are secrets in Carmen, most of them associated with the local orphanage and its disliked director, and Hook is determined to get to the bottom of the mystery of the hanging of Samuel Ash.
Vivid characterizations, searing descriptions, and a twisty plot make Sheldon Russell's The Hanging of Samuel Ash a gripping read.
About the Author
DR. SHELDON RUSSELL, Professor Emeritus, University of Louisville, and University of Central Oklahoma, is the author The Yard Dog, The Insane Train, and four previously published historical novels. He lives in Guthrie, Oklahoma.
Praise For The Hanging of Samuel Ash (A Hook Runyon Mystery #4)…
"Russell...weaves solid history into entertainig crime fiction. He subtly conveys the malaise felt by railroad employees...as well as the sights, sounds, and even the smells of a fascinating world now largely gone." —Booklist (starred review)
"Gritty, Hemingway-reading outsider Hook makes a most engaging hero. His fourth big case has a Dickensian feel, both in its colorful supporting cast and its numerous and welcome digressions." —Kirkus Reviews
"Russell continues his excellent work with the fourth Hook Runyon title." —Library Journal
"Colorful locals spice up the clever dialogue and give the narrative plenty of zest." —Mystery Scene
"A rollicking tale of life on the railroad, with a truly marvelous lead character. Hook is a master at getting by on fast talk and his uncanny ability to avoid doing what his much-despised supervisor wants him to do. Railroad buffs will love this story, and even for those of us who weren't already fans, the repartee and the truly charming figure of the protagonist will keep everyone enthralled. HIGHLY RECOMMENDED." —I Love a Mystery
"...richly atmospheric...A humane, credible lead bolsters a carefully constructed plot." —Publishers Weekly (starred review) on Dead Man's Tunnel
"Plenty of twists and turns added to the wealth of historical detail about railroads and the Southwest should provide an enjoyable read for fans of World War II mysteries and the earlier books in the series." —Library Journal on Dead Man's Tunnel
"Sheldon Russell delivers another outstanding addition to this compelling historical mystery series. His tightly woven narrative gives you an excellent feel for the location and time, as well as the complex characters involved. Can't wait for Hook's next thrilling adventure. " —Fresh Fiction on Dead Man's Tunnel
"It's hard to come up with a wholly unique character in the burgeoning mystery game, but Oklahoma's Sheldon Russell has managed it with Hook Runyon, an aptly named, one-armed, 1940s railroad bull... [T]he intimate colour Russell imparts to the era...makes this third Runyon caper a compulsive page-turner. The battered bull's insult-laden jabberings with a cantankerous junkyard owner, his unsympathetic boss and hard-bitten rail crews are just laugh-out-loud funny.
Toss in a comely-but-cagey army lieutenant, an AWOL soldier on a holdup spree and various (and hilarious) transportation challenges, and Runyon's travails become a reader's delight." —Winnipeg Free Press on Dead Man's Tunnel
"There's a train you want to catch in Sheldon Russell's terrific historical crime novel THE INSANE TRAIN. ... [Protagonist] Hook [Runyon] sets the rugged-but-sensitive tone of this outstanding series, which delivers thrilling action, great scenery and a full cast of complex characters searching for peace in a troubled postwar environment." —New York Times on The Insane Train
"The story unfolds with the stark clarity of a Clint Eastwood movie, underscored with rough, laconic humor and driven by strong characterizations and a powerful sense of time and place. The insights into railroad life and the treatment of the insane...flesh out the suspenseful storyline, as does the low-key romance between Hook, a complex man with an unexpected passion for collecting rare books, and a lonely, dedicated young nurse. Fresh and original, it's easily one of the best mysteries of the year." —Denver Post on The Insane Train
"This atmospheric historical crime novel is a thrilling ride." —San Francisco Chronicle on The Insane Train
"Russell's acute sense of the historical elevates "The Insane Train." Russell excels at sharp dialogue and believable characters. "The Insane Train" chugs along at a brisk pace as it skillfully depicts a slice of American history." —Florida Sun Sentinel on The Insane Train
"Sharply sketched characters and a vivid sense of place and time...highlighted the first Hook Runyon novel, The Yard Dog. This one has both of those attributes and adds sad but fascinating insights into the treatment of mental patients; the sclerotic, self-important rail industry; and the lingering pain of the Great Depression. A fine crime novel made even richer with solid historical background." —Booklist on The Insane Train
"Russell's book is full of well-drawn characters, especially the homeless veterans who have returned to take up the wandering ways they'd lived during the Depression. Readers who enjoy exploring out-of-the-way corners of history will like the details about railroads and care of the mentally ill in 1940s that the author has used to help set the stage. For fans of historical mysteries." —Library Journal on The Insane Train
"...a fresh take on the classic 1940's noir mystery with a mesmerizing plot, intriguing characters and an interesting setting. It's another great read from this talented author." —FreshFiction.com on The Insane Train
"...a marvelous read." —Booklist on The Yard Dog
"The plot is brilliant and riveting; the characterization is rich and vivid; the setting is distinctive and intriguing." —Fresh Fiction on The Yard Dog
"...strong writing, great characters and a terrific plot. This is a powerful book." —The Mercury News on The Yard Dog
"Russell has created one of the most noteworthy characters in modern detective fiction. The Yard Dog is not only one of the best debuts of the year, it is among the best mysteries of the year." —Mysterious Reviews on The Yard Dog
or
Not Currently Available for Direct Purchase