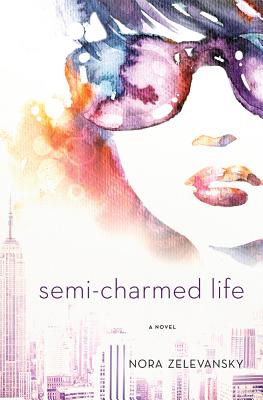 Semi-Charmed Life (Paperback)
A Novel
St. Martin's Griffin, 9781250001184, 336pp.
Publication Date: July 3, 2012
* Individual store prices may vary.
Description
In Nora Zelevansky's hilarious debut, Semi-Charmed Life, an Upper West Side naïf, Beatrice Bernstein, gets swept up in the seemingly magical life of famous-for-nothing twenty-something, Veruca Pfeffernoose, while ghost writing her blog. Veruca's glitteringly opulent world soon seduces Beatrice away from her own insular, arty family with a promise of fancy parties, travel outside Manhattan (for once) and one desperately cute guy. But when her new glitzy lifestyle starts to take on dark undertones, Beatrice has to decide who she is—once and for all. With her own magical touch, Zelevansky deftly explores the world of rarified Manhattan in this sparkling modern fairy tale of first love, finding one's voice and growing up.
About the Author
NORA ZELEVANSKY is the author of Will You Won't You Want Me? and Semi-Charmed Life. Her writing has appeared in ELLE, T Magazine (The New York Times), Town & Country, the Los Angeles Times, The Wall Street Journal and Vanity Fair, among others. She lives with her husband and daughter in Brooklyn, New York.
Praise For Semi-Charmed Life: A Novel…
"Semi-Charmed Life chronicles the world of one Beatrice Bernstein, as she attempts to gain independence from her famous artistic family and falls in with the socialite crowd." —Elle
"A lighthearted novel filled with rude awakenings, Manhattan adventure, and the blush of first love." —Daily Candy
"Prepare to be fully-charmed! Nora Zelevansky has delivered a deliciously hilarious novel that you will devour in one sitting and then beg for more!" —Jessica Brody, bestselling author of 52 Reasons to Hate My Father
"An amazing new voice, a romantic and magical romp through the hip, glitzy and overheated and over-hyped worlds of fashion, art and music...Deft, funny, inspired." —Molly Jong-Fast, Author of The Social Climber's Handbook
"Semi-Charmed Life is a deliciously dizzying comedic mystery, filled with as many twists and turns as the maps that Beatrice, the main character, collects. Nora Zelevansky captures Beatrice's over-the-top adventures through Manhattan celebutante society with a freshness and authenticity that makes every page a pleasure. Nora's writing is unselfconsciously stylish, giddy with references to art and pop-culture, and wholly entertaining." —Aury Wallington, author of the New York Times bestselling novel Saving Charlie and former "Sex and The City" writer
"…a charming, magical and somewhat strange city satire that follows arty Upper West Sider Beatrice Bernstein as she becomes a ghost writer for the blog of her 'famous-for-nothing socialite' neighbor Veruca Pfeffernoose and ends up falling down the rabbit hole of opulence." —Flavorwire
"I absolutely loved this book! I didn't want to put it down…It was all just too much (in a good way!) Highly recommend." —A Book in Hand
"Not only is Nora Zelevansky's Semi-Charmed Life that perfect summer read to whisk you away to trips you've only dreamed about, but it's also about finding and being true to who you are. I look forward to seeing more by Zelevansky in the future because she's definitely made me a fan." —A Written Rhapsody
"[With] a cast of really charming and whimsical characters, this is an excellent debut that shows the lengths one girl will go to break out on her own and feel free." —Chicklit Club
"…a fun, escapist book that might even cause you to question the popularity of real-life Verucas." —Cupcake's Book Cupboard
"Semi-Charmed Life was one of those hidden gems that I never expected to love…it made me laugh and tear through the pages to find out what Beatrice would do next. It's the perfect beach-read that manages to stay with you long after you've left the beach." —Ink Bitten