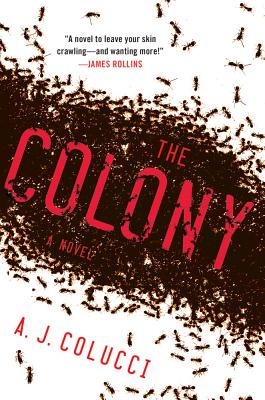 The Colony
A Novel
Hardcover

* Individual store prices may vary.
Other Editions of This Title:
Compact Disc (1/7/2020)
MP3 CD (6/28/2016)
Description
A series of gruesome attacks have been sweeping New York City. A teacher in Harlem and two sanitation workers on Wall Street are found dead, their swollen bodies nearly dissolved from the inside out. The predator is a deadly supercolony of ants--an army of one trillion soldiers with razor-sharp claws that pierce skin like paper and stinging venom that liquefies its prey.

The desperate mayor turns to the greatest ant expert in the world, Paul O'Keefe, a Pulitzer Prize–winning scientist in an Armani suit. But Paul is baffled by the ants. They are twice the size of any normal ant and have no recognizable DNA. They're vicious in the field yet docile in the hand. Paul calls on the one person he knows can help destroy the colony, his ex-wife Kendra Hart, a spirited entomologist studying fire ants in the New Mexico desert. Kendra is taken to a secret underground bunker in New York City, where she finds herself working side by side with her brilliant but arrogant ex-husband and a high-ranking military officer hell-bent on stopping the insects with a nuclear bomb.

When the ants launch an all-out attack, Paul and Kendra hit the dangerous, panic-stricken streets of New York, searching for a coveted queen. It's a race to unlock the secrets of an indestructible new species, before the president nukes Manhattan.

A.J. Colucci's debut novel is a terrifying mix of classic Michael Crichton and Stephen King. A thriller with the highest stakes and the most fascinating science, The Colony does for ants what Jaws did for sharks.
Praise For The Colony: A Novel…
"New York City comes under attack from a vicious new species of ant in Colucci's exciting thriller debut....Colucci...balances scares and science nicely. Michael Crichton fans will hope that this is but the first of many such outings from the author's pen." —Publishers Weekly (starred review)

"Colucci's suspense-novel debut is a frightening combination of well-researched science and scenes of pure horror. Downright gory in places, the tale is rounded out by the usual corrupt officials, warring industries, and failed romances. Full of suspense and intrigue, The Colony will especially appeal to fans of Michael Crichton's Jurassic Park and the like." —Booklist

"[A] grimly entertaining debut...the book transcends its horror-movie basis with descriptions of the ants in action and of the science behind the Siafu Moto, which is part fire ant and part African strain....Not a book for picnic-goers, this tale may have you rethinking those warnings about fire ants heading north." —Kirkus Reviews

"A quick-paced read, this is creepy, terrifying and impossible to put down." —Virginia Living

"Few debuts cut to the quick as effectively as A.J. Colucci's The Colony. Razor-sharp writing, scientific intrigue, and political brinkmanship create a story as plausible as it is frightening. Here's a novel to leave your skin crawling--and wanting more!" —James Rollins, New York Times bestselling author of The Devil Colony

"Innovative, provocative, and exciting, The Colony possesses the three crucial ingredients for any high concept thriller. I'll never look at an ant the same way again." —Steve Berry, New York Times bestselling author of The Columbus Affair

"The kind of story that eats you alive, one little bite at a time. Accurate research combines with pure horror for a fantastic read." —Scott Sigler, New York Times bestselling author of Infected

"A.J. Colucci has created an engaging, frightening tale mixing science and adrenaline in equal measure. I couldn't turn the pages fast enough. If you like Crichton, you owe it to yourself to read The Colony." —Paul McEuen, author of Spiral

"Creep-a-palooza! A.J. Colucci's masterpiece combines whirlwind action, characters that make you stand up and cheer, and deliciously evil killer ants into a flesh-ripping joyride of a thriller. It's one of the most gripping stories I've read in ages. Read it tonight, and I guarantee you'll be canceling tomorrow's picnic." —Shane Gericke, national bestselling author of Torn Apart

"You'll think twice about squashing ants after you read The Colony. The novel is fun, scary, and unsettling. Creepy in the best sense of the word." —Mark Alpert, author of Final Theory
Thomas Dunne Books, 9781250001290, 304pp.
Publication Date: November 13, 2012
About the Author
A.J. Colucci worked for fifteen years as a newspaper reporter, magazine editor, and writer for corporate America. She is a member of International Thriller Writers. She lives in New Jersey. The Colony is her first novel.