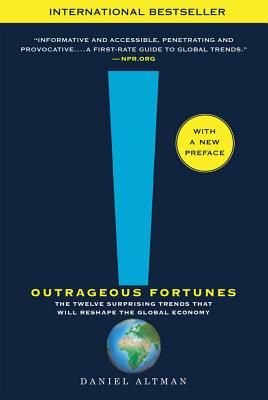 Outrageous Fortunes
The Twelve Surprising Trends That Will Reshape the Global Economy
Paperback

* Individual store prices may vary.
Other Editions of This Title:
Digital Audiobook (1/17/2011)
Hardcover (1/18/2011)
MP3 CD (1/18/2011)
Compact Disc (1/18/2011)
Compact Disc (1/18/2011)
Description
"Informative and accessible, penetrating and provocative. . . . A first-rate guide to global trends." —NPR.org
As individuals, companies, and countries struggle to recover from the economic crisis, many are narrowly focused on forecasts for the next week, month, or quarter. Yet they should be asking what the global economy will look like in the years to come—where will the long-term risks and opportunities arise?
These are the questions that Daniel Altman confronts in his provocative and indispensable book. The fate of the global economy, Altman argues, will be determined by deeper factors than those that move markets from moment to moment. His incisive analysis brings together hidden trends, societal pressures, and policy endgames to make twelve surprising but logical predictions about the years ahead and to pose the question of whether our political and economic institutions are up to the task.
Outrageous Fortunes tells which industries will grow, which economies will crumble, which investments will pay off, and where the next big crisis may occur. Altman's carefully reasoned text is an essential guide for the road ahead, and in a new preface written for this edition, he shows how these trends are revealing themselves in today's global economy.
Praise For Outrageous Fortunes: The Twelve Surprising Trends That Will Reshape the Global Economy…
"Informative and accessible, penetrating and provocative, his book is a first-rate guide to global trends... Readers of Outrageous Fortunes are likely to conclude that they have learned some important things about a global economy that will have an ever-more profound impact on their lives." —NPR.org
"Bold... Interesting." —The Economist
"Amid all the handwringing on the downward trajectory of the global economy comes this cool, collected, and sensible view of forthcoming economic trends... Altman delivers more than mere analysis or foreshadowing: this is revelatory reading for even the most casual observer of economics, and an invaluable tool for reconsidering how the world makes money." —Publishers Weekly (starred review)
"Interesting thought experiments." —Kirkus Reviews
"If the past two years have taught us anything, it is the importance of counterintuitive thinking. Daniel Altman boldly ventures into the deep drivers of global change to uncover the unintended consequences of our current policies-regarding China, global trade, American jobs, and much more. Anyone who wants to get smart on globalization's fate must read this book." —Parag Khanna, author of The Second World and How to Run the World
"With so many new books offering autopsies of the financial crisis and the deepest recession since World War II, it's a blessing that Daniel Altman has his eyes firmly fixed on risks and opportunities in the road ahead. He brings together a series of compelling predictions, and though readers may not agree with every element of his forecasts, all will be better informed for having read his book." —Ian Bremmer, president of Eurasia Group and author of The End of the Free Market and The J Curve
"With all the attention being lavished on the short-run gyrations of the economy, it is refreshing to see a book that focuses on the long run. Daniel Altman is brave enough to make predictions about what will happen to the world economy twenty or thirty years from now. His analysis is thoughtful and compelling and should be required reading for those interested in creating a better world for our offspring." —Hal R. Varian, chief economist at Google and professor of business, economics, and information management at the University of California, Berkeley
"Daniel Altman has something to tell you: the world may not turn out the way Thomas Friedman expects. Outrageous Fortunes is provocative, fast-moving, authoritative, and imaginative. Expect the unexpected." —Tim Harford, author of The Undercover Economist and The Logic of Life
St. Martin's Griffin, 9781250001733, 272pp.
Publication Date: January 3, 2012
About the Author
Daniel Altman is the author of Outrageous Fortunes: The Twelve Surprising Trends That Will Reshape the Global Economy, Connected: 24 Hours in the Global Economy, Power in Numbers (with Philippe Douste-Blazy), and Neoconomy. He is Director of Thought Leadership at Dalberg Global Development Advisors and the founder and president of North Yard Economics, a not-for-profit consulting firm serving developing countries. He previously wrote economics columns for The Economist, the International Herald Tribune, and The New York Times and currently teaches at New York University's Stern School of Business. He lives in New York City.