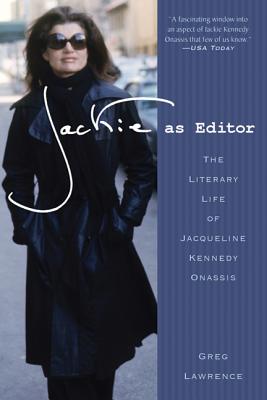 Jackie as Editor: The Literary Life of Jacqueline Kennedy Onassis (Paperback)
The Literary Life of Jacqueline Kennedy Onassis
Griffin, 9781250001948, 322pp.
Publication Date: July 19, 2011
Description
History remembers Jacqueline Kennedy Onassis as the consummate first lady, the nation's tragic widow, the tycoon's wife, and, of course, the quintessential embodiment of elegance. Her biographers, however, tend to skip over an equally important stage in her life: her almost two-decade-long career as a book editor, publishing authors as diverse as Diana Vreeland, Louis Auchincloss, George Plimpton, Dorothy West, Naguib Mahfouz, and even Michael Jackson.
Greg Lawrence, who had three of his books edited by Jackie, draws from interviews with more than 125 of her former collaborators and acquaintances to examine one of the twentieth century's most enduring subjects of fascination through a new angle: her previously untouted skill in the career she chose. Away from the public eye, Jackie found fulfillment and quietly defined life on her own terms.
About the Author
GREG LAWRENCE is the author or coauthor of seven previous books, including Colored Lights (with John Kander and Fred Ebb), Dance With Demons, Time Steps (with Donna McKechnie), the New York Times bestselling Dancing on My Grave, The Shape of Love, and The Little Ballerina and her Dancing Horse, the last three edited by Jackie Onassis.
Praise For Jackie as Editor: The Literary Life of Jacqueline Kennedy Onassis…
"A fascinating window into an aspect of Jackie Kennedy Onassis that few of us know."
--USA Today

"Greg Lawrence, whom the first lady edited, interviews her former colleagues and authors to paint a fascinating portrait of a woman who found a life in that most private of activities, reading."
--Town & Country

"Jacqueline Kennedy Onassis never wrote her memoirs, but you can tell a lot about the late first lady's life by the books she loved, and those she edited in her nearly two decades as a publishing executive."
--O Magazine

"Charting Jacqueline Kennedy Onassis's impressive legacy as an editor at Viking and Doubleday, Lawrence draws on a wealth of sources, including interviews with more than 125 of her former publishing collaborators, and hundreds of notes left to the author by Onassis. He was also one of her authors, co-writing three books with his former wife, ballerina Gelsey Kirkland (including the controversial bestseller Dancing on My Grave). . . . This Onassis appreciation appears almost simultaneously with William Kuhn's misleadingly titled Reading Jackie: Her Autobiography in Books, and while both will appeal primarily to publishing and media insiders, Lawrence's perceptive, impressively researched, book is the better of the two, presenting a woman with 'a grand spirit of adventure and... a sense of irony about life that served as a kind of armor' for this courageous, gifted woman."
--Publishers Weekly

"One of Jacqueline Onassis's authors dishes kindly on her impressive editorial record ... [and] fleshes out the editorial career of the enigmatic icon who was the subject of inflated tabloid coverage throughout much of her life yet who proved in her later years to be a surprisingly humble, hardworking team player, first at Viking, then Doubleday. . . . Lawrence lets rip the first-person reminiscences from those who knew and worked with her . . . [and] demonstrates how Onassis grew in confidence and professional stature in promoting books and authors she truly cared about. Chatty without being vulgar, a deeply admiring portrait of a lady the world is just now getting to know."
--
Kirkus Reviews
 "
Jackie as Editor
is a fascinating insider account of her fulfilling final years as a book editor in publishing. A must for Jackie fans."
---Sarah Bradford, author of America's Queen: The Life of Jacqueline Kennedy Onassis, Lucrezia Borgia: Life, Love, and Death in Renaissance Italy, and Diana

"For Jackie Kennedy Onassis, the role of editor was just another version of her role as America's muse. She created the Camelot story in the JFK histories, and years later she wrought the same magic upon the books she edited. I kept wondering as I read Greg Lawrence's book what Mrs. O would have made of this delicious biography. This is a great story about a woman who had everything—men, money, power—and all she wanted was more to read. I bet she would have loved Jackie as Editor. Every book lover and fan of Jackie will be caught in its magic."
---Harriet Rubin, author of The Princessa: Machiavelli for Women and Dante in Love: The World's Greatest Poem and How It Made History

"Jackie appears (as she was) a well-liked, respected colleague, often slyly funny and not given to showboating…. If we're going to have a myth, why not one with her nose in a book?"
--The Washington Post

"Lawrence, who was one of Jackie's writers, argues convincingly that the first lady was no dilettante."
--The Week
Advertisement