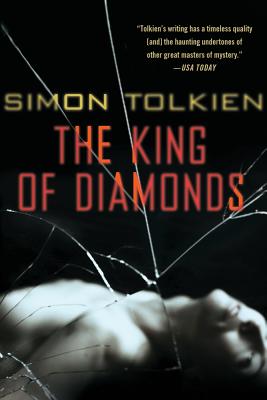 The King of Diamonds (Paperback)
Minotaur Books, 9781250002006, 324pp.
Publication Date: March 13, 2012
Description
"Tolkien's writing has a timeless quality and] the haunting undertones of other great masters of mystery." USA Today
"Compulsively readable... Crafted with cunning and imbued with menace, The King of Diamonds adds luster to Tolkien's growing reputation as a brilliant star in the thriller firmament." --Richmond Times Dispatch
"A thick web of family tensions and psychological dysfunction with a whodunit chaser The King of Diamonds] is elegantly written, with Masterpiece Theatre pacing and embellishments." --Kirkus, starred review
A sophisticated mystery layered with dark secrets from the past and slow-burning suspense
It's 1960, and David Swain is two years into his life sentence for murdering the lover of his ex-girlfriend, Katya. In the dead of night, David escapes, and Katya is found murdered. Inspector Trave of the Oxford Police heads the manhunt for David. Trave's suspicions lead him to Katya's uncle Titus Osman, a rich diamond dealer, and his sinister brother-in-law, Franz Claes who will go to any lengths to conceal his past connections to the Nazis. But Trave's motives are suspect - Osman is having an affair with Trave's estranged wife. Once David is captured, Trave is willing to risk everything-professionally and personally-to pursue his obsessive belief in Osman's guilt.
In this expertly crafted novel, Simon Tolkien has once again written a gripping and nuanced thriller laced with historical detail, treachery, and his signature writing style a uniquely suspenseful blend that the Los Angeles Times called "half Christie and half Grisham."
The King of Diamonds is a Kirkus Reviews Best of 2011 Mysteries title.
About the Author
Simon Tolkien was a successful criminal law barrister in London, specializing in criminal justice, before moving to California with his wife and two children. His first novel, Final Witness, was published in 2002 to widespread acclaim and his second, The Inheritance, received equally positive reviews when it came out in 2009. He is the grandson of J.R.R.Tolkien.
Praise For The King of Diamonds…
Praise for The King of Diamonds
**Named one of Kirkus Reviews' Best Fiction Mysteries of 2011**
"Compulsively readable. As Tolkien lays out a story that's grounded in diamond-dealing and the Holocaust, the tension builds with inexorable strength. And Tolkien's nuanced portrait of the Traves is a compassionate study in the travails of marriage. Crafted with cunning and imbued with menace, The King of Diamonds adds luster to Tolkien's growing reputation as a brilliant star in the thriller firmament." --Richmond Times Dispatch
"A thick web of family tensions and psychological dysfunction with a whodunit chaser, Tolkien's third novel (The Inheritance, 2010, etc.) is elegantly written, with Masterpiece Theatre pacing and embellishments." --Kirkus, starred review 
"Another literary success for [Simon Tolkien]…The claim comparing Simon Tolkien to Agatha Christie and John Grisham is not to be taken lightly.  The ironic part is just how true this statement is.  The King of Diamonds combines a deeply layered mystery with several interesting characters along with the intrigue of criminal trails and police chases.  Set against very real historical context like the Holocaust and the hunt for Adolf Eichmann… gives much credibility to a great read and a thoroughly engaging thriller." –Bookreporter.com
Critical Acclaim for Simon Tolkien and The Inheritance
"Tolkien's writing has a timeless quality [and] the haunting undertones of other great masters of mystery." –USA Today
"A fine novel. A thinking person's Da Vinci Code." --Chicago Tribune

"Simon Tolkien's grandfather is J. R. R., but his new novel owes more to Agatha Christie—and Dan Brown." --New York Times

"A deft combination of Agatha Christie manor-house whodunit, Erle Stanley Gardner courtroom drama and Dan Brown thriller, The Inheritance is nonetheless unique to its creator. And Tolkien, with this compelling read, proves himself worthy—and then some—of his literary pedigree."  --Richmond Times Dispatch
"Display[s] a narrative skill that the author of The Lord of the Rings would surely have recognized and admired." --Philadelphia Inquirer
"A first-rate writer…Written with great surety and absolutely compelling." --Booklist (starred review)
"This second novel (after The Final Witness) by J.R.R. Tolkien's grandson is a legal thriller, World War II historical novel, and Da Vinci Code treasure hunt all rolled into one… an absorbing 1950s-era mystery." --Library Journal
Advertisement