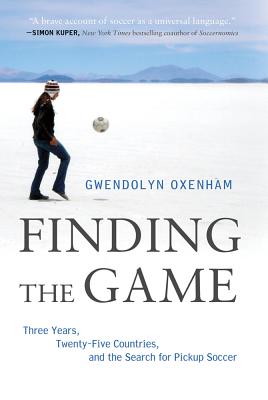 Finding the Game
Three Years, Twenty-five Countries, and the Search for Pickup Soccer
Hardcover

* Individual store prices may vary.
Description
Across two dozen countries—from back alleys to remote beaches to the roofs of skyscrapers—an eye-opening journey into the heart of soccer

Every country has a different term for it: In the United States it's "pickup." In Trinidad it's "taking a sweat." In Brazil it's "pelada" (literally "naked"). It's the other side of soccer, those spontaneous matches played away from the bright lights and manicured fields—the game for anyone, anywhere.

At sixteen, Gwendolyn Oxenham was the youngest Division I athlete in NCAA history, a starter and leading goal-scorer for Duke. At twenty, she graduated, the women's professional soccer league folded, and her career was over. In Finding the Game, Oxenham, along with her boyfriend and two friends, chases the part of the game that outlasts a career. They bribe their way into a Bolivian prison, bet shillings on a game with moonshine brewers in Kenya, play with women in hijab on a court in Tehran—and discover what the world looks like when you wander down side streets, holding on to a ball.

An entertaining, heartfelt look at the soul of a sport and a thrilling travel narrative, this book is proof that on the field and in life, some things need no translation.
Praise For Finding the Game: Three Years, Twenty-five Countries, and the Search for Pickup Soccer…
"Any reader inclined to enjoy energetic writing about soccer will love this book. But Oxenham has brought to this extraordinary project not only a player's enthusiasm, but also a thoughtful writer's sense of humor and eye for the magnificently unlikely moment that takes her endeavor beyond the game...Finding the Game suggests powerfully, if playfully, that we are connected. All of us. In that suggestion, there is hope....A joyous antidote to the newspaper's front page." —NPR's Bill Littlefield, "Only a Game"

"The youngest Division I athlete in NCAA history, Oxenham was a soccer star for Duke at age 16. By 23, she felt like a has-been, but she still loved to play. Her love of the sport in its least-official form, pickup games, birthed a documentary film project in which she, her boyfriend, and a crew of two traveled the globe looking for games. Their tenacity is remarkable. Despite financial and language barriers, they play with sheep-shearing gauchos in Uruguay, with hardened criminals in La Paz's infamous San Pedro Prison, in an Arabs-against-Jews contest in Jerusalem, and with salarymen on a Tokyo rooftop. The most memorable sequences take place in the slums of Nairobi, where the poverty is overwhelming, and Tehran, where it's illegal for women to play with men (she gets a game anyway). Oxenham avoids platitudes but gracefully shows how playing together can unite us more than shared worship of famous teams. Soccer fans will love this, but anyone who enjoys shoestring travelogues will like it, too. They'll all want to watch the film, Pelada." —Keir Graff, Booklist

"It's not just an adventure that all of us would have liked to have had. Oxenham can write, too. A brave account of soccer as a universal language." —Simon Kuper, New York Times bestselling author of Soccernomics

"In Finding the Game, Oxenham goes on an international quest to document soccer as a pickup game that brings promise and joy in even the least promising and most joyless venues. In the course of her travels, she proves beyond a doubt that sports is not only a pervasive second language in every culture, but also one she speaks with perfect fluency. Her book is as charmingly observed as it is beautifully written." —Madeleine Blais, Pulitzer Prize–winning journalist and author of In These Girls, Hope is a Muscle

"Through soccer, Gwendolyn Oxenham discovers and delights in the gifts, on and off the field, that 'the beautiful game' can bring. As she says, 'the best games are marked by a failure to refrain.' So are the best stories. Hers is proof." —Alexi Lalas, National Soccer Hall of Fame inductee and analyst for ESPN and ABC Sports

"I knew Gwendolyn Oxenham and her group had made a terrific documentary film, but it takes completely different skills to write a compelling book. She has achieved that feat here, fashioning a journey narrative about pickup soccer that's filled with the details of a seasoned observer/adventurer. I enjoyed it from start to finish." —Grant Wahl, New York Times Bestselling author of The Beckham Experiment

"Oxenham reintroduced me to some of the rules of soccer and life, that I had forgotten. When Oxenham wrote, 'You don't talk if no one's ever seen you play,' I immediately knew where she was coming from and headed. . . . An unparalleled journey that invokes more than just passion for soccer." —Rob Stone, ESPN commentator

"Finding the Game proves the reality of the phrase 'Soccer is the world's game' and shows that the idea of playing a sport for the joy of it still exists. Gwendolyn and her friends used their passion for soccer to meet people and visit places that would have been unimaginable to most of us. Best of all, she allows the reader to become a part of the adventure." —Chuck Korr, coauthor of More Than Just a Game

"The friends go to interesting places and play lots of futbol, but it is the people they meet--a superstar who just happens to be a tiny girl from a Brazilian slum; criminals in a Bolivian prison; Arabs and Jews who grudgingly play against one another in Jerusalem--that truly make the young travelers' point that sometimes sport can be more than just a game....Imbued with both the spirit of youth and the wistful longing of past travels...a proud testament to her favorite game." —Publishers Weekly

"More than just a book about the sport, Finding the Game transports you around the world with humor, wit, and excitement on every page. You don't have to be a sports fan to devour this book." —Anson Dorrance, Head Coach, UNC Women's Soccer; National Soccer Hall of Fame inductee
St. Martin's Press, 9781250002044, 304pp.
Publication Date: June 19, 2012
About the Author
GWENDOLYN OXENHAM received an MFA in creative writing from the University of Notre Dame, where she was awarded the Nicholas Sparks post-graduate fellowship. A Duke University soccer alum, she played professionally for Santos FC in Brazil in 2005. She teaches English and plays in pickup games in Southern California. She is the author of Finding the Game.