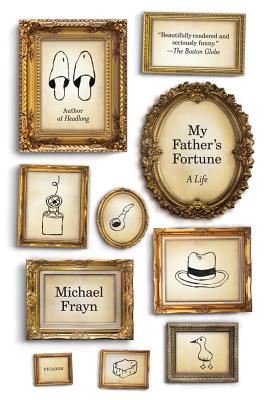 My Father's Fortune (Paperback)
A Life
Picador, 9781250002341, 288pp.
Publication Date: January 3, 2012
Other Editions of This Title:
Hardcover (2/15/2011)
Compact Disc (4/12/2011)
Compact Disc (2/1/2011)
Paperback (5/1/2011)
* Individual store prices may vary.
Description
Winner of the PEN/Ackerley Prize
Award-winning playwright and novelist Michael Frayn "makes the family memoir his own" (The Daily Telegraph) as he tells the story of his father, Tom Frayn. A clever lad, an asbestos salesman with a winning smile and a racetrack vocabulary, Tom Frayn emerged undaunted from a childhood spent in two rooms with six other people, all of them deaf. And undaunted he stayed, through German rockets, feckless in-laws, and his own increasing deafness; through the setback of a son as bafflingly slow-witted as the father was quick on his feet; through the shockingly sudden tragedy that darkened his life. As Peter Kemp wrote in The Sunday Times (London), "Frayn has never written with more searching brilliance than in his quest for his past."
About the Author
Michael Frayn is the author of ten novels, including the bestselling Headlong, which was a New York Times Editors' Choice selection and a Booker Prize finalist, and Spies, which received the Whitbread Fiction Award. He has also written a memoir, My Father's Fortune, and fifteen plays, among them Noises Off and Copenhagen, which won three Tony Awards. He lives just south of London.
Praise For My Father's Fortune: A Life…
"Compelling… Beautiful writing… With a dramatist's sure touch, Frayn introduces a ticking hand grenade on page 107 that may have you saying to yourself: 'Oh. My. God.'" —The New York Times Book Review
"What a lovely tribute… Funny when it needs to be, touching when it needs to be, and cast in smooth, beguiling prose." —Washington Post
"Beautifully rendered and seriously funny." —Boston Globe
"A beautifully written portrait of a vanished way of life and a fondly humorous, very affecting work of homage and love." —Salon
"A wry, unsentimental, but deeply felt family history… The narrative turns wistful as it surveys the gulf--of temperament, circumstance, and class--that opens between father and son as the author pursues an academic and literary life." —The New Yorker
"Endearing… Part of the fortune of the book's title is the gift of storytelling. It is because of this inheritance that we have Frayn's brilliant body of work--which now, thankfully, includes this accomplished memoir." —Time Out New York
"Engrossing… This finely detailed remembrance displays subtle wit and powers of perception that magnify every nook and cranny of ordinary life into something extraordinary." —Kirkus Reviews
"Exquisitely written… Frayn's thoughtful, obsessive, darkly funny exegesis of his father's life is a heroic recreation of a vanished world." —Maclean's (Canada)
"After the brilliant plays--both comic and cerebral--and the subtle novels, one of our best contemporary writers has made the family memoir his own. Not a line, still less a thought, is stale or predictable." —The Daily Telegraph (UK)
"Genuinely delving, yet decently guarded, My Father's Fortune is often very funny and soaked in a wistful sort of melancholy that deepens into a compelling sadness. Frayn has written books that make a bigger bang, but none that is so touching." —The Guardian (UK)
"Ranging from comic star turns to passages of piercingly lucid melancholy, My Father's Fortune adroitly modulates between humor and tragedy, ruefulness and celebration, intellectual keenness and elegiac depths of feeling. A writer who has long been one of our most engrossingly inquiring minds, Frayn has never written with more searching brilliance than in this quest for his past." —The Sunday Times (UK)
"Frayn at his very best." —The Observer (UK)
"Often funny, sometimes painful, but always exquisitely well written, My Father's Fortune reveals the extraordinariness that can lurk in even the most ordinary of lives." —The Sunday Telegraph (UK)
"Entrancing... Forever alert to the inner processes of art and mind, Frayn from time to time nips backstage to show how the memoir machinery works. Yet this keen self-awareness never compromises the deep poignancy--and the rich comedy--of the story he has to tell. As always, that's part of the trick of it for Frayn." —The Independent (UK)