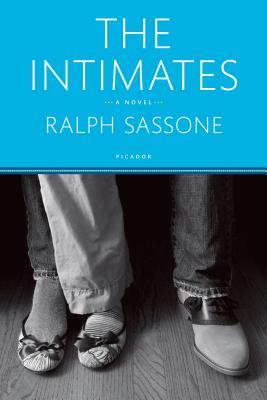 The Intimates (Paperback)
Picador, 9781250002396, 256pp.
Publication Date: January 31, 2012
* Individual store prices may vary.
Description
The Intimates is about Maize and Robbie, who meet in high school and hold fast to each other as they stumble through amorous adventures, first jobs, and complicated relationships with family members here and abroad. It is a powerful and compassionate debut novel that explores the romance of young friendship, the freighted bonds between parents and children, and the thrills and mesmerizing illusions of sex. Lovely, perceptive, funny, and vividly erotic, in The Intimates, "Sassone has created a friendship so deep, so utterly believable, that you feel jealous of Maize and Robbie's closeness---and of Sassone's easy talent" (New York Press).
About the Author
Ralph Sassone has an M.F.A. from Brown University. He has written and edited for a number of publications including "The New York Times," "The Village Voice Literary Supplement," and "Details," and he has taught writing at Brown, Haverford College, and Vassar. He lives in New York City. "The Intimates" is his first novel.
Praise For The Intimates…
"Ralph Sassone has created two of the most compelling characters in years . . . Often funny, The Intimates is a touching platonic love story from beginning to end." —John Moore, Examiner.com
"The emotional insight of Ralph Sassone's The Intimates puts one in mind of Claire Messud, Joanna Smith Rakoff or Julia Glass, novelists who trace the evolution of friendships among smart New York types, gay and straight . . . A large supporting cast is fully imagined . . . Even those who appear for a few pages, like Maize's stepfather, come right off the page." —Marion Winik, Newsday
"Examining the notion that lovers come and go but friendships last a lifetime, Ralph Sassone's debut novel . . . delves into the rarely-explored literary topic of adult heterosexual relationships uncomplicated by sexual tension . . . Sassone deftly cuts to the core of a quarter-life crisis mindset . . . It's hard to imagine any adult reader (particularly among recent college graduates) who wouldn't identify with at least some aspects of the characters' personalities . . . The Intimates is actually about the idea of families, the ones we're born into and the ones we choose for ourselves." —Liz Raftery, The Boston Globe
"Sassone has a keen understanding of the professional indignities and romantic frustrations of the young and well educated." —The New Yorker
"The Intimates astutely captures the transitional temper of [post-grad] time . . . In Mr. Sassone's rapturous details of still-ripening bodies, there's something of Tom Wolfe's very sexual 2004 novel I Am Charlotte Simmons . . . The essence of [sexual] 'after-school adventures'—the kernel of the carnal—remains a secret in Mr. Sassone's world, even as it is the centrifugal force pulling his characters through the pages. Later, as Mazie and Robbie discuss sex . . . they talk around this mystery, clearly frightened by its aura . . . The novel's language of desire is perversely dead-on. It also illustrates the fear that lurks behind our so-called straight talk about sex. All this is fascinating stuff." —The Economist
"With The Intimates, Sassone has created a friendship so deep, so utterly believable, that you feel jealous of Maize and Robbie's closeness—and of Sassone's easy talent." —Mark Peikert, NY Press
"Sassone unfolds their [his main characters'] parallel coming-of-age stories—the inevitable romantic fumblings and sexual awakenings, the ugly apartments and awful first jobs—with a delicate, melancholy knowingness." —Entertainment Weekly
"The Intimates showcases a frank and charming portrait of unconventional love . . . As our heroes stumble through the revolving door of lovers, jobs and (in Maize's case) haircuts, a fascinating character study emerges." —Monica Riese, The Austin Chronicle
"Maize and Robbie are immensely likeable and engaging and the novel, Sassone's first, is full of dry, subtle humor . . . The sex is vivid and erotic . . . Recommended for all fiction readers." —Library Journal
"Sassone's first novel explores the devastating emotional craters of first love, with its intense, irrational desire and long, immobile dry spells, and the bumpy, baffling relations between the generations." —TheRumpus.net

"An immensely readable debut novel . . . [Sassone] does a great job of exploring the lives of his young protagonists through their sexual awakening and, eventually, as they stand on the cusp of real adulthood." —Poornima Apte, MostlyFiction.com
"I loved this beautiful, serious book. Not enough fiction has been written about friendship, and to see this significant part of human experience dealt with so expertly and so passionately is cause for celebration. Maize and Robbie are as memorable as people I might actually have known and not just read about. I found The Intimates deeply romantic, and smart about everything that really matters." —Sigrid Nunez, author of Salvation City
"A meticulous, devastating chiaroscuro portrait of stifled longing." —Mary Gaitskill, author of Don't Cry
"With The Intimates, Ralph Sassone has written a deeply appealing novel about friendship, love, and the passage of time. I enjoyed it enormously." —Meg Wolitzer, author of The Ten-Year Nap
"This stunning novel is about sexual awakening and every permutation of its transformative powers. Sassone has found the magic to convey the urgency, headiness, and mystery of youth in prose laden with humor and wisdom. The Intimates is a brilliant debut." —Jill Ciment, author of Heroic Measures
"Ralph Sassone's evocative and, in places, vividly erotic debut novel tells the story of Maize and Robbie, following their friendship—and their romances with others—from high school, through college, and into roommate-hood in NYC as they enter the wider world. It's sensitive, funny, and poignantly well-observed." —
Barnes & Noble Review
"[The Intimates] delve[s] into eroticism with originality and taste . . . [and with] near-perfect pitch. Reading [it] . . . will enrich your musings on friendship, family, and the many flavors of love." —Anne Pyburn Craig, Chronogram
"Exceptional first-time novelist Sassone's lost characters are enticingly conflicted and acidly funny as they navigate painful predicaments . . . Add to that inventive metaphors, an ability to write about sex with unusual insight, and keen understanding of the nature of ambivalence . . . Sassone dramatizes the elusiveness of maturity, 'the unruliness of existence,' and our habit of hiding our true selves, especially from ourselves." —Donna Seaman, Booklist
"Charming." —Publishers Weekly
or
Not Currently Available for Direct Purchase