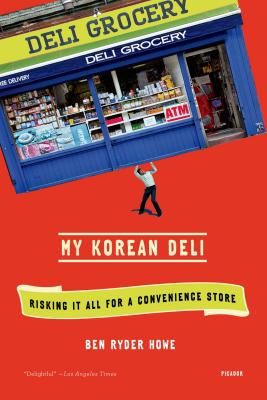 My Korean Deli (Paperback)
Risking It All for a Convenience Store
Picador, 9781250002471, 320pp.
Publication Date: February 28, 2012
Other Editions of This Title:
Hardcover (3/1/2011)
Hardcover (4/1/2010)
MP3 CD (3/1/2011)
Compact Disc (3/1/2011)
Compact Disc (3/1/2011)
Audio Cassette (3/1/2011)
* Individual store prices may vary.
Description
This warm and funny tale of an earnest preppy editor finding himself trapped behind the counter of a Brooklyn convenience store is about family, culture, and identity in an age of discombobulation.
It starts with a gift, when Ben Ryder Howe's wife, the daughter of Korean immigrants, decides to repay her parents' self-sacrifice by buying them a store. Howe, an editor at the rarefied Paris Review, agrees to go along. Things soon become a lot more complicated. After the business struggles, Howe finds himself living in the basement of his in-laws' Staten Island home, commuting to the Paris Review offices in George Plimpton's Upper East Side townhouse by day, and heading to Brooklyn at night to slice cold cuts and peddle lottery tickets. My Korean Deli follows the store's tumultuous life span, and along the way paints the portrait of an extremely unlikely partnership between characters with shoots across society, from the Brooklyn streets to Seoul to Puritan New England. Owning the deli becomes a transformative experience for everyone involved as they struggle to salvage the original gift—and the family—while sorting out issues of values, work, and identity.
About the Author
Ben Ryder Howe has written for The New Yorker, The Atlantic Monthly, and Outside, and his work has been selected for Best American Travel Writing. He is a former senior editor of The Paris Review. He, his wife, and their two children live on Staten Island. He is the author of My Korean Deli: Risking It All for a Convenience Store.
Praise For My Korean Deli: Risking It All for a Convenience Store…
"In this WASP-out-of-water tale of a Paris Review editor moonlighting as deli owner--or is it the other way around?--Howe plunges boldly into life's ultimate mysteries: marriage, money, cohabitation with in-laws, the yin-yang currents of striving and slacking, and--perhaps the biggest mystery of them all--why the store can be empty of customers for hours and hours, and then twenty show up at once. Read this book, and you'll come away wiser not just in the ways of the world, but of the human heart as well." —Ben Fountain, author of Brief Encounters with Che Guevara
"My Korean Deli is about a Korean deli, as I expected. But it's also about love, culture-clashes, family, money and literature. Plus, it happens to be very funny and poignant. So buy a Slim Jim and a Vitamin water and sit down to enjoy it." —A.J. Jacobs, author of The Know It All and The Year of Living Biblically
"I don't know how else to explain My Korean Deli except to say that Ben Ryder Howe has made kimchi. As in that splendid staple dish of Korea, the mundane (cabbage/Brooklyn) is combined with the piquant (crazy spices/families) and pickled (natural fermentation/a job at the Paris Review). The result is overpoweringly good. But My Korean Deli will sweeten your reading rather than stinking up your house and will give you deep thoughts not breath that can kill mice in the walls." —P.J. O'Rourke
"It's hard not to fall in love with My Korean Deli...[It] tells a rollicking, made-for-the-movies story in a wonderfully funny deadpan style. By the end, you'll feel that you know the author and his family quite well -- even though you may not be eager to move in with them." —The New York Times Book Review
"As he leapfrogs from Staten Island to Brooklyn to the Review...Howe gains new understanding of life on both sides of the register--the deli is revealed to be a fickle friend, perpetually seesawing between financial promise and ruin, but also magical, a place touched with an unlikely intimacy that holds together the seams of a neighborhood." —The New Yorker
"Howe ably transforms what could have been a string of amusing vignettes about deli ownership into a humorous but heartfelt look into the complexities of family dynamics and the search for identity." —Publishers Weekly
"My Korean Deli serves a love story for our times." —USA Today
"Poking fun at everything from his stereotypically WASP upbringing to his "tank" (he said it) of a mother-in law…Howe has created a smartly measured and propulsive read." —Booklist
"Howe's portrait of the septaugenarian [George] Plimpton is priceless...Howe's combining of the Upper East Side's old world with immigrant survival skills conveys what is absolutely the best of New York. Delightful." —Los Angeles Times