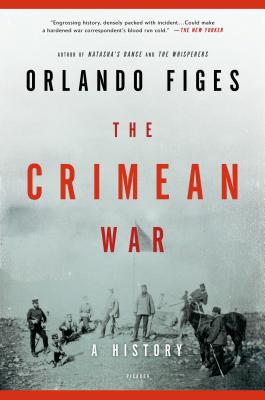 The Crimean War (Paperback)
A History
Picador, 9781250002525, 624pp.
Publication Date: February 28, 2012
Other Editions of This Title:
Hardcover (4/12/2011)
* Individual store prices may vary.
Description
From "the great storyteller of modern Russian historians" (Financial Times) comes the definitive account of the forgotten war that shaped the modern age.
The Charge of the Light Brigade, Florence Nightingale—these are the enduring icons of the Crimean War. Less well-known is that this savage war (1853-1856) killed almost a million soldiers and countless civilians; that it enmeshed four great empires—the British, French, Turkish, and Russian—in a battle over religion as well as territory; that it fixed the fault lines between Russia and the West; that it set in motion the conflicts that would dominate the century to come.
In this masterly history, Orlando Figes reconstructs the first full conflagration of modernity, a global industrialized struggle fought with unusual ferocity and incompetence. Drawing on untapped Russian and Ottoman as well as European sources, Figes vividly depicts the world at war, from the palaces of St. Petersburg to the holy sites of Jerusalem; from the young Tolstoy reporting in Sevastopol to Tsar Nicolas, haunted by dreams of religious salvation; from the ordinary soldiers and nurses on the battlefields to the women and children in towns under siege..
Original, magisterial, alive with voices of the time, The Crimean War is a historical tour de force whose depiction of ethnic cleansing and the West's relations with the Muslim world resonates with contemporary overtones. At once a rigorous, original study and a sweeping, panoramic narrative, The Crimean War is the definitive account of the war that mapped the terrain for today's world.
About the Author
Orlando Figes is the author of A People's Tragedy, Natasha's Dance, and The Crimean War, among other books. His works have been translated into twenty-seven languages. A professor of history at Birkbeck, University of London and a frequent contributor to The New York Review of Books, Figes is the recipient of the Wolfson History Prize, the W. H. Smith Literary Award, and the Los Angeles Times Book Prize. He lives in London.
Praise For The Crimean War: A History…
"Engrossing . . . In a book densely packed with incident, Figes highlights the influence of the press and the brutal casualties that the war produced . . . Could make a hardened war correspondent's blood run cold." —The New Yorker
"Important and impressive . . . it is freshly informed by Russian sources, of which [Figes] is a master. . . . [The Crimean War] admirably narrates the saga in its international and religious setting." —Max Hastings, New York Review of Books
"Meticulously researched . . . Comprehensive and compelling . . . Using a startling array of sources, from government records, news articles, and memoirs, to the letters of barely-literate soldiers, Figes deftly balances political, military, and social history . . . The chapters on the war itself are as gripping as an adventure novel . . . The Crimean War is an evisceration of war, a celebration of scholarship." —Boston Globe
"Fascinating . . . Narrative history at its best, with patient unfolding of events unknown and forgotten--but that have consequences even today. A thoroughly impressive book." —Kirkus, starred review
"A lucid, thoroughly satisfying, definitive history." —Publishers Weekly, starred review
"Narrated in fearsomely vivid detail and with analytical precision . . . Figes restores historical significance and human suffering to the conflict." —Booklist
"A wonderful subject, on every level, and with Orlando Figes it has found the historian worthy of its width and depth." —Norman Stone, Standpoint
"Figes' new work will remind readers of his gifts, keen judgment and mastery of sources." —Max Hastings, The Sunday Times
"This is the only book on the Crimean War anyone could need. It is lucid, well-written, alive and sensitive. Above all, it tells us why this neglected conflict and its forgotten victims deserve our remembrance." —Oliver Bullough, The Independent
"Figes is a first-class historian. . . an excellent guide to the vagaries of the battlefield and the suffering of the ordinary soldiers . . . and the extent to which this was a religious war." —Dominic Sandbrook, The Daily Telegraph
"A fine, stirring account, expertly balancing analysis . . . with an impressive narrative across the vast panoramic sweep of the war." —Mark Bostridge, Financial Times
"Excellent. . . I could not help but marvel at the many parallels with the present." —Anne Applebaum, The Spectator
"A stellar historian. As ever, Figes mixes strong narrative pace, a grand canvas and compelling ideas about current geopolitical tensions." —Tristram Hunt, The Observer
"Entertains as well as enlightens… With its account of combat in the Balkans and conflict in Iran, Afghanistan and Jerusalem, [The Crimean War] makes the modern reader blink with recognition." —Angus Macqueen, The Guardian
"A complex tale, told vividly by Figes." —The Economist