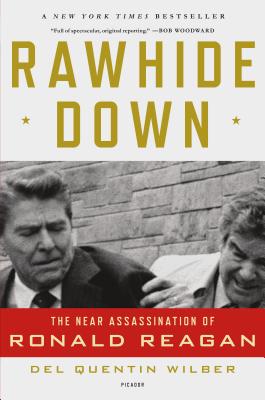 Rawhide Down
The Near Assassination of Ronald Reagan
Paperback

* Individual store prices may vary.
Other Editions of This Title:
Digital Audiobook (3/14/2011)
Hardcover (3/15/2011)
Compact Disc (3/15/2011)
Hardcover, Large Print, Large Print (4/1/2011)
Description
A Janet Maslin (New York Times) Top 10 Pick for 2011
A Washington Post Notable Nonfiction Book for 2011
A Richmond Times Dispatch Top Book for 2011

A minute-by-minute account of the attempted assassination of Ronald Reagan, to coincide with the thirtieth anniversary

On March 30, 1981, President Ronald Reagan was just seventy days into his first term of office when John Hinckley Jr. opened fire outside the Washington Hilton Hotel, wounding the president, press secretary James Brady, a Secret Service agent, and a D.C. police officer. For years, few people knew the truth about how close the president came to dying, and no one has ever written a detailed narrative of that harrowing day. Now, drawing on exclusive new interviews and never-before-seen documents, photos, and videos, Del Quentin Wilber tells the electrifying story of a moment when the nation faced a terrifying crisis that it had experienced less than twenty years before, the assassination of President John F. Kennedy.

With cinematic clarity, we see Secret Service agent Jerry Parr, whose fast reflexes saved the president's life; the brilliant surgeons who operated on Reagan as he was losing half his blood; and the small group of White House officials frantically trying to determine whether the country was under attack. Most especially, we encounter the man code-named "Rawhide," a leader of uncommon grace who inspired affection and awe in everyone who worked with him.

Ronald Reagan was the only serving U.S. president to survive being shot in an assassination attempt.* Rawhide Down is the first true record of the day and events that literally shaped Reagan's presidency and sealed his image in the modern American political firmament.

*There have been many assassination attempts on U.S. presidents, four of which were successful: Abraham Lincoln, James A. Garfield, William McKinley, and John F. Kennedy. President Theodore Roosevelt was injured in an assassination attempt after leaving office.
Praise For Rawhide Down: The Near Assassination of Ronald Reagan…
"Newly revealing… Mr. Wilber reconstructs an episode much more serious and dire than it has been made to seem. The courage of the president, the delicacy of the situation faced by his doctors and the sloppiness of security measures are all given new attention… A fast-paced book that captures many points of view." —The New York Times (one of Janet Maslin's Recommended Books for 2011)

"The chapters that detail the assassination attempt and its immediate aftermath read like a thriller. In clear prose, we learn that Reagan was far closer to death than was previously thought." —David Baldacci, The Washington Post

"A page-turner from beginning to end… You will learn a lot about an event that came razor-close to changing America forever." —Bill O'Reilly, author of the forthcoming Killing Lincoln: The Assassination that Changed America Forever

"A harrowing story, more so than it seemed at the time, and Wilber, a reporter for the Washington Post, has tracked down virtually everyone who had anything to do with protecting the President or with saving his life at the hospital." —The New Yorker

"In this eye-opening book of solid journalism, we learn just how close Ronald Reagan, code-named 'Rawhide' by the Secret Service, came to being the president with the second shortest time in office." —Bob Hoover, Pittsburgh Post-Gazette

"With a reporter's eye for detail and a screenwriter's talent for the cinematic, he invests such immediacy in Rawhide Down that the reader is thrust back 30 years in time." —Richmond Times-Dispatch

"A tense, riveting account of that day." —Dallas Morning News

"Detailed and dramatic… Mr. Wilber, a Washington Post crime reporter who writes clear, crisp prose, fleshes out his gripping narrative with a number of well-told side stories." —The Washington Times

"A riveting minute-by-minute account of the shooting and reveals that Reagan came closer to death than the public knew." —New York Post

"This intensely researched account yields an almost moment-by-moment account of the crisis." —New York Daily News

"A fast-paced read that draws well-crafted characters and gives a vivid sense of the history that brought the story's heroes and Hinckley together that day." —The Washingtonian

"Gripping … A fascinating glimpse of a pivotal moment in history." —Publishers Weekly (Starred Review)

"This mesmerizing rendition of the event can be read in one sitting, as Wilber's accuracy and craft provoke rapt interest." —Booklist

"Del Quentin Wilber has written a compelling and multi-layered examination of the near-assassination of President Ronald Reagan on March 30, 1981. As a biographer of Reagan who was at the Washington Hilton Hotel that fateful day, I was fascinated by Wilber's meticulous reconstruction. He properly credits the valor and judgment of the Secret Service agents who saved Reagan's life but also analyzes the security deficiencies that made the assassination attempt possible. Wilber reminds us of how close we were to losing Reagan little more than two months into his presidency. His detailed and readable accounts of the surgeries performed on Reagan and Press Secretary James Brady are of particular historical value." —Lou Cannon, author of President Reagan: The Role of a Lifetime

"Rawhide Down is full of spectacular, original reporting." —Bob Woodward

"The 96 months of Ronald Reagan's presidency changed the nation and the world. Del Quentin Wilber's gripping account of the 'near assassination' of the 40th president shows how close the country--and the world--came to missing more than 93 of those months." —George F. Will

"Rawhide Down is a stunning work. Del Quentin Wilber, with the world-class reporting skills he honed on the police beat and a fine sense of narrative, has taken a story we thought we knew and rendered it wholly fresh, vibrant, and revealing." —David Maraniss, author of When Pride Still Mattered
Picador, 9781250002549, 336pp.
Publication Date: March 27, 2012
About the Author
Del Quentin Wilber is the New York Times-bestselling author of Rawhide Down, an account of the attempted assassination of Ronald Reagan. An award-winning reporter who previously worked for The Baltimore Sun and The Washington Post, he now covers the justice department for the Los Angeles Times. He lives in Chevy Chase, Maryland.