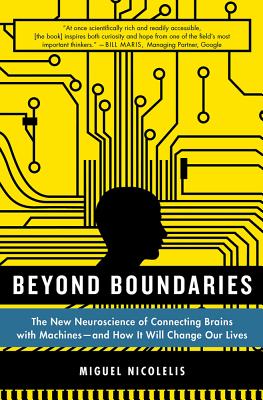 Beyond Boundaries (Paperback)
The New Neuroscience of Connecting Brains with Machines---and How It Will Change Our Lives
St. Martin's Griffin, 9781250002617, 368pp.
Publication Date: February 28, 2012
Other Editions of This Title:
Hardcover (3/15/2011)
* Individual store prices may vary.
Description
Imagine living in a world where people use their computers, drive their cars, and communicate with one another simply by thinking. In this stunning and inspiring work, Duke University neuroscientist Miguel Nicolelis shares his revolutionary insights into how the brain creates thought and the human sense of self—and how this might be augmented by machines, so that the entire universe will be within our reach.
Beyond Boundaries draws on Nicolelis's ground-breaking research with monkeys that he taught to control the movements of a robot located halfway around the globe by using brain signals alone. Nicolelis's work with primates has uncovered a new method for capturing brain function—by recording rich neuronal symphonies rather than the activity of single neurons. His lab is now paving the way for a new treatment for Parkinson's, silk-thin exoskeletons to grant mobility to the paralyzed, and breathtaking leaps in space exploration, global communication, manufacturing, and more.
Beyond Boundaries promises to reshape our concept of the technological future, to a world filled with promise and hope.
About the Author
Miguel Nicolelis, M.D. Ph.D., is the Anne W. Deane Professor of Neuroscience at Duke University and founder of Duke's Center for Neuroengineering. He is the author of Beyond Boundaries. His award-winning research has been published in Nature, Science, and other leading scientific journals, as well as in Scientific American, which named him one of the twenty most influential scientists in the world. A member of the French and Brazilian academies of sciences, he lives in North Carolina.
Praise For Beyond Boundaries: The New Neuroscience of Connecting Brains with Machines---and How It Will Change Our Lives…
"Miguel Nicolelis has produced a delightful and scientifically important work by combining stories of his life with reflections on the big questions in neuroscience. The progress he and his co-workers have made toward a future where humans can use brain activity to directly control computers and mechanical devices to restore lost motor and communication functions is both awe-inspiring and filled with hope." —Jon Kaas, Distinguished Centennial Professor, Vanderbilt University and member of the U.S. National Academy of Sciences
"In this wonderfully vivid and fascinating book, Miguel Nicolelis describes a new view of the human brain, and how interfacing it to machines will have important implications for rehabilitation medicine and beyond." —Peter Agre, M.D., 2003 Nobel Laureate in Chemistry and University Professor and Director, Johns Hopkins Malaria Research Institute
"Here is the seminal guide to the latest in brain-machine interfaces and the incredible potential they hold to improve the human condition. From the first moment I heard about Miguel's ground-breaking work in the hallways of Duke University, I knew he was on to something special. At once scientifically rich and readily accessible, it inspires both curiosity and hope from one of the field's most important thinkers." —Bill Maris, Managing Partner, Google
"Beyond Boundaries is an absolute joy to read. Professor Miguel Nicolelis has provided a provocative, thoughtful and novel view of how this amazing machine called our brain processes and acts on information about our world. Always a scientist and often a poet, Nicolelis writes in an informative and engaging style that is accessible to specialist and layman alike. I highly recommend this wonderful book." —Thomas J. Carew, Bren Professor and Chair, Department of Neurobiology and Behavior, University of California, Irvine, and former president of the Society of Neuroscience
"Nicolelis is a leader in the rapidly developing field that allows brains and machines to work closely together. . .will fascinate neuroscience buffs." —Publishers Weekly