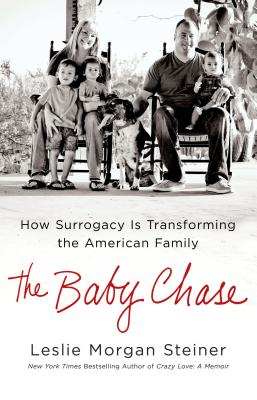 The Baby Chase
How Surrogacy Is Transforming the American Family
Hardcover

* Individual store prices may vary.
Other Editions of This Title:
Paperback (11/18/2014)
Description
From the "New York Times" bestselling author of "Crazy Love "comes a riveting new narrative about surrogate pregnancy from both sides of the equation the parents and the gestational carrier.
Once considered a desperate, even morally suspect option, surrogacy is now sweeping headlines, transforming the lives of celebrity mothers and fathers like Sarah Jessica Parker, Nicole Kidman and Elton John, and changing the face of motherhood and the American family. But how much do we really know about it? And is it really as easy and accessible emotionally, financially, legally and physically as magazines make it out to be? We often hear about successful outcomes, but little about the journey about the precious hope that starts it all, the ups and downs of finding a surrogate, the heartache and obstacles, the risks and expenses at every step, or the unbelievable joy when years of determination pay off. In "The Baby Chase, " acclaimed writer Leslie Morgan Steiner weaves three stories together of a nurse, a firefighter, and the Indian gestational carriers and doctors who helped them to provide one intensely personal look at what makes surrogacy so controversial, fascinating, and in some cases, the only ray of hope for today's infertile parents-to-be.
Rhonda Wile and her husband Gerry struggled for years with infertility. With perseverance that shocked everyone around them, they tried every procedure and option available unsuccessfully until they finally decided to hire a surrogate. While surrogacy was being touted as a miracle for hopeful parents, for Rhonda and Gerry, it seemed an impossible and unaffordable dream. Until they came across the beaming smile of a beautiful Indian woman on the internet and, within a few short months, embarked on a journey that would take them deep into the emerging world of Indian carriers, international medical tourism, and the global surrogacy community.
Moving, page-turning, and meticulously researched, this complex human story is paired with an examination of the issues religious, legal, medical and emotional that shapes surrogacy as a solution both imperfect and life-changing.
Praise For The Baby Chase: How Surrogacy Is Transforming the American Family…
Praise for BABY CHASE:
"Steiner overlays the story of Rhonda and Gerry Wile—an Arizona nurse and firefighter whose search for children led them to surrogate pregnancy—on an emotionally heightened, journalistic overview of infertility and the options available to prospective parents… Noting barren women of the Bible as examples, as well as celebrities who have used IVF and surrogacy, Steiner appeals to a popular demographic to craft a personable account of the hope surrogacy can offer… [Steiner] effectively touches on the complications of surrogacy—including its economic, legal, ethical, psychological, and societal ramifications—in clear, informative ways. She also offers insights on some of the controversies, from religious perspectives to the lack of coverage for surrogacy by many insurance companies."   - Kirkus Reviews
Praise for Crazy Love:
"Compulsively readable." –People (3 ½ stars)
"In steady, intimate prose punctuated by surprising, refreshing streaks of humor… this courageous, empowering survival story brings the phrase 'battered woman' into terrifying focus." —Kirkus Reviews
"[Readers will] cheer as Steiner… slowly regains her sense of self and escapes this crazy love." —The Washington Post
"Harrowing." —TheDailyBeast.com
St. Martin's Press, 9781250002945, 289pp.
Publication Date: November 5, 2013
About the Author
LESLIE MORGAN STEINER is the New York Times bestselling author of Crazy Love and the editor of the highly acclaimed anthology Mommy Wars. She is a frequent speaker on surviving domestic abuse, and her TED Talk on relationship violence has been viewed by over one million people worldwide. From 2006 to 2008, she wrote the popular "On Balance" blog for washingtonpost.com. Steiner received a BA from Harvard College and an MBA from the Wharton School of Business. She now lives in Washington, D.C., with her husband and three children.
Coverage from NPR
or
Not Currently Available for Direct Purchase