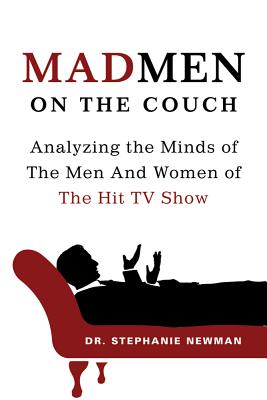 Mad Men on the Couch
Analyzing the Minds of the Men and Women of the Hit TV Show
Paperback

* Individual store prices may vary.
Description
Mad Men has captured the imaginations of millions of viewers, winning fifteen golden globes and four Emmys. Perhaps more than the gorgeously stylized visuals and impeccably re-created history, it's the show's richly drawn characters stumbling through their personal and professional lives that get under our skin and keep us invested.

In Mad Men on the Couch, Dr. Stephanie Newman analyzes the show's primary characters through the lens of modern psychology. Lending her trained professional eye, she poses and expertly answers pressing questions such as:

Why does Don constantly sabotage himself?
Why is Betty such a cold mother and desperately unhappy housewife? (Hint: It's not just because her "people are Nordic.")
Why does Pete prevail in adversity when Roger crumbles?
Why is Peggy able to rise profesionally in the male jungle of Madison Avenue when Joan can't?
Can these characters ever really change?

With critical commentary that is both entertaining and insightful, Mad Men on the Couch will provide viewers with a unique persepctive on the show.
Praise For Mad Men on the Couch: Analyzing the Minds of the Men and Women of the Hit TV Show…
"Fans of the show will absolutely want to read these spot-on diagnoses of the major characters, but even casual or non-viewers of the show will greatly enjoy the ways in which Dr. Stephanie Newman has illuminated the trends and values of our current culture by looking at the way life once was a few decades ago. In sum, a smart, thoughtful and most of all, fun book." —Barry A. Farber, Ph.D., professor at Columbia University and author of Rock 'n roll Wisdom

"Dr. Newman takes this fascinating, compelling and award-winning TV show and skillfully analyzes both the psychological and broadly social messages implicit in it." —Irwin Hirsch PhD, professor and author of Coasting in the Countertransference

"This fascinating book presents us with a double gift. Not only does it offer a sophisticated and entertaining analysis of the characters in Mad Men, it also provides invaluable insights into the variety of personality types that we encounter off screen in our daily lives. A treasure for Mad Men fans and a delight to read, this book also serves as a splendid introduction to modern psychoanalysis." —Ted Jacobs MD
St. Martin's Griffin, 9781250002983, 224pp.
Publication Date: February 28, 2012
About the Author
Dr. Stephanie Newman is a clinical psychologist/psychoanalyst with over fifteen years' experience providing insight-oriented talk therapy for those with anxiety, depression, and relationship, health, and workplace difficulties. She is a co-editor of Money Talks and a regular contributor to the online edition of Psychology Today. Dr. Newman is a faculty member at the Institute for Psychoanalytic Education, affiliated with the School of Medicine, NYU, and teaches candidates in the Institute's analytic training program. She is author of the book Mad Men on the Couch.
or
Not Currently Available for Direct Purchase