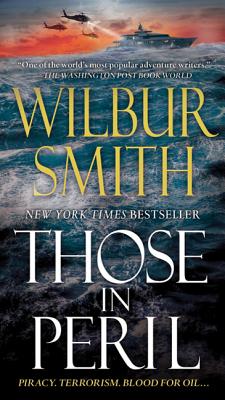 Those in Peril (Mass Market Paperbound)
St. Martin's Press, 9781250003232, 480pp.
Publication Date: January 31, 2012
* Individual store prices may vary.
or
Not Currently Available for Direct Purchase
Description
In "Those in Peril," a nail-biting tale of adventure, bestselling author Wilbur Smith brings his matchless storytelling to bear on the violent, ruthless world of twenty-first-century piracy.
While cruising on the family yacht in the Indian Ocean, nineteen-year-old Cayla Bannock is attacked and taken hostage by Somalian pirates. Her kidnappers demand a staggering ransom: twenty billion dollars. And Cayla's not just anyone--she's the daughter of Hazel Bannock, heiress to the Bannock Oil Corporation, one of the world's foremost oil producers.
The sensitive global political climate means not even the most powerful groups in the world can intervene. Left to handle the problem on her own, Hazel calls on Hector Cross, head of the security agency that protects Bannock Oil. As threats increase and evidence arises of horrific torture, the need to take action becomes more urgent than ever--and soon Hazel and Hector will have no choice but to take the law into their own hands...
About the Author
Wilbur Smith was born in Central Africa. He became a full-time writer in 1964 after the successful publication of When the Lion Feeds, and has since written more than thirty novels, all meticulously researched on his numerous expeditions worldwide. His books are now translated into twenty-six languages and have sold more than 100 million copies.
Praise For Those in Peril…
Praise for Those in Peril
"Those in Peril is the thriller of the year."--Daily Express (UK)
"Gun-blazing action."--Daily Telegraph (UK)
"Another outstanding adventure from this popular author."--The French Paper (UK)
"As with most of Smith's books, this one is a cracker of a read."--The Citizen (New Zealand)
OUTSTANDING PRAISE FOR THE NOVELS OF WILBUR SMITH
ASSEGAI
"One thrilling package that will be eagerly devoured by fans."—Publishers Weekly
"There is a reason Smith is a hugely popular writer of historical novels: his remarkable talent for re-creating historical periods and crafting characters we care about is virtually unmatched in the genre. Smith [has] been entertaining readers for nearly five decades, and if this novel is any indication, he is showing no signs of slowing down."—Booklist
THE TRIUMPH OF THE SUN
"Everything [Smith's] fans have come to expect: masterful storytelling and breathtaking adventure…chalk up another winner."—Times Record News (Wichita Falls, TX)
"Espionage, disguise, stabbings in the dark…a story that is—like the Nile itself—swift and powerful." —Booklist
"Wildly entertaining, compulsively readable."—Sunday Telegraph (UK)
BLUE HORIZON
"The eleventh volume in Smith's saga of the Courtney clan is every bit as riveting as its predecessors. Brimming with bravado, greed, and romance."—Booklist
"Really big retro-fun."—Kirkus Reviews
"A swashbuckling, brawling, sprawling historical epic. Rich, exciting, and fascinating."—Library Journal
"Adventure and danger at every turn."—New York Daily News
"Gripping. The writer's fans will enjoy the ride."—Publishers Weekly
"Master storyteller Smith takes his story into another generation of adventurers battling on the sea and on land in the settling of South Africa."—Tulsa World
"Everything Smith's fans have come to expect from his epic adventure novels. His consummate skill at crafting vast battle scenes, passionate and wildly romantic characters, cruel and bloodthirsty villains, and larger-than-life heroes make Blue Horizon irresistible."—Journal (Flint, MI)
WARLOCK
"When it comes to historical fiction, Smith is without rival. He is a warlock of writers."—Tulsa World
"Filled with enough action, adventure, battles, betrayals, and actual cliffhangers to satisfy Indiana Jones…rousing."—The Plain Dealer
"Seamlessly composed, this epic historical drama by veteran author Smith tracks a power struggle in ancient Egypt …evoking the cruel glories and terrible torments of the era. Those willing to brave the blood and gore will be carried away by the sweep and pace of Smith's tale." —Publishers Weekly
"Each time I read a new Wilbur Smith I say it is the best book I have ever read—until the next one. It's the same with Warlock. Brilliant…irresistible and impossible to put down."—Times Record News (Wichita Falls, TX)
"Pulse-pounding…adventure and excitement, with more blood and guts than a slaughterhouse."—Tampa Tribune Times
"This summer's most entertaining read…another full-blown tale of war, intrigue, murder, lust, and true love set in ancient Egypt."—Flint Journal
"Smith is at the top of his game in weaving exotic adventures in this work. Very highly recommended."—Library Journal
"Smith...returns to the genre with this epic action tale of intrigue, suspense, and adventure set in ancient Egypt. His many fans will be clamoring for copies of this one."—Booklist
"A stirring tale, full of chariot battles...Smith has whipped up a heady brew...and undoubtedly deserves his immense popularity far more than most of his rivals."—Evening Standard (UK)
"You can almost feel the heat and taste the dust as the narrative builds to a cracking pace...[Warlock] is a ripping yarn and a classic adventure story."—Irish News
RIVER GOD
"A grand tale of intrigue, deception, true love and exile."—The Denver Post
"Vivid and fascinating...packed with passion, war, intrigue and revenge...sprawling and absorbing...gripping.…A racy rampage through ancient Egypt that puts the reader right there with details that are intimate, inspiring, horrifying….The author makes you see it, hear it—even smell it...Fans will be happy to know Smith hasn't lost his touch for the dramatic, exotic adventure story."—The Orlando Sentinel
"A page-turner...few novelists can write action scenes that all but leap off the page the way Smith can...his detailed portrait of ancient Egypt is fascinating."—Anniston Star (TX)
"A full-blooded epic."—The London Times
"Like a good action movie, the book ends with a show-down…well-written and entertaining."—Lexington Herald-Leader (KY)
"Compulsively readable...contains intrigue, romance, greed, cruelty, and furious action...rewarding and satisfying."—El Paso Herald-Post (TX)
"An epic novel of ancient Egypt, a great adventure with all the right ingredients: victories and defeats, secrets and revelations, life and death, reverence and godlessness, hate and love."—The Des Moines Register
"[River God] gallops swiftly through the action and flying blood his fans have come to relish...Brightly colored, sweeping escapism."—Kirkus Reviews
MONSOON
"[A] non-stop thriller that takes readers on a magical tour…this is what makes a Smith book worth reading." —Midwest Book Review
"Only a handful of 20th century writers tantalize our senses as well as Smith…a rare author who wields a razor-sharp sword of craftsmanship." —Tulsa World
"A wild adventure…brought flawlessly to life through realistic sword fights and sea battles, vivid stories of pirates…breathtaking." —Times Record News
"A masterful tale of action and suspense....adventure and romance, the novel is an atmospheric trip through the fierce mysteries of the Dark Continent and the Arabian seas."—Publishers Weekly
"Smith offers plenty of battles and harrowing escapes for adventure fans."—Library Journal
BIRDS OF PREY
"A fascinating account...Smith deftly evokes not only the horrific but also the beautiful, particularly the lush landscape of Africa."—The Washington Post Book World
"Unforgettable...swashbuckling and sensuous, Birds of Prey transcends the average action-adventure yarn."—The Orlando Sentinel
"A wonderful novel filled with excitement, pirates, and vivid sea battles...vintage Wilbur Smith."—Times Record News (Wichita Falls, TX)
Advertisement