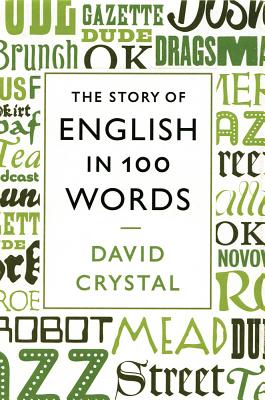 The Story of English in 100 Words (Hardcover)
St. Martin's Press, 9781250003461, 288pp.
Publication Date: March 27, 2012
Other Editions of This Title:
Paperback (3/26/2013)
Compact Disc (12/1/2011)
Pre-Recorded Audio Player (9/1/2012)
Compact Disc (9/1/2012)
* Individual store prices may vary.
Description
The world's foremost expert on the English language takes us on an entertaining and eye-opening tour of the history of our vernacular through the ages.
In "The Story of English in 100 Words," an entertaining history of the world's most ubiquitous language, David Crystal draws on one hundred words that best illustrate the huge variety of sources, influences and events that have helped to shape our vernacular since the first definitively English word roe' was written down on the femur of a roe deer in the fifth century. Featuring ancient words ( loaf'), cutting edge terms that relfect our world ( twittersphere'), indispensible words that shape our tongue ( and', what'), fanciful words ( fopdoodle') and even obscene expressions (the "c word..".), David Crystal takes readers on a tour of the winding byways of our language via the rude, the obscure and the downright surprising.
About the Author
DAVID CRYSTAL, is Honorary Professor of Linguistics at the University of Wales, Bangor. In 1995, he was awarded the Order of the British Empire for services to the English language. He lives in the United Kingdom.
Praise For The Story of English in 100 Words…
"The best word book to come down the pike in many a moon. There are "Eureka!" moments in every chapter. An ingenious idea, and only David Crystal could have pulled it off. He's a marvel (but then we knew that already)."--Patricia T. O'Conner and Stewart Kellerman, authors of Origins of the Specious: Myths and Misconceptions of the English Language, and bloggers at Grammarphobia.com