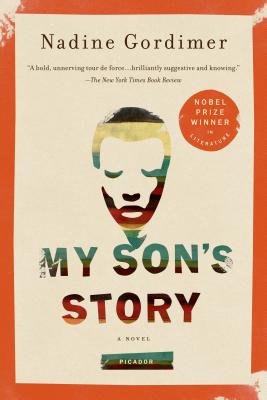 My Son's Story (Paperback)
A Novel
Picador, 9781250003751, 272pp.
Publication Date: March 27, 2012
Other Editions of This Title:
Paperback, Large Print, Large Print (12/1/1991)
Hardcover (3/27/2012)
* Individual store prices may vary.
Description
When Will skips school to slip off to a movie theater near Johannesburg, he is shocked to see his father. An ordinary mishap, but his father is no ordinary man. He is a "colored" and revered anti-apartheid hero, and his female companion is a white activist fiercely dedicated to the cause. As Will struggles with confusion and bitterness, My Son's Story unravels the consequences of one man's infidelity as a new South Africa violently emerges from the apartheid.
"Captures with convincing detail the ecstatic rewards and terrifying costs of revolutionary politics...Delineates with unblinking candor the collision of public and private experience that takes place on a daily basis in South Africa...A fiercely intelligent novel -- one of her most powerful yet." —Michiko Kakutani, The New York Times
"Gordimer has taken South Africa's tragedy and laid the truth of it in our laps. The story she tell sis lucid and achingly alive."—The Boston Sunday Globe
"Beautifully felt, both in its anger and its compassion...It is so rich as to make praise superfluous, so vital and disturbing as to send us...back into the world with a heightened sense of what life in it might mean."—USA Today
About the Author
Nadine Gordimer (1923-2014), the recipient of the 1991 Nobel Prize in Literature, was born in a small South African town. Her first book, a collection of stories, was published when she was in her early twenties. Her ten books of stories include Something Out There (1984), and Jump and Other Stories (1991). Her novels include The Lying Days (1953), A World of Strangers (1958), Occasion for Loving (1963), The Late Bourgeois World (1966), A Guest of Honour (1971), The Conservationist (1975), Burger's Daughter (1979), July's People (1981), A Sport of Nature (1987), My Son's Story (1990), None to Accompany Me (1994), The House Gun (1998), The Pickup (2001), Get a Life (2005), and No Time Like the Present (2012). A World of Strangers, The Late Bourgeois World, and Burger's Daughter were originally banned in South Africa. She published three books of literary and political essays: The Essential Gesture (1988); Writing and Being (1995), the Charles Eliot Norton Lectures she gave at Harvard in 1994; and Living in Hope and History (1999).
Ms. Gordimer was a vice president of PEN International and an executive member of the Congress of South African Writers. She was a fellow of the Royal Society of Literature in Great Britain and an honorary member of both the American Academy of Arts and Letters and the American Academy of Arts and Sciences. She was also a Commandeur de'Ordre des Arts et des Lettres (France). She held fourteen honorary degrees from universities including Harvard, Yale, Smith College, the New School for Social Research, City College of New York, the University of Leuven in Belgium, Oxford University, and Cambridge University.
Ms. Gordimer won numerous literary awards, including the Booker Prize for The Conservationist, both internationally and in South Africa.
Praise For My Son's Story: A Novel…
"A bold, unnerving tour de force . . . brilliantly suggestive and knowing." —The New York Times Book Review
"Nadine Gordimer has given us a work of bleak beauty and enormous force." —The Washington Post Book World
"Gordimer has taken South Africa's tragedy and laid the truth of it in our laps. The story she tells is lucid and achingly alive." —The Boston Sunday Globe
"The moral urgency that informs Nadine Gordimer's novels and stories endows them with a virtue distinct from their literary merits. Her subject is the agony of South Africa; her theme, the corruption that leads *Bigoted rulers, but its reformers as well . . . A brave writer, she has. over the decades and at some risk to herself, combined a layered moral vision with an acute apprehension of how people react to a cruel and self-destructive society." —Newsweek
"A thoughtful, poised, quietly poignant novel that... recognizes the value and cost of political commitment." —The Christian Science Monitor
"Although all of Gordimer's novels are written from a political point of view--as an opponent of apartheid and all its work--her intelligence is too subtle, her imagination too exact, to allow her to produce a merely political novel . . . My Son's Story maintains the finest balance of sympathies." —The Independent (London)
"The turmoil in South Africa leaves no member of a decorous colored family untouched, as the schoolmaster husband turns activist and lover. Gordimer is perceptive, unflinching, and sympathetic" —The Observer (London)
"If one were never to read any other literature about South Africa, Gordimer's work should be enough. For more than thirty years she has delineated each shift and change in the system in [her] novels and short stories that intertwine the personal with the political. As a literary keeper of records, she has no peer." —The Sunday Times (London)
"Beautifully felt, both in its anger and its compassion. It is so rich as to make praise superfluous, so vital and disturbing as to send us . . . back into the world, with a heightened sense of what life in it might mean." —USA Today
"A remarkable novel--tough, unsentimental, moving in the extreme." —The Daily Mail (London)
"A bleak, powerful novel of issues . . . This book radiates strength, personality, intelligence, and commitment." —The Sunday Telegraph (London)
"My Son's Story, about a colored South African family ravaged by the father's affair with a white human rights advocate, probes with breathtaking power and precision the complexities of 'love, love/hate,' and the interplay of public and private reality. . . . Gordimer retains perfect control over her material, rendering her characters' shifting perspectives with truly extraordinary empathy and discernment. Highly recommended." —Library Journal
"Gordimer delivers her most perceptive and powerful novel in years. The story of a man's evolution as a political activist and the toll it takes on his family and on him, it is also a picture of a marriage and of an extramarital affair, set against a backdrop of daily life in segregated South Africa, even as the winds of change begin to blow. The novel is eloquent in its understated prose and anguished understanding of moral complexities." —Publishers Weekly