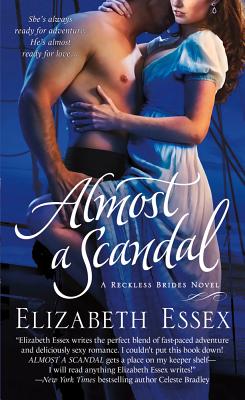 Almost a Scandal (Mass Market Paperbound)
St. Martin's Press, 9781250003799, 362pp.
Publication Date: July 31, 2012
* Individual store prices may vary.
Description
Elizabeth Essex
Almost a Scandal
Bold, brazen, and beautiful, the Reckless Brides refuse to play by society's rules of courtship. But come hell or high water they always get their man
For generations, the Kents have served proudly with the British Royal Navy. So when her younger brother refuses to report for duty, Sally Kent slips into a uniform and takes his place at least until he comes to his senses. Boldly climbing aboard the Audacious, Sally is as able-bodied as any sailor there. But one man is making her feel tantalizingly aware of the full-bodied woman beneath her navy blues
Dedicated to his ship, sworn to his duty and distractingly gorgeous Lieutenant David Colyear sees through Sally's charade, and he's furious. But he must admit she's the best midshipman on board and a woman who tempts him like no other. With his own secrets to hide and his career at stake, Col agrees to keep her on. But can the passion they hide survive the perils of a battle at sea? Soon, their love and devotion will be put to the test
About the Author
Elizabeth Essex is the acclaimed author of historical novels including The Pursuit of Pleasure and A Sense of Sin. When not re-reading Jane Austen, sipping tea or mucking about her garden, Elizabeth can be found at her computer, making up wonderful stories about people who live far more interesting lives than she. It wasn't always so. Elizabeth graduated from Hollins College with a BA in Classical Studies and Art History, and then earned her MA from Texas A&M University in Nautical Archaeology, also known as the archaeology of shipwrecks.
Praise For Almost a Scandal…
PRAISE FOR ELIZABETH ESSEX
"Essex will have readers longing to set sail alongside her daring heroine and dashing hero. This wild ride of a high seas adventure/desire-in-disguise romance has it all: nonstop action, witty repartee and deft plotting. From the bow to the mast, from battles to ballrooms, Essex delivers another reckless bride and another read to remember."--Romantic Times on Almost a Scandal
"Elizabeth Essex will dazzle you with her sophisticated blend of vivid historical detail, exquisite characterization and delicious sexual tension. Almost a Scandal is a breath-taking tale of rapturous romance and awe-inspiring adventure!" —USA Today bestselling author Julianne MacLean
"Elizabeth Essex writes the perfect blend of fast-paced adventure and deliciously sexy romance. I couldn't put this book down! ALMOST A SCANDAL gets a place on my keeper shelf--I will read anything Elizabeth Essex writes!"—New York Times bestselling author Celeste Bradley
"The first book in the Reckless Brides Trilogy is a seafarer's delight. Col and Sally's high stakes adventure is fast-paced and fraught with peril. Well-timed humor punctuates the action and the use of frigate-speak adds authenticity to the shipboard dialog. The love story teases the reader at first, as Col and Sally struggle to conceal their attraction on board the Audacious. Then things turn desperate when the circumstances of war seem intent on driving them apart. A smartly written, emotional tempest."--Reader to Reader Reviews 
"Elizabeth Essex has created a fascinating world peopled with fascinating characters. I didn't want this story to end and with the promise of more books in this series, it doesn't have to. ALMOST A SCANDAL is a joy to read."—Fresh Fiction
"Ms. Essex delivers romance at its finest; adventure-packed, passion-filled and totally satisfying. Teeming with adventure, passion, sexual tension, secrets, scandal, witty banter, romance and love, this story is a delight and a definite keeper." –Romance Junkies on Almost a Scandal
or
Not Currently Available for Direct Purchase