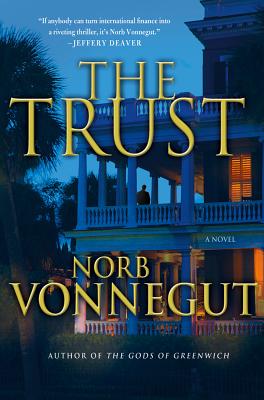 The Trust (Hardcover)
Minotaur Books, 9781250003898, 306pp.
Publication Date: July 17, 2012
* Individual store prices may vary.
or
Not Currently Available for Direct Purchase
Description
"Mr. Vonnegut dreams up diabolically elegant business crimes, then sends smart-talking characters to follow the money. He draws upon his own Wall Street experience (with Morgan Stanley, among other employers) to provide the sound of insider acumen.... There's enough novelty to this plot to set "The Trust" apart from garden-variety business thrillers, the ones in which Bernard Madoff stand-ins run Ponzi schemes. Anyway, Mr. Vonnegut is just getting started." -"The New York Times"
Norb Vonnegut lends his unique insider's perspective and his darkly humorous writing to a fast-talking suspense thriller that takes readers inside the high-rolling world of global finance.
One sultry morning in Charleston, South Carolina, real estate magnate Palmer Kincaid's body washes ashore, the apparent victim of accidental drowning. Palmer's daughter calls Grove O'Rourke, stockbroker and hero of "Top Producer," for help getting her family's affairs in order. Palmer was Grove's mentor and client, the guy who opened doors to a world beyond Charleston. Grove steps in as the interim head of the Palmetto Foundation, an organization Palmer created to encourage philanthropy.
Community foundations, like the Palmetto Foundation, are conduits. Philanthropists gift money to them and propose the ultimate beneficiaries. But in exchange for miscellaneous benefits-anonymity, investment services, and favorable tax treatment-donors lose absolute control. Once funds arrive, community foundations can do whatever they decide.
For years Palmer showed great sensitivity to his donors, honoring their wishes to funnel funds into the charities of their choice-his unspoken pledge-and it was this largesse which made him a respected pillar of the Charleston community. But after Grove authorizes a $25 million transfer requested by a priest from the Catholic Fund, he discovers something is terribly wrong. He gets a call from Biscuit Hughes, a lawyer representing the people of Fayetteville, North Carolina, against a new sex superstore in their town. Biscuit has traced the store's funding to a most unlikely source: the Catholic Fund.
Together, Grove and Biscuit launch an investigation into the fund, but the deeper they dig, the more evidence they find that the fund's money isn't being used to support the impoverished-it's going somewhere much more sinister. When someone close to him disappears and the FBI starts breathing down his neck, Grove knows he has to figure out who's pulling all the strings before the shadowy figure who will stop at nothing to keep the fund a secret gets to him.
About the Author
NORB VONNEGUT writes thrillers and non-fiction about Wall Street behind closed doors. He has appeared on Dylan Ratigan, Bloomberg News as well as the Laura Ingraham and Judith Regan shows. "Top Producer," his debut novel, was a featured pick of "Today "and "SmartMoney" and is published in eight languages. "The New York Times" selected his second book, "The Gods of Greenwich" as a 2011 summer read.

Norb built his wealth-management career with Morgan Stanley and other Wall Street institutions. A Harvard graduate, he splits his time between New York and Rhode Island and is a trustee with the American Foundation for the Blind.
Praise For The Trust…
Praise for The Trust
"Mr. Vonnegut dreams up diabolically elegant business crimes, then sends smart-talking characters to follow the money. He draws upon his own Wall Street experience (with Morgan Stanley, among other employers) to provide the sound of insider acumen…. There's enough novelty to this plot to set "The Trust" apart from garden-variety business thrillers, the ones in which Bernard Madoff stand-ins run Ponzi schemes. Anyway, Mr. Vonnegut is just getting started." –The New York Times

"A terrific summer read." –Forbes.com

"A fast and furious novel from Vonnegut (The Gods of Greenwich, 2011, etc.) and a guaranteed good time." --Kirkus
"The Trust is a fast, fun, totally engrossing thriller that hooked me on page one and never let go.  Vonnegut knows the financial world inside and out, and his expertise raises this excellent story to the highest level.  The Trust is a winner from start to finish.  I loved it." –Christopher Reich, New York Times bestselling author of Rules of Betrayal

"The Trust is great fun.  Reels you in fast ... then goes like lightning." –Stephen Frey, New York Times bestselling author of Heaven's Fury

"Norb Vonnegut is the Nelson DeMille of finance thrillers. Travelling with his characters and getting the inside skinny on the brokerage business is a must for all fiction lovers!" –Alexandra Lebenthal, author of The Recessionistas

Praise for The Gods of Greenwich
"Norb Vonnegut offers a gleeful peek at the world of hedge fund moguls in The Gods of Greenwich, a funny, savvy book that can be as absurd as its title." –The New York Times

"The black comedy of life in the fast lanes of high level finance powers a wonderful new thriller by Norb Vonnegut, The Gods of Greenwich, set in the poshest reaches of Connecticut and Manhattan... the secret of how Cy "hedges" is the Gods of Greenwich plot equivalent of what the callow young lawyer in The Firm found out about his too-good-to-be-true Memphis law office — and Vonnegut ratchets up the suspense and the laughs as we are taken deep into "Hedgistan" (i.e. Greenwich)." --The Connecticut Post

"The pieces of this plot mesh as smoothly as a well executed trade." --Bloomberg News

"If anybody can turn international finance and hedge funds into a riveting thriller, it's Norb Vonnegut. The Gods of Greenwich is a pure delight, racing relentlessly from the bedrooms of Manhattan to the boardrooms of Connecticut to the banks of Iceland. Bravo!" --Jeffery Deaver, New York Times bestselling author of Edge

"Norb Vonnegut offers you a witty, keenly-observed peek into the sometimes-lethal world of very high-stakes gambling politely known as "investing," and into the rare types who play the game. The Gods of Greenwich is compelling, suspenseful, high-energy, a terrific read!" - Thomas B. Sawyer, best-selling author of No Place to Run, Head Writer of Murder, She Wrote

"Norb Vonnegut's The Gods of Greenwich might very well be a harbinger of a new thriller sub-genre: the Financial Thriller. Not only does Vonnegut tell a ripping good yarn, but he makes sense out of the confusing world of hedge funds, stocks, CDOs, and derivatives, and manages to entertain at the same time!" --Raymond Benson, author of several James Bond novels and co-author of Homefront—The Voice of Freedom

"Vonnegut writes richly and wonderfully, every page sparking with inventiveness and wit.  This is way, way beyond just being a fast-paced financial thriller.  I've not read such a rich portrayal of downfall through hubris since Tom Wolfe's Bonfire Of The Vanities." –Peter James, internationally bestselling author of Dead Like You

"Vonnegut follows his debut, Top Producer, with another invigorating dip into the shark pool of Wall Street's hedge fund industry… Vonnegut, a financial professional himself, not only gets the language and tone of Wall Street right but has an instinctive feel for dialogue and action. Especially enjoyable is the rip-roaring finale at the Bronx Zoo." –Publishers Weekly

"The Gods of Greenwich is a fast-paced and satisfying locomotive of a financial-based thriller, Dominick Dunne meet Barbarians at the Gate. Vonnegut has opened the vaults of Greenwich's elite, and oh what secrets and schemes pour out!" –Andrew Gross, #1 bestselling James Patterson co-author

"On the money! This wickedly revealing and terrifyingly authentic financial thriller is clever, timely, and filled with enough insider info to send the feds to your door. Scheming, backstabbing and international intrigue--propelled by Vonnegut's trademark wit and page-turning plot. Bottom line? Terrific." --Hank Phillippi Ryan--Anthony, Macavity and Agatha--winning author of Drive Time

"Things go from grim to worse for rising hedge-fund star Jimmy Cusack when his company collapses and the fund that recruits him is targeted for destruction by cutthroat bankers in Iceland and a sheikh in Qatar…. The novel moves at… a fast clip, spilling goods on recession-era wheelers and dealers as it goes." –Kirkus

"Vonnegut follows up his debut (Top Producer) with a first-rate thriller set in the world of hedge fund managers during the 2008 financial meltdown…. Vonnegut's skill at creating characters at risk will make even less wealthy readers root for Cusack to survive his financial debacle with millions intact. This thriller will appeal to fans of Joseph Finder and might serve as a cautionary tale to anyone who envies the seemingly idyllic life of the superrich. But don't we all like to read about them?" –Library Journal

"The Gods of Greenwich is better than most financial thrillers… a page-turner plot. (Serial murders plus the Great Crash of 2008.)… The cast is an unusually motley and enjoyable crew." –The New York Journal of Books
Praise for Top Producer
"Norb Vonnegut, who has made a career out of wealth management, pulls off a compelling thriller that centers on the murder of hedge-fund schemer Charlie Kelemen: He's tossed into a public aquarium and munched by sharks…This novel ponders the age-old ramifications of greed, but Vonnegut gives it a fresh, timely twist." –USA Today
"Vonnegut's debut meets the gold standard for financial thrillers as it puts the frenzied, cutthroat world of Wall Street's best stockbrokers on brilliant display." –Publishers Weekly (starred review)
"Norb Vonnegut makes a sterling debut in Top Producer, a financial thriller extraordinaire that reads like a 2009 version of Tom Wolfe s brilliant Bonfire of the Vanities for a world that has lost its taste for Wall Street excesses….A former wealth manager himself, Vonnegut paints a vivid picture of life lived between million-dollar trades. But he also writes with an aplomb that makes Top Producer a literary reimagining of the film Wall Street where murder, as well as money, never sleeps." --Providence Journal-Bulletin (Rhode Island)
"The story mirrors reality — in ways that may now surprise even its author, who finished the book before the economic meltdown. The two decades Vonnegut spent as a wealth advisor are evident in the venom he brings to descriptions…and in his grasp of the cutthroat world of finance." –SmartMoney.com, chosen one of SmartMoney's 7 Smart Books for Fall
"Shockingly accurate."—Bloomberg on the Economy
"Though it's hard these days to feel sympathy for investment bankers and stockbrokers, Vonnegut makes his irreverent protagonist someone we can root for as he pursues crooks who use the redemptive language of hedge funds to hide financial malfeasance. A promising debut." –Library Journal
"A smartly constructed tale with an appealing lead." --Booklist
"Norb Vonnegut's Top Producer begins where Liar's Poker and The Bonfire of the Vanities left off and puts an electrifying spin on the winner-take-all culture of Wall Street.  Turn to the first page and plunge into the shark-infested waters of high finance and greed."  --Brent Ghelfi, ITW Award-nominated author of Volk's Game and The Venona Cable

"A timely read as Vonnegut opens the kimono exposing the intricate cause and effect of finance and murder. He shares his well-earned insights and literary acumen in a manner that entices the reader to reach out for the next chapter.  A must for all investors wishing to avoid the next Bernie Madoff!" --Joe Grano, Former CEO UBS/PaineWebber

"For those who have worked on Wall Street or those who have an interest in 'the business', Top Producer captures the true essence of the people, the pace, and the pulse as well as any novel written in a long time. A must read!!" --Larry Doyle, Sense on Cents
"[Vonnegut] knows what he's talking about." --John Searles, book editor at Cosmopolitan, speaking on the Today Show
Advertisement