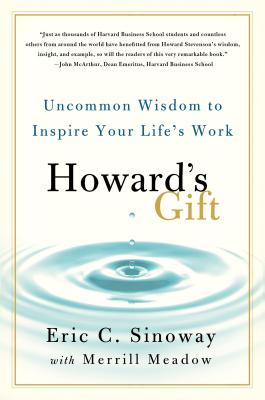 Howard's Gift (Hardcover)
Uncommon Wisdom to Inspire Your Life's Work
St. Martin's Press, 9781250004246, 279pp.
Publication Date: October 2, 2012
* Individual store prices may vary.
Description
"This work offers wonderful wisdom for navigating the inflection points in our lives." -- Mehmet Oz, MD
An iconic teacher. A warm friend. A generous mentor.
For more than 40 years, Howard Stevenson has been a towering figure at Harvard Business School: the man who literally defined entrepreneurship and taught thousands of the world's most successful professionals.
Now - spurred by Stevenson's heart-stopping brush with death - his student, colleague, and dear friend Eric Sinoway shares the man's wisdom and inspiration. Through warm and engaging conversations, we hear Howard's timeless and practical lessons on pursuing both success and fulfillment, beginning with:
- Create a vision of your own legacy through a process called "business planning for life."
- Be entrepreneurial in driving your career ahead (even if you're not an entrepreneur).
- Exploit the inflection points in your life - whether "friend," "foe," or "silent."
- Cut risk in tough career and life decisions by shining the "light of predictability" on them.
- Plan for the ripples, not just the splash from your actions and choices.
Reading Howard's Gift is like having a wise, caring friend sit down and say, "Let's figure all this out together."
And the deeply personal perspectives from guest contributors - such as CNN correspondent Soledad O'Brien, Teach for America Founder Wendy Kopp, two-time Super Bowl Champion Carl Banks, and legendary MTV Founder Bob Pittman - reinforce the practical lessons in this clear-sighted book that will help readers "define success in their own terms," and "live a life with no regrets.
About the Author
ERIC SINOWAY is an entrepreneur and seasoned executive with experience in for-profit, academic, and non-profit organizations. He is the cofounder and president of Axcess Worldwide, a New York-based partnership development company that creates inspired ideas and connects extraordinary brands and people. Axcess works with companies ranging from Rolls Royce and InterContinental Hotels & Resorts to Target and Delta Air Lines. Eric lives in New Jersey with his wife and two children.
Praise For Howard's Gift: Uncommon Wisdom to Inspire Your Life's Work…
"Filled with common-sense insights—on business and life—for future generations." —USA Today

"Thought-provoking...engaging...Think of it as Tuesdays with Morrie for MBAs." —Fortune

"The conversational tone is so casual that only after readers put the book down will they realize they just received a bucketload of valuable information and advice." —Publishers Weekly Review

"This work offers wonderful wisdom for navigating the inflection points in our lives." —Mehmet Oz, MD Professor and Vice Chair, Surgery, New York Presbyterian/ Columbia University
"This book is truly a gift for all those seeking fulfilling careers." —Wendy Kopp, Founder & CEO, Teach For America
"Beautifully written.  Compelling.  The books should be read – and re-read – by women and men of all ages!" —Henry Rosovsky, Former Dean of the Faculty of Arts and Sciences, Harvard University
"This is a book of head and heart, of wisdom and emotion.  It is Tuesday's with Morrie meets What Color is Your Parachute?  Howard's Gift is a timeless classic." —Mindy Grossman, Chief Executive Officer, HSN, Inc.
"Howard will go down in business history as the primary promoter of entrepreneurship.  He is both wise and smart." —Arthur Rock, Venture Capitalist, Arthur Rock & Company
"From a student interested in philosophy to the one pursuing pre-med, from the future attorney to the aspiring executive, Howard's Gift is a priceless guide for the incoming freshman charting his or her homework – of the graduating student contemplating professional options.  Every freshman should buy it; every graduating student should read it." —Don Bishop, Chief Administrator for Undergraduate Admissions and Financial Aid Scholarships at the University of Notre Dame
"Just as thousands of Harvard Business School students and countless others from around the world have benefitted from Howard Stevenson's wisdom, insight, and example, so will the readers of this very remarkable book." —John McArthur, Dean Emeritus & George F. Baker Professor of Business Administration, Harvard Business School
or
Not Currently Available for Direct Purchase