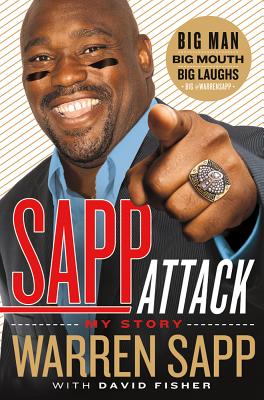 Sapp Attack (Hardcover)
My Story
Thomas Dunne Books, 9781250004383, 330pp.
Publication Date: August 21, 2012
* Individual store prices may vary.
or
Not Currently Available for Direct Purchase
Description
In his no-holds-barred memoir, "Sapp Attack ," Warren Sapp, one of the NFL's most hilarious and candid personalities, reveals a side of football most fans have never before seen.
Big Man. Big Talent. Big Star. Big Mouth. Big Heart. Big Personality. Big Smile. Big Headlines. Warren Sapp, one of pro football's most dominating defensive players both on and off the field, has a reputation for being bold, brash, knowledgeable, and outspoken. During his All-American career at the University of Miami, 13 seasons as an NFL star, four years on the NFL Network and one very big season on Dancing with the Stars, Sapp has never held back. Now he brings that same fearless attitude to his memoir, a book that will create controversy and headlines; in other words, pure Warren Sapp.
Sapp has won every award possible for a defensive player, but it wasn't just his extraordinarily athletic ability that made him a star; it was also his ability to understand the subtleties of the game. He writes about working his way up from the high school gridiron to one of the top college football programs in the country, to the NFL, and reveals how the system actually works the behind-the-scenes plays that fans rarely get to see. He'll discuss what it was like to face some of the greatest players in NFL history, including Hall of Famers Steve Young and Jerry Rice, both of whom he put out of the game, and Bret Favre, whom he sacked eleven times during his career. In this revealing, hilarious, and must-read book, Sapp offers readers a look inside the life of one of football's biggest stars and shares his often controversial opinions about the state of pro football today and its future.
About the Author
WARREN SAPP is a former NFL football player who played defensive tackle for the University of Miami Hurricanes and for the Tampa Bay Buccaneers and the Oakland Raiders. Since retiring from the NFL, Sapp has competed on Dancing with the Stars, where he reached the finals and lost by only 0.36%; and been a studio analyst for Showtime's Inside the NFL. He is a featured analyst on the NFL network, appearing on both NFL Total Access and NFL GameDay Morning. Connect with Warren online on Facebook and Twitter (@warrensapp).DAVID FISHER is the author of seventeen "New York Times" bestsellers. In the sports world he has collaborated with, among other stars, pro football Hall of Famer and broadcaster Terry Bradshaw on two bestsellers.
Praise For Sapp Attack: My Story…
Praise for Sapp Attack:
"Warren Sapp is one of the greatest characters and best storytellers I've ever come across in this business. Add in the fact he's one of the most football savvy champions of all time and you've got yourself a must-read book."  --Rich Eisen
"Sapp, the most colorful, most discussed athlete in Tampa Bay history, is on another one of those brutal, relentless rushes again. One more time, he is loud, and he is profane, and he is stepping on a different set of toes every time you turn a page… Uncensored and unapologetic, from the bounties at Miami to the turnaround in Tampa Bay to the final days in Oakland. It is as raw, as boisterous, as loud as Sapp himself." –Tampa Bay Times
"With his outsized personality, Sapp, a former defensive star with the NFL's Tampa Bay Buccaneers and Oakland Raiders, assisted by David Fisher, pulls the covers off the professional gridiron league in this blunt memoir with gleeful tidbits about the greats of the game he loved… Chatty, revealing, and always candid, Sapp's memoir takes the reader inside himself and the roller-coaster smash-mouth ride of the NFL." –Publishers Weekly
Advertisement