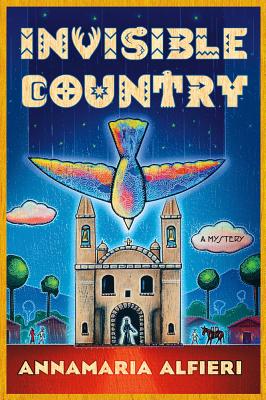 Invisible Country (Hardcover)
A Mystery
St. Martins Press-3pl, 9781250004536, 320pp.
Publication Date: July 3, 2012
* Individual store prices may vary.
Description
From the author of City of Silver, a beautifully rich and puzzling historical mystery set in Paraguay, 1868
A war against Argentina, Brazil, and Uruguay has devastated Paraguay. Ninety percent of the males between the ages of eight and eighty have died in the conflict and food is scarce. In the small village of Santa Caterina, Padre Gregorio advises the women of his congregation to abandon the laws of the church and get pregnant by what men are available. As he leaves the pulpit, he discovers the murdered body of Ricardo Yotte, one of the most powerful men in the country, at the bottom of the belfry.
There are many suspects: Eliza Lynch, a former Parisian courtesan who is now the consort of the brutal dictator, Francisco Solano Lopez, and who entrusted to Yotte the country's treasury of gold and jewels; Lopez himself, who may have suspected his ally Yotte of carrying on an affair with the beautiful Eliza; Comandante Luis Menenez, local representative of the dictator, who competed with Yotte for Lopez's favor, and a wounded Brazilian soldier who has secretly taken up with one of the village girls.
Lynch is desperate to recover the missing gold, and the comandante is desperate to prove his usefulness to Lopez. To avoid having an innocent person dragged off to torture and death, a band of villagers undertake to solve the crime, including Padre Gregorio, the village midwife, her crippled husband returned from combat, their spirited daughter, and a war widow. Each carries secrets they seek to protect from the others, while they pursue their quest for the truth.
Lyrical, complex, and meticulously researched, Annamaria Alfieri's Invisible Country is an ingenious cross between Isabel Allende and Agatha Christie.
About the Author
Annamaria Alfieri's first novel, City of Silver, was named one of the best debut mysteries of the year by Deadly Pleasures Mystery Magazine. She is president of the New York chapter of Mystery Writers of America and lives in New York City.
Praise For Invisible Country: A Mystery…
"Alfieri's (City of Silver) luscious historical stand-alone set in remote Paraguay beautifully evokes a crushingly painful chapter in that country's history.... justice is meted out creatively in this original closed-room drama."--Library Journal

"The destruction of Paraguay in the 1860s by its three warring neighbors takes center stage in Alfieri's second South American historical (after 2009's City of Silver)...[A] vivid depiction of war-ravaged Paraguay."--Publishers Weekly
"Alfieri (City of Silver, 2009) has written an anti-war mystery that compares with the notable fiction of Charles Todd."--Kirkus Reviews

"A fast-paced, suspenseful thriller with a large cast of appealing characters, Invisible Country is a story about ordinary people struggling to survive. Kudos for a fascinating setting and for the unusual historical period that make this novel a refreshing, enjoyable read."--Historical Novel Society

"Invisible Country…read[s] like an historical mystery [Agatha Christie] would've written. With its unique setting, its wide assortment of characters, both good and evil, its soap opera-like drama, forbidden love and touches of humor,..Invisible Country is a mystery that will be nearly impossible to forget.…Thanks to Annamaria Alfieri, the suffering that the Paraguayans endured during the War of the Triple Alliance has been made visible to the entire world. No longer is Paraguay an invisible country."—Gumshoe Review

"Love and hate, desperation and despair, terror and suspense, unexpected twists and outright surprises, Invisible Country has them all….No one is better at spinning South American mysteries than Annamaria Alfieri."--Leighton Gage, author of A Vine in the Blood
 



1868's War of the Triple Alliance pits little Paraguay against its mighty neighbors Brazil, Argentina and Uruguay--and a freelance killer. Despite losing almost every battle he's fought, Paraguay's delusional dictator Francisco Solano López, egged on by his Parisian mistress Eliza Lynch, continues to wage war. Now he's reduced to sending young boys, infirm old men and even women to slaughter. Preparing for the inevitable outcome, "La Lynch" commands Ricardo Yotté to take the four trunks full of treasure she's pillaged from Santa Caterina's church and hide them for her departure. But someone murders Yotté and leaves him under the church's belfry for Padre Gregorio to find. Where is the treasure now? And who killed Yotté? The vicious commandante Menenez is ordered from on high to find out. His task sets him against his brother-in-law Salvador, a gentle villager; the padre; and a Brazilian officer hiding in the campos who's bewitched Salvador's daughter Xandra. To repopulate the decimated
or
Not Currently Available for Direct Purchase