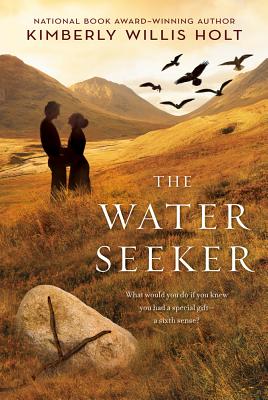 Water Seeker (Paperback)
St. Martin's Press, 9781250004758, 336pp.
Publication Date: June 5, 2012
Description
Amos Kincaid is the son of a dowser a person gifted in knowing how to "find" water deep in the ground. As a young person, Amos doesn't reveal his gift to others; he's not sure he wants the burden. But through his experiences growing up and crossing the Oregon Trail, Amos learns about life's harsh realities, especially the pain in losing loved ones. As he cares for those around him, Amos comes to accept his dowsing fate. This epic novel is a fascinating period piece about the westward expansion and one man's destiny as he searches for love and family.
About the Author
Kimberly Willis Holt is the author of the many award-winning novels for young adults and children, including My Louisiana Sky, Keeper of the Night, and When Zachary Beaver Came to Town, winner of a National Book Award for Young People's Literature. She is also the author of the bestselling Piper Reed series of chapter books, and picture books including Waiting for Gregory and Skinny Brown Dog. Holt was born in Pensacola, Florida, and lived all over the U.S. and the world--from Paris to Norfolk to Guam to New Orleans. She long dreamed of being a writer, but first worked as a radio news director, marketed a water park, and was an interior decorator, among other jobs. She lives in Texas with her family.
Praise For Water Seeker…
"An absorbing, atmospheric epic of intertwined lives on America's western frontier."—Publishers Weekly, Starred Review
"Drawing on such diverse themes as Manifest Destiny, personal identity and cross-cultural relationships, the author has crafted a satisfying all-ages story that hosts a dazzling array of richly realized secondary characters...and flows as effortlessly as the Platte River."—Kirkus Reviews, Starred Review
"Holt creates a moving, palpable sense of pioneer life in graceful prose that occasionally reads like poetry. And her memorable characters' stories raise powerful questions about how lives are shaped: by chance, skill, inherited gifts . . . and love that transcends generations and even mortality."—Booklist "Holt writes a vivid and beautiful story."—VOYA
Advertisement