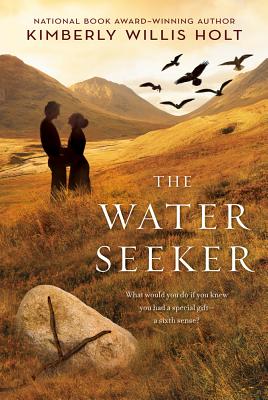 The Water Seeker (Paperback)
Square Fish, 9781250004758, 336pp.
Publication Date: June 5, 2012
Other Editions of This Title:
Hardcover (5/11/2010)
Compact Disc (5/25/2010)
* Individual store prices may vary.
Description
Amos Kincaid is the son of a dowser—a person gifted in knowing how to "find" water deep in the ground. As a young person, Amos doesn't reveal his gift to others; he's not sure he wants the burden. But through his experiences growing up and crossing the Oregon Trail, Amos learns about life's harsh realities, especially the pain in losing loved ones. As he cares for those around him, Amos comes to accept his dowsing fate. This epic novel is a fascinating period piece about the westward expansion and one man's destiny as he searches for love and family.
About the Author
Twenty three years ago Kimberly Willis Holt stopped talking about wanting to be a writer and started to pursue her dream. Because of her family's Louisiana roots she considers herself a southerner, but her father's military career took her to places beyond the South, including Paris and Guam.
She's the author of nineteen books for a wide range of ages, many of which have won awards and honors. Her third novel, When Zachary Beaver Came to Town won the National Book Award for Young People's Literature. Her latest title is a middle grade novel, Blooming at the Texas Sunrise Motel. She writes and gardens in Texas.
Praise For The Water Seeker…
"An absorbing, atmospheric epic of intertwined lives on America's western frontier." —Publishers Weekly, Starred
"Drawing on such diverse themes as Manifest Destiny, personal identity and cross-cultural relationships, the author has crafted a satisfying all-ages story that hosts a dazzling array of richly realized secondary characters...and flows as effortlessly as the Platte River." —Kirkus Reviews, STARRED
"Holt creates a moving, palpable sense of pioneer life in graceful prose that occasionally reads like poetry. And her memorable characters' stories raise powerful questions about how lives are shaped: by chance, skill, inherited gifts...and love that transcends generations and even mortality." —Booklist
"Holt writes a vivid and beautiful story." —Voya