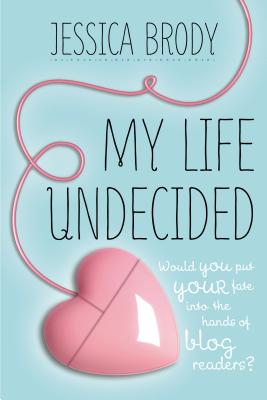 My Life Undecided
Paperback

* Individual store prices may vary.
Description
PLEASE READ THIS! MY LIFE DEPENDS ON IT!

Okay, maybe that was a bit melodramatic, but I'm sorry, I'm feeling a bit melodramatic at the moment.

Here's the deal. My name is Brooklyn Pierce, I'm fifteen years old, and I am decisionally challenged. Seriously, I can't remember the last good decision I made. I can remember plenty of crappy ones though. Including that party I threw when my parents were out of town that accidentally burned down a model home. Yeah, not my finest moment, for sure.

But see, that's why I started a blog. To enlist readers to make my decisions for me. That's right. I gave up. Threw in the towel. I let someone else decide which book I read for English. And whether or not I accepted an invitation to join the debate team from that cute-in-a-dorky-sort-of-way guy who gave me the Heimlich maneuver in the cafeteria. (Note to self: chew the melon before swallowing it.) I even let them decide who I dated!

Well, it turns out there are some things in life you simply can't choose or have chosen for you—like who you fall in love with. And now everything's more screwed up than ever.

But don't take my word for it. Read My Life Undecided by Jessica Brody and decide for yourself. You'll laugh, you'll cry, you'll scream in frustration. Or maybe that's just me. After all, it's my life.
Praise For My Life Undecided…
"[A] fun and inventive take on the secret-blog concept." —Booklist Online

"My Life Undecided is a super-cute read. Brooklyn constantly makes the wrong decisions, but it ultimately leads her to discovering her true self. I loved the blend of technology with modern day. A fun book!" —Teensreadtoo.com

"You'll love it if . . . you want a book that you can read anywhere, from the airplane to the pool. This engaging story will grab your attention and leave you wanting more!" —Seventeen.com

"My Life Undecided is Jessica Brody's story of fifteen-year-old Brooklyn, who feels like she's never made a good decision for herself. She decides to start a blog and asks her followers to make her choices for her, only to find there are some choices no one can make for her." —TeenVogue.com

"Brody taps into a universal human desire--who, at some point, hasn't wished to surrender all responsibility for one's decisions?" —Publishers Weekly

"My Life Undecided has a certain charm that will make it a popular read." —VOYA

"Brooklyn is a sympathetic protagonist with whom teens will identify. Her journey is fun to read, and decision-challenged readers will learn an important lesson about self-acceptance along the way." —School Library Journal

"Equal parts fresh, funny, and engaging, The Karma Club is the story of one girl's attempt to speed Karma along, only to discover that Karma plays by its own rules. Jessica Brody has created a witty, endearing heroine in Maddy Kasparkova--this is one YA debut you won't want to miss!" —Alyson Noël, #1 New York Times–bestselling author of Evermore and Blue Moon, on The Karma Club

"All the fun and intrigue of Gossip Girl, with the heart of a Sarah Dessen novel and the soul of the I Ching." —Gabrielle Zevin, author of Elsewhere and Memoirs of a Teenage Amnesiac on The Karma Club

"Written with wit and panache. Readers will have fun with this one, and it might make them think a little, too." —Booklist on The Karma Club

"The action-packed narrative builds an impressive amount of suspense for what is essentially a comic romance, and readers might learn a thing or two about Buddhist philosophy along the way." —Kirkus Reviews on The Karma Club

"The Karma Club is exactly the book you'd want to read after getting dumped. With an effortless understanding of the teen landscape, Jessica Brody takes the classic tale of 'what goes around, comes around' and crafts a fresh, funny, relatable story that proves it's never too late to admit your mistakes and set Karma back on its natural course." —Rosalind Wiseman, New York Times–bestselling author of Queen Bees & Wannabees on The Karma Club
Square Fish, 9781250004833, 336pp.
Publication Date: November 13, 2012
About the Author
Jessica Brody knew from a young age that she wanted to be a writer. She started "self-publishing" her own books when she was seven years old, binding the pages together with cardboard, wallpaper samples and electrical tape. Brody graduated from Smith College in 2001 with a double major in Economics and French and a minor in Japanese. She went to work for MGM Studios as a Manager of Acquisitions and Business Development, and then, in 2005, she quit her job to follow her dream of becoming a published author. Brody is the author of two novels for adults--The Fidelity Files and Love Under Cover--and the young adult novels The Karma Club and My Life Undecided. Jessica's books are published in over ten foreign countries including the U.K., France, Germany, Czech Republic, Russia, Brazil, China, Portugal, and Taiwan. She now works full time as a writer and producer, and currently splits her time between Los Angeles and Colorado.