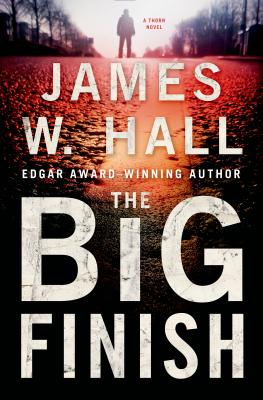 The Big Finish (Hardcover)
A Thorn Novel (Thorn Mysteries #11)
Minotaur Books, 9781250005014, 304pp.
Publication Date: December 2, 2014
Other Editions of This Title:
Paperback (12/1/2015)
MP3 CD (12/1/2015)
Compact Disc (12/1/2015)
Compact Disc (12/2/2014)
MP3 CD (12/2/2014)
Library Binding, Large Print (1/1/2015)
Compact Disc (12/2/2014)
* Individual store prices may vary.
Description
A year ago Thorn's son, Flynn Moss, disappeared into the eco-underground, his only contact with Thorn a series of postcards chronicling his exploits. But a postcard arrives unlike the others, a call for help, Thorn jumps into action, setting off for North Carolina. But before Thorn arrives, he's intercepted by a federal agent who informs him he's too late—Flynn had been acting as an informant for the FBI, and when his traitorous acts were discovered, he was summarily executed.
The agent proposes a scheme to catch Flynn's killer using Thorn as bait. Thorn, full of rage, accepts the job if only to get his hands on his son's killer. The mission takes him to a small town where the gang is holed up, planning an attack on a hog farming operation that has been polluting local rivers and spreading illness through the area.
Little by little Thorn discovers that nothing he's been told is true, and the trap they're setting isn't for Flynn's killer, but for his partner, a woman who proves more daring and dangerous than any Thorn's ever met. She's on her own crusade of vengeance, and she and Thorn make an uneasy alliance. With her help Thorn uncovers a conspiracy that stretches far beyond this small Carolina town.
About the Author
James W. Hall is the author of eleven novels, including Blackwater Sound. He lives in Key Largo, Florida, with his wife.
Praise For The Big Finish: A Thorn Novel (Thorn Mysteries #11)…
"A tough-minded tale of love, violence and duplicity. . . . Thorn may remind you of John D. MacDonald's immortal Travis McGee -- Hall gladly admits his debt to the McGee books -- or perhaps Lee Child's Jack Reacher, because Thorn also lives off the grid, unburdened by credit cards or a driver's license. Old enough to harbor doubts and regrets, he clings to a code that keeps propelling him into harm's way. . . . [Hall's] vision takes in both the beauty and the horror of his chosen turf, the dangerous Southern landscape that McGee once trod. He's a strong and welcome voice." —Washington Post
"Like all of Hall's work, his latest thriller boasts a page-turner of a plot, fully realized characters and lyrical prose. But the biggest lure of his fiction is his examination of moral issues, not only in black and white but also in numerous shades of gray. Clever and cinematic, The Big Finish explores, entertains and educates." —Richmond Times-Dispatch
"Hall keeps the tension mounting as motives and alliances shift with the foul-scented wind. Even as violence looms, Hall's talent for description adds a balancing, poetical note." —Publishers Weekly
"[Hall's inland] characters have one thing in common with their counterparts on the coast: a love of the land so fierce it breeds both righteous eco-warriors and plundering thieves, often in the same family." —New York Times Book Review on Silencer
or
Not Currently Available for Direct Purchase