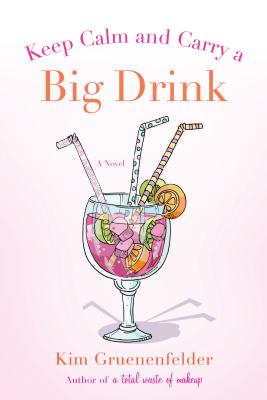 Keep Calm and Carry a Big Drink (Paperback)
St. Martin's Griffin, 9781250005045, 374pp.
Publication Date: December 24, 2013
* Individual store prices may vary.
or
Not Currently Available for Direct Purchase
Description
In "Keep Calm and Carry a Big Drink," Kim Gruenenfelder's delicious follow-up to "There's Cake in My Future," Seema, Nic and Mel are back, adjusting to their new lives as a bride-to-be, a mother-to-be, and a recently single girl looking for love
It's been almost a year since Mel, Nic and Seema pulled their magical charms out of the cake at Nic's bridal shower and most of their happily-ever-afters seemingly came true. Seema is about to marry Scott in an elaborate three-day affair. Nic is glowingly pregnant. And Mel... well, Mel feels as if she accidentally veered off the rails of her life at some point and isn't sure how to get back on. She recently became single again, she's been threatened with a layoff from her teaching job, and she has to find her own place now that Scott is moving in with her roommate, Seema.
Nic thinks Mel just needs a new cake charm to bring her good luck. . . and decides to rig the cake pull at Seema's bridal shower. Desperate for travel, Mel asks for the passport charm. But, once again, the cake proves to have a mind of its own, and she pulls a charm she doesn't want, and can not use. Rather than be bound by the charm's prophecy, Mel realizes she, and she alone, is responsible for her destiny. A spur of the moment decision takes her to Paris and then Maui, where she finds herself on an adventure that she never could have imagined, experiencing the trials and tribulations of a life suddenly and perfectly unplanned. And, along the way, she begins to learn that, however nonsensical it may seem, the cake is never wrong...
About the Author
KIM GRUENENFELDER lives in Los Angeles with her husband and son, and continues to avoid anything even remotely resembling a real job. She is the author of A Total Waste of Makeup, Misery Loves Cabernet, There's Cake in My Future, Keep Calm and Carry a Big Drink, and Love the Wine You're With. In addition to her novels, she is also a screenwriter and founder and curator of eciah.com, a website for people to read and share stories about life changing moments. She can be reached there or through kimgruenenfelder.com.
Praise For Keep Calm and Carry a Big Drink…
Praise for There's Cake in My Future:
"Fabulously funny, truly moving and beautifully written, I loved this book. More cake please!" —Gemma Townley, author of Little White Lies

"Charming, heartwarming, wry and whimsical. Kim Gruenenfelder is at her very best. This is better than double chocolate fudge cake." —Beth Kendrick, author of Second Time Around

"[Gruenenfelder's] women are smart, likable and good to each other." —Kirkus Reviews
Advertisement