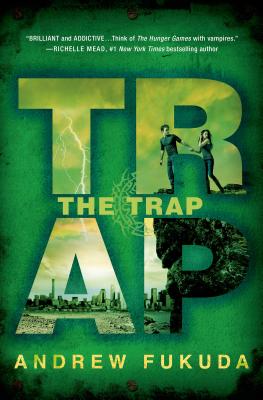 The Trap (The Hunt Trilogy #3) (Hardcover)
St. Martin's Griffin, 9781250005120, 320pp.
Publication Date: November 5, 2013
Other Editions of This Title:
Digital Audiobook (11/4/2013)
CD-Audio (5/15/2014)
Pre-Recorded Audio Player (1/1/2015)
* Individual store prices may vary.
Description
From author Andrew Fukuda comes The Trap, the explosive finale to The Hunt trilogy—perfect for fans of The Hunger Games!
After barely escaping the Mission alive, Gene and Sissy face an impossible task: staying alive long enough to stop an entire world bent on their destruction. Bound on a train heading into the unknown with the surviving Mission girls, Gene, Sissy, David, and Epap must stick together and use everything they have to protect each other and their only hope: the cure that will turn the blood-thirsty creatures around them into humans again. Now that they know how to reverse the virus, Gene and Sissy have one final chance to save those they love and create a better life for themselves. But as they struggle to get there, Gene's mission sets him on a crash course with Ashley June, his first love . . . and his deadliest enemy.
About the Author
Born in Manhattan and raised in Hong Kong, ANDREW FUKUDA currently resides on Long Island, New York. After earning a bachelor's degree in history from Cornell University, Fukuda went on to work as a criminal prosecutor in New York City. He now writes full time. He is the author of The Hunt, The Prey, and The Trap.
Praise For The Trap (The Hunt Trilogy #3)…
"Downright disturbing...The Hunt trilogy has lived up to the promise of the first book and delivered shocks and drama with every turn of the page." —Booklist
"With razor-sharp prose, a genius plot, and a searing pace that will have you ripping through the pages, Fukuda creates a dark and savage post-apocalyptic world where humans are nearly extinct and love manages to bloom despite all the odds stacked against it. An exceptional novel--I can't wait for the sequel!" —Alyson Noël, #1 New York Times bestselling author of the Immortals Series on The Hunt
"One of the most brilliant, original books I've read in a very long time. This is the kind of book you'll want to stay up with all night to finish!" —Richelle Meade, #1 New York Times bestselling author of the Vampire Academy series on The Hunt
"A book that grabs you by the throat and doesn't let go. The Hunt is both terrifying and sublime, with every page evoking that fragile, yet unyielding thing we call humanity." —Andrea Cremer, New York Times bestselling author of the Nightshade Trilogy
"Chilling, inventive, and utterly unputdownable. Readers, proceed…if you dare. This book will bleed into your nightmares." —Becca Fitzpatrick, New York Times bestselling author of Hush, Hush on The Hunt
"Full of suspense and intrigue…the combination of postapocalyptic/dystopian setting and vampires is fresh and gripping. The characters are well developed, and Fukuda captures Gene's struggle to determine his sense of worth and identity after leaving his vampire life behind." —School Library Journal on The Hunt
"In this terrifying and inventive adventure, Fukuda turns the vampire novel inside out…With an exciting premise fueled by an underlying paranoia, fear of discovery, and social claustrophobia, this thriller lives up to its potential while laying groundwork for future books." —Publishers Weekly on The Hunt
"The story is bona fide creepy, and as it builds to its cliffhanger ending (which delivers quite a good twist), readers will be torn between hoping Gene can maintain the ruse and that he will take on the bloodsuckers already. As revolutions go, this one is well worth keeping on your radar." —Booklist on The Hunt
"Fukuda takes the feeling of isolation that dominates adolescence and builds a world around it in a novel where the tension rarely slackens. He turns up the violence a notch from THE HUNGER GAMES with language that is as graphic as it is eloquent. Readers will hanker for answers as they'll discover a kindred spirit in Gene, who so eloquently describes the feeling of being an island in the middle of a vast ocean." —Maximum Shelf on The Hunt
"I was blown away from the first chapter all the way to the end. Fukuda did an excellent job turning the world of vampirism upside down. Wonderful descriptions, great imagination and very tight characters. If you love vampire worlds, then read this book. You will not want to put this one down!" —Night Owl Reviews (Reviewer Top Pick)