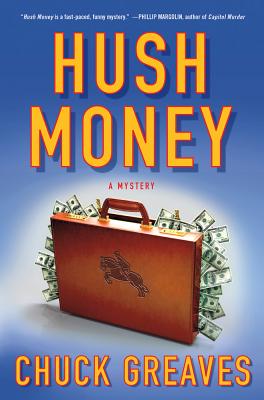 Hush Money (Hardcover)
Minotaur Books, 9781250005236, 326pp.
Publication Date: May 8, 2012
* Individual store prices may vary.
Description
A Finalist for Private Eye Writers of America's Shamus Award for Best First P.I. Novel
A Finalist for Left Coast Crime's 2013 Rocky Award
When Hush Puppy, Pasadena socialite Sydney Everett's champion show horse, dies under suspicious circumstances, junior lawyer Jack MacTaggart is assigned to handle the insurance claim. But the case soon takes an unexpected turn, thrusting Jack into a spiraling web of blackmail and murder in which he finds himself both the prime suspect and the next likely victim.
In this acclaimed debut novel, the first in a series, former Los Angeles trial lawyer Chuck Greaves takes readers into the high-stakes worlds of big-firm litigation and professional equestrian show-jumping, where no one can be trusted, and where nothing is quite what it seems.
About the Author
CHUCK GREAVES was born in Levittown, New York. He is an honors graduate of both the University of Southern California and Boston College Law School and spent twenty-five years as a trial lawyer in Los Angeles. "Hush Money, " his first novel, was named by SouthWest Writers as the Best Mystery/Suspense/Thriller/Adventure Novel of 2010, and won SWW's Storyteller Award. He lives in the American Southwest. Learn more at www.ChuckGreaves.com.
Praise For Hush Money…
"Hush Money is a fast-paced, funny mystery and Jack MacTaggart is a delightful, wise-cracking hero. I hope we see more of him."
 —Phillip Margolin, author of Capitol Murder
"Superbly written and paced, this sensational legal thriller reads like a polished jewel.  Set in the Mercedes and Rolex horse show world, Greaves sports a smoking new voice in crime fiction, reminiscent of John Hart. Hush Money's riveting characters and snappy dialogue round out a smashingly memorable first effort. Chuck Greaves has major writing chops."
—Julia Spencer-Fleming, New York Times bestselling author of One Was a Soldier
"Take John D. MacDonald's Travis McGee, Jonathan Kellerman's Alex Delaware, and the best of John Grisham's protagonists, shake and serve, and you'll have the hero of Hush Money. Chuck Greaves has written a confident, cool and totally engrossing legal thriller with the pop and sizzle of some of the greats of the genre.  It's a hell of a debut."
—Chelsea Cain, New York Times bestselling author
"One heck of a debut, and a welcome addition to the genre. Jack MacTaggart is a joy to root for, and there are enough twists and turns to keep you up way past bedtime. A thoroughly enjoyable mystery."
—Ira Berkowitz, author of 2010 Shamus Award-winning Sinners' Ball
"Chuck Greaves writes with style and an insider's knowledge of the courtroom and the lawyer's life. Hush Money is smart, entertaining and funny. And in Jack MacTaggart he has created a likeable, wise-cracking lawyer-detective -- Jim Rockford with a law degree. A great read."
—William Landay, author of Defending Jacob
"Greaves' debut mystery, Hush Money, sparks with snappy dialog, rich imagery, and sarcasm sharp as a razor.  Early in the book, the line, '…above the blooms, like a spider at the center of her web, floated the head and shoulders of a smallish woman, her darting eyes alert to the activity around her," told this reader she'd stumbled upon darn good writing."
—Sasscer Hill, author of Agatha and Macavity Best First Mystery nominee, Full Mortality
"Greaves makes the most of his 25 years as a trial attorney in relating courtroom tactics. The combination of confident writing and a determined and ethical protagonist add up to a winner."
—Publishers Weekly (starred review)
"Cleverly intermingles equestrian show jumping, insurance claims, and high-tech science in this sunny California thriller. Great readalikes for tone would be Jack Fredrickson and Spencer Quinn."
—Library Journal (starred review)
"An auspicious debut. Jack [MacTaggart] would be welcome back in the winner's circle any time."
—Kirkus Reviews
"With its "whoa, boy!" central character, sharp dialogue, and hit-the-spot Southern California venues, this is a series with plenty of potential."
—Yahoo! Shine
"If you combine the horse-centered suspenses of Dick Francis with the legal thrillers of John Grisham you'll have Chuck  Greaves and his first novel, Hush Money."
—The Chronicle of the Horse
"This is a first novel that promises much pleasure to come for a long time; the very likable lawyer central character will surely be the basis of a series."
—Sullivan County Democrat
"A great debut novel."
—Algona Upper Des Moines
"A sexy, funny, rollicking good show from start to finish."
—Winnipeg Free Press
"Fast-paced and inspired, written with an insider's knowledge of the legal world, it's a terrific addition to the genre, and one hopes there will be more Jack stories."
—RT Book Reviews
"Like a nicely-executed jumper ride. The rhythm flowed from the steadiness of a well-paced triple combination to the accurately frantic fun of a jump off. And let's just say that Hush Money had a clean round with no time faults. … An intelligent murder mystery played by actors unique and strong in character. Whatever the story that Greaves shares next, Jack will be welcome."
—The Equestrian News