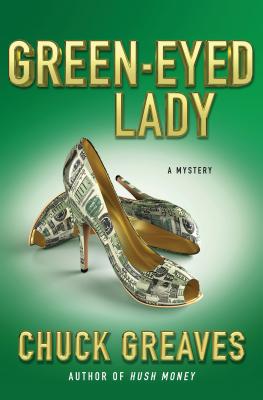 Green-Eyed Lady (Hardcover)
Minotaur Books, 9781250005243, 277pp.
Publication Date: June 25, 2013
* Individual store prices may vary.
Description
"A legal thriller with the delicious intricacy of a well-plotted mystery, "Green-Eyed Lady" proves again why he is among the front-rank of legal thriller authors . . . the verdict is a unanimous 'must read.'"
Kelli Stanley, award-winning author of "City of Secrets"
""
""
Author Chuck Greaves's returns with the rollicking sequel to his acclaimed and Shamus Award-nominated debut novel, "Hush Money."
U.S. Senate candidate Warren Burkett has a history of marital infidelity. Three weeks before Election Day, Burkett comes to the aid of a beautiful green-eyed lady, only to find himself alone and naked in a stranger's home from which a priceless painting is missing. As the resulting scandal threatens to tilt the election, the painting turns up in a most unexpected place . . . and so does a dead body.
Hired to defend Burkett and unravel the deepening mystery, attorney Jack MacTaggart must traverse a minefield of ruthless politicians, felonious art dealers, swarming paparazzi, the amorous wife of Burkett's billionaire opponent, her mobbed-up brother, and a district attorney with an old score to settle.
With the electoral clock ticking and the press following his every move, Jack's investigation leads him on a roller-coaster ride through the lofty heights and gritty depths of Los Angeles and Southern California, lending new meaning to the adage that all's fair in love and politics.
About the Author
CHUCK GREAVES was born in Levittown, New York. He is an honors graduate of both the University of Southern California and Boston College Law School, and spent twenty-five years as a trial lawyer in Los Angeles. Hush Money, his debut novel, won the SouthWest Writers International Writing Contest and was named a finalist for several national honors, including the Rocky Award from Left Coast Crime, the Reviewers' Choice Award from RT Book Reviews, and the Audie Award from the Audio Publishers Association. He lives in Colorado, where he also writes literary fiction as C. Joseph Greaves.
Praise For Green-Eyed Lady…
Praise for Green-Eyed Lady:
"Green-Eyed Lady by Chuck Greaves is the wickedest read of the year: smart, real, vivid as hell, and so plausible it could be in the Times. Greaves is a master of the language. I loved this book."—Douglas Preston, #1 New York Times best-selling author and co-creator of the famed Pendergast novels 
"A legal thriller with the delicious intricacy of a well-plotted mystery, Green-Eyed Lady marks the welcome return of Jack MacTaggart, Chuck Greaves' likeable and compelling attorney-protagonist.  Greaves proves again why he is among the front-rank of legal thriller authors . . . the verdict is a unanimous 'must read'."
—Kelli Stanley, award-winning author of City of Secrets
"In Green-Eyed Lady, his sequel to Hush Money, Chuck Greaves has the recipe for a sure-fire hit: several dead bodies, two politicians short on good sense and willing to do anything, one stolen masterpiece, one political scandal...then two, the timer counting down to a critical election, and Jack MacTaggart--a lawyer with a heart, a conscience, a wry sense of humor, and steel balls--who loves to turn up the heat...and voila, a tasty dish you'll want to consume in one sitting."
—Deborah Coonts, author of So Damn Lucky
"Green-Eyed Lady is a smart, funny, 277-page gateway-drug/siren's song that will fill law schools with innocent children. Chuck Greaves is going to hell."
—Charlie Newton, author of Start Shooting
"Colorful characters, snappy dialogue, and some nifty twists lend credence to MacTaggart's mantra: 'Trust me, I'm a lawyer.'"
—Publishers Weekly
"Greaves's legal thriller with comic overtones successfully builds on his multi-award-nominated series debut (Hush Money) and will amuse Californians with its spot-on cultural references. … Pair with Brad  Parks, Tim Hallinan ('Junior Bender'), and Deborah Coonts."
—Library Journal
"Once again Greaves' knowledge of the courtroom shines, and his grab bag of characters is varied and appealing."
—RT Book Reviews
"Not one reader in a thousand will guess the ending."
—Kirkus Reviews
"A suspenseful and witty legal mystery that will keep you guessing until the very end."
—Fresh Fiction
Praise for Chuck Greaves:
"Greaves sports a smoking new voice in crime fiction, reminiscent of John Hart. . . . Chuck Greaves has major writing chops."
—Julia Spencer-Fleming, New York Times bestselling author of One Was a Soldier


Praise for
Hush Money:
"Take John D. MacDonald's Travis McGee, Jonathan Kellerman's Alex Delaware, and the best of John Grisham's protagonists, shake and serve, and you'll have Jack MacTaggart."
—Chelsea Cain, author of Heartsick


"Hush Money is smart, entertaining, and funny. In Jack MacTaggart he has created a likable, wisecracking lawyer-detective---Jim Rockford with a law degree. A great read."
—William Landay, New York Times bestselling author of Defending Jacob
"Hush Money is a fast-paced, funny mystery, and Jack MacTaggart is a delightful, wisecracking hero. I hope we see more of him."
 —Phillip Margolin, New York Times bestselling author of Capitol Murder
"A stellar first novel . . . Greaves makes the most of his twenty-five years as a trial attorney in relating courtroom tactics. The combination of confident writing and a determined and ethical protagonist add up to a winner."
—Publishers Weekly (starred review)
"Cleverly intermingles equestrian show jumping, insurance claims, and high-tech science in this sunny California thriller. Great read-a-likes for tone would be Jack Fredrickson and Spencer Quinn."
—Library Journal (starred review)
"An auspicious debut. Jack would be welcome back in the winner's circle anytime."
—Kirkus Reviews
or
Not Currently Available for Direct Purchase