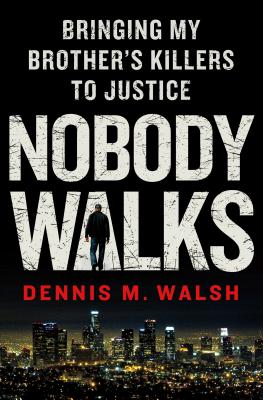 Nobody Walks
Bringing My Brother's Killers to Justice
Hardcover

* Individual store prices may vary.
Description
In the vein of The Boondock Saints and Chinatown comes this true crime memoir of brotherly love and vengeance

In 2003, Christopher Walsh was found stuffed in a trash barrel in a storage locker in Van Nuys, California. After the dilatory murder investigation took seven months to file charges, and years to go to trial, Dennis Walsh knew it was up to him to keep his little brother's murder from becoming a cold case.

The only son of a large Irish-American family to stay on the straight and narrow, Dennis found his family's dubious background paired with his law degree placed him in the unique position to finish the job the cops couldn't. Fencing with the police and the DA's office, Dennis spent years slinking between his life as a stand-up lawyer and hitting the streets to try and convince the dopers, thieves, prostitutes, porn stars, and jail birds that populated Christopher's world to come forward and cooperate with the police. Yet he walked a fine line with his harsh tactics; prosecutors continuously told him he was jeopardizing not only the case, but his life.

Staying on the right side of the law to hunt down these murderers put every part of Dennis to the test and it wasn't long before the brother who went clean knew he'd have to get his hands dirty. But 100 arrests later, the murderers are in jail for life. With the gravity of a Scorsese film, this classic yet gritty tale transcends the true crime genre. Nobody Walks is the harrowing story of a family, brothers, and the true meaning of justice.
Praise For Nobody Walks: Bringing My Brother's Killers to Justice…
"Walsh's is a storyteller and the story he's telling is as compelling as any police procedural with its unraveling of family secrets and lies." —Criminal Element

"Every once in a great while, a true crime is written that pulls at the heartstrings, while it also provides a tale of suspense that will be remembered for a good long time. This is that story." —Suspense Magazine

"Walsh, a criminal defense attorney for 30 years, tells the blistering true story of the 2003 murder of one of his brothers, Christopher, who was discovered in a trash barrel in a California storage locker. Despite law enforcement's reluctance to pursue the case since the author's father and younger brother were in prison on drug charges, Walsh shoulders the burden and delves into the nadir of the criminal underworld, quizzing thieves, skinheads, Nazi bikers, hookers, and porn queens to construct something meaningful from various lies and schemes. Good leads dead-end and seemingly ironclad confessions crumble, but the author's resourcefulness and determination to catch his brother's killers keep this sordid tale moving along at a quick clip. Walsh keeps his law practice operating throughout the ordeal, but still finds time to persuade reluctant witnesses to offer their testimony and cooperate with authorities; after four years of sleuthing, the trial finally begins. The hearing is a real corker, chock-full of twists and turns, and written with passion and an eye for drama. Taut and relentless, this chronicle of a former cold case puts one man's resolve and the American idea of justice to the test." —Publishers Weekly

"Pulpy, engrossing account…Walsh captures the arc of his family's involvement in an act of senseless malice, calling into question the cultural endurance of macho violence within certain subcultures and the difficulty of holding men responsible for horrific acts within the legal system's overtaxed framework. Gritty, effective, personalized tale of the outlaw lifestyle and its consequences." —Kirkus Reviews

"Nobody Walks is a triumph, a grimly fascinating true tale of one street-wise criminal defense attorney's quest for justice in the brutal murder of his brother. Dennis Walsh's tireless four year odyssey plunged him headlong into an underworld populated by dopers, porn stars and gangsters and culminated in an explosive courtroom drama and the arrests of hundreds. Walsh's captivating style engages, inspires and unnerves as he lends new meaning to the term 'brotherly love.'" —Kerrie Droban, author of Running with the Devil and A Socialite Scorned and co-author of Prodigal Father, Pagan Son
Thomas Dunne Books, 9781250005489, 304pp.
Publication Date: February 12, 2013
About the Author
DENNIS WALSH has been a practicing criminal defense attorney for thirty years. Walsh was drafted in 1972 while he attended CSUN and joined the Navy. Upon returning home he received his BA from CSUN and went on to graduate from the University of Santa Clara School of Law. He is the author of Nobody Walks: Bringing My Brother's Killers to Justice. Walsh lives in California.