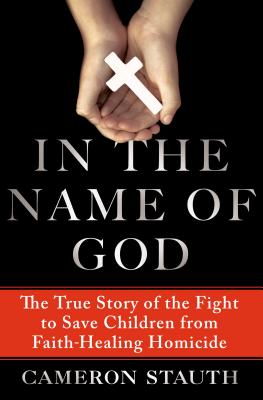 In the Name of God: The True Story of the Fight to Save Children from Faith-Healing Homicide (Hardcover)
The True Story of the Fight to Save Children from Faith-Healing Homicide
Thomas Dunne Books, 9781250005793, 466pp.
Publication Date: October 15, 2013
* Individual store prices may vary.
or
Not Currently Available for Direct Purchase
Description
A FINALIST FOR THE FRANCES FULLER VICTOR AWARD FOR GENERAL NONFICTION
An anonymous caller tells a detective in a small Oregon town that a woman has just bitten off a man's finger. But the man is not the victim, the caller says. The woman is. She's being held by a group of faith-healing fanatics who are trying to cure her depression with violent exorcisms. Then the detective gets an even more ominous message: Children in the church have been dying mysteriously for years, and now several more are in immediate peril.
The caller, a church insider, risks everything to work with detectives and prosecutors to stop faith-based child abuse, joined by a mother who'd suffered a faith-healing tragedy herself and dedicated her life to saving others from it. Masterfully written by Cameron Stauth, "In the Name of God" is the true story of the heroic mission that exposed the darkest secret of American fundamentalism, and the political deals that let thousands of children die at the hands of their own parents--legally.
Faith-healing abuse still continues around the country, but the victory in Oregon has lit the path to a better future, in which no child need die because of a parent's beliefs.
About the Author
Author or coauthor of twenty-five books, including several national and international bestsellers, Cameron Stauth has been hailed by The New York Times as "a tireless reporter and a talented and graceful writer." Stauth has earned widespread critical acclaim for his narrative nonfiction, and his books have been published in ten languages and sixteen countries. He lives in Portland, Oregon, with his children, and is a member of the PEN American Center Freedom to Write Program.
Praise For In the Name of God: The True Story of the Fight to Save Children from Faith-Healing Homicide…
"Stauth offers a dramatic account, broad enough to include historical perspective on the Great Awakening and the prophets and religious figures who shaped the faith-healing fundamentalists, and intimate enough to cover the families who struggled to reconcile love for their children with unyielding faith in their beliefs that dictated they take no action, other than prayer, to save their children's lives. A powerful, shocking story." —Booklist (starred review)

"A powerful tale of religious beliefs gone awry." --Kirkus Reviews
"In the compulsively readable In the Name of God: The True Story of the Fight to Save Children From Faith-Healing Homicide, Portland reporter Cameron Stauth interweaves two parallel narratives, both equally compelling." —The Oregonian

"Stauth's book is a compelling look at a religious cult that appeared to be flourishing, but was consuming itself from within. In the Name of God reads almost like a novel, as Stauth gets into the mindset and emotions of its many participants. Many readers will find it difficult to put down; others may have difficulty coming to grips with the horrifying situations that these loving parents found themselves in." —The Oklahoman

"In the Name of God shows how wrong people can go when they fail to recognize that medical technologies are gifts from God, too, and that 'medical miracles' are just that. Cameron Stauth deserves loud applause for uncovering the truth. He deserves our prayers that what he has found will help expose the differences between religions that empower people and cults that weaken them and, sometimes, kill them."—Keith Ablow, M.D., New York Times bestselling author

"In the Name of God takes you to an America where religious extremism practiced in isolation leads to deadly consequences for children. Fortunately this unforgettable book also brings us heroes who refuse to let the ignorant and the malevolent use faith to escape their crimes. If you are concerned about the balance between religion and justice you must read this book."—Michael D'Antonio, author of Mortal Sins

"America has a number of fascinating criminal subcultures that remain all but hidden from public view. One of them has now been exposed in a startling new book by Cameron Stauth. In the Name of God is a definitive account of the secret, deadly history of faith healing in the U.S. Stauth's research has uncovered some of the worst things people do to one another under the guise of religion, casting much-needed light on this criminal darkness."—Stephen Singular, author of When Men Become Gods

"Only a bold, highly gifted writer could take a sickeningly true crime story like this one, and with the delicate skill of a high-wire artist craft it into a non-judgmental nail-biter. Under the author's sensitive, yet humorous pen, the colorful personalities in this eye-opening drama pulse with lifeblood. This is a vitally important book. Historically accurate accounts such as Cameron Stauth's breathtaking masterpiece, In the Name of God, rip the skin off of America's stench-filled underbelly, bringing the gasping promise of healing, fresh air, and the determined assurance of a better tomorrow." —Susan Ray Schmidt, author of Favorite Wife: Escape from Polygamy

"Powerful, moving and painstakingly researched, Cameron Stauth's In the Name of God illuminates the little-known culture of faith healing in America, and shows us why it is so important for all Americans to stand together and demand action and intervention to save the lives of its youngest victims. These children have no voice, so they need all of us to advocate on their behalf." —Lisa Pulitzer, New York Times bestselling author

Previous Acclaim for Cameron Stauth

"Stauth is a talented and graceful writer and a tireless reporter." —The New York Times on The Franchise

"A book of insight, power and wit." —The San Francisco Chronicle on The Golden Boys

"A riveting picture of network television -- one of the best yet." —Publishers Weekly on The Sweeps

"Extraordinarily compelling and engaging." —Thomas Keneally, author of Schindler's List, on The Manhunter

"A remarkable work by an excellent writer..." —D.S. Khalsa, M.D., on Healing the New Childhood Epidemics

"I strongly recommend it." —Deepak Chopra, M.D., on Meditation as Medicine

"Fascinating and magnetically appealing..." —Booklist on Brain Longevity    
Advertisement