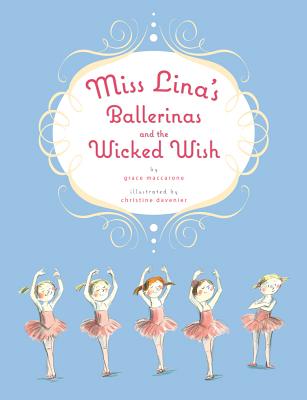 Miss Lina's Ballerinas and the Wicked Wish (Hardcover)
Feiwel & Friends, 9781250005809, 40pp.
Publication Date: October 2, 2012
* Individual store prices may vary.
Description
Then one sunny day, a guest came to view
Miss Lina's ten dancers plié and tendu.
Miss Lina announced, "This is Mister Brisé.
He'll watch you take class," she explained, "and he may
invite you to dance with the City Ballet."
Miss Lina's ten ballerinas—Christina, Edwina, Sabrina, Justina, Katrina, Bettina, Marina, Regina, Nina, and Tony Farina—are thrilled by the chance to be in the City Ballet's production of Sleeping Beauty. But when nervous Regina is given the undesirable part of the rat while all the other girls gets to dance the waltz, she starts turning green with envy. If only someone would get sick, she wishes, then she would get to dance the waltz, as well!
About the Author
Grace Maccarone
is a children's book editor and the author of many books for young readers, including
Miss Lina's Ballerinas
, illustrated by Christine Davenier, and the First Grade Friends series, illustrated by Betsy Lewin. She lives in Westchester, New York.
As a young girl growing up in Tours, France, Christine Davenier loved listening to her older sister read fairy tales aloud. But she frequently found herself wondering, What does the princess's beautiful dress look like? or How exquisite are her jewels? Christine was left to her own imagination, for the books had few illustrations. So it comes as little surprise that today, Christine embraces her career as an illustrator. "I'm thrilled to have the opportunity to create the illustrations I dreamed about seeing as a child," she says.
When Christine was fourteen, she received her first box of watercolor paints, a gift from her grandmother. That was the beginning of many afternoons spent painting together in her grandmother's garden. "My grandmother was an extraordinary woman," Christine says. "Even though she worked in an office all her life, she was an artist through and through. She shared everything she knew about color—in painting and in life. Her wisdom and talent still inspire me today."
She has illustrated many picture books, including Sally Jean, the Bicycle Queen by Cari Best. She lives in Paris, France.
Praise For Miss Lina's Ballerinas and the Wicked Wish…
"Applause for another lovely production from the author-and-illustrator duo." —Kirkus
"Davenier's fluid brushstrokes are still a lovely match for Maccarone's alliterative verse. It's an empathic and gently humorous story about a challenging emotion, delivered with a hint of Bemelmans's Madeline stories--and of magic." —Publishers Weekly
"Davenier's appealingly impressionistic, Madeline-inspired illustrations dance across the pages in scenes of full-bleed spreads to spot art. Maccarone's back matter includes a list of ballet terms with definitions and pronunciations and a plot summary for the Sleeping Beauty ballet." —School Library Journal