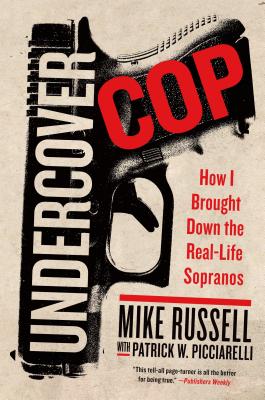 Undercover Cop
How I Brought Down the Real-Life Sopranos
Hardcover

* Individual store prices may vary.
Other Editions of This Title:
Hardcover, Large Print (11/28/2013)
Description
One moment, New Jersey state trooper Mike Russell was working undercover, playing the role of an up-and-coming mobster hoping to infiltrate a Mafia family crew. The next, he was lying facedown in an alley after being ambushed and shot in the back of the head by a mobster over a dispute.

Russell miraculously healed, and rather than press charges, he maintained his cover. Soon he had a stroke of good luck when he saved a man from an attack by two street thugs. The man he saved turned out to be Andy Gerardo, one of the ranking captains of the Genovese crime family. Quickly earning the trust of his new friend, Russell would orchestrate one of the biggest Mafia takedowns of all time.

Urged by his police handlers, Russell used his cover story---an ex-cop fired for excessive force who now made his living from an oil-delivery business---and street skills to assimilate into the Genovese crime family in New Jersey, ultimately leading to more than fifty arrests of mobsters, corrupt prison officials, and even a state senator. Straddling the thin line between collecting evidence and participating in the very crimes he was leaking to the cops, Russell consistently placed himself at risk—especially when his police handlers disregarded his wishes and his well-being, conducting premature raids on the gangsters. With his marriage suffering and his family in danger, Russell took extraordinary steps to ensure his financial security and safety, demanding better terms from the police and allowing a film crew to document the final moments of the epic bust for a documentary that was later sold to HBO.

A real-life version of The Sopranos, Undercover Cop immerses readers in the colorful yet harrowing trials of a standout cop who faced the mob on his own terms, crippled organized crime in New Jersey, and forever redefined undercover law enforcement.
Praise For Undercover Cop: How I Brought Down the Real-Life Sopranos…
"The book is a whirlwind of suspense, violence and moral ambiguity. The daily grind that reveals the inner workings, language and codes of the mafia are perhaps its most fascinating feature. It feels real, like The Sopranos, but it is both more thrilling and terrifying than any TV show could hope to be." —MrPorter.com

"Russell details his encounters with many notorious figures in New York's 'Five Families' and provides a good sense of the nitty-gritty tradecraft involved in undercover investigations." —Kirkus Reviews

"Billed as a true-crime version of The Sopranos, the story of Russell's violent life as an undercover cop cum trusted associate of the Genovese crime clan in Newark, N.J., has more plot twists than the acclaimed TV series. In fact, Russell predates Tony Soprano and company by a longshot--he was the subject of an HBO documentary that aired in the late '80s, and his is a thrill-a-minute tale. Within the first 20 pages, Russell's taken a bullet to the head, fended off a would-be corpse robber, and stumbled out of an alley to find help. Soon after, he returns to the tough work of weaseling his way back into the arms of the Mafia. Written in a street-savvy style reminiscent of Elmore Leonard and Mario Puzo, the nail-biting narrative moves from one crisis to another as Mikey Ga-Ga--his nom de guerre--infiltrates a profitable crew while rubbing shoulders with capos and bosses, all under intense mob scrutiny. Russell's bravery and professionalism--along with some crucial surveillance--eventually led to the busts of more than 50 "wiseguys" and public officials. This tell-all page-turner is all the better for being true." —Publishers Weekly

"Nobody did undercover better than Mike Russell. His story is grittier than The Sopranos, more volatile than Goodfellas. A must read." —George Anastasia, author of The Last Gangster and The Goodfella Tapes

"Mike Russell is one tough cop. This book is a great read." —the late Henry Hill, subject of Wiseguy, the basis of Scorsese's Goodfellas

"Wonderful details. A bizarre world depicted with such accuracy that several times it made me laugh out loud. A very good read." —Robert Daley, former Deputy Chief of Public Information (DCPI) of the NYPD, author of Prince of the City and Target Blue

"What a nail-biter! Forget the Sopranos, real-life or otherwise. If you're a fan of Donnie Brasco because it actually had a good guy -- the undercover cop -- then this book's for you. Some of Mike Russell's story is so pulse-pounding that the only reason I could read it was, he lived to write the book so it must've turned out okay. This is the story of a cop who really knows, co-written by an ex-cop who can really write. I couldn't put it down." —SJ Rozan, Edgar award winning author of Ghost Hero
Thomas Dunne Books, 9781250005878, 322pp.
Publication Date: August 6, 2013
About the Author
MIKE RUSSELL spent twenty years in law enforcement and is currently the president of Mob Cop Productions, making films and other media about what he knows best. He is the author of Undercover Cop. He lives in Delray Beach, FL.

PATRICK PICCIARELLI is a retired NYPD Lieutenant, Vietnam veteran and private investigator. He is the author of Street Warrior: The True Story of the NYPD's Most Decorated Detective and the Era That Created Him, and other books. He resides in Pennsylvania.