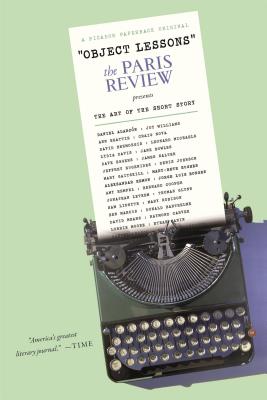 Object Lessons (Paperback)
The Paris Review Presents the Art of the Short Story
Picador, 9781250005984, 368pp.
Publication Date: October 2, 2012
* Individual store prices may vary.
Description
A New York Magazine Best Book of the Year
A Huffington Post Best Book of the Year
Twenty contemporary authors introduce twenty sterling examples of the short story from the pages of The Paris Review.
What does it take to write a great short story? In Object Lessons, twenty contemporary masters of the genre answer that question, sharing favorite stories from the pages of The Paris Review. Over the course of the last half century, the Review has launched hundreds of careers while publishing some of the most inventive and best-loved stories of our time. This anthology---the first of its kind---is more than a treasury: it is an indispensable resource for writers, students, and anyone else who wants to understand fiction from a writer's point of view.
"Some chose classics. Some chose stories that were new even to us. Our hope is that this collection will be useful to young writers, and to others interested in literary technique. Most of all, it is intended for readers who are not (or are no longer) in the habit of reading short stories. We hope these object lessons will remind them how varied the form can be, how vital it remains, and how much pleasure it can give."—from the Editors' Note
WITH SELECTIONS BY
Daniel Alarcón · Donald Barthelme · Ann Beattie · David Bezmozgis · Jorge Luis Borges · Jane Bowles · Ethan Canin · Raymond Carver · Evan S. Connell · Bernard Cooper · Guy Davenport · Lydia Davis · Dave Eggers · Jeffrey Eugenides · Mary Gaitskill · Thomas Glynn · Aleksandar Hemon · Amy Hempel · Mary-Beth Hughes · Denis Johnson · Jonathan Lethem · Sam Lipsyte · Ben Marcus · David Means · Leonard Michaels · Steven Millhauser · Lorrie Moore · Craig Nova · Daniel Orozco · Mary Robison · Norman Rush · James Salter · Mona Simpson · Ali Smith · Wells Tower · Dallas Wiebe · Joy Williams
About the Author
The Paris Review was founded in 1953 and has published early and important work by Philip Roth, V. S. Naipaul, Jeffrey Eugenides, A. S. Byatt, T. C. Boyle, William T. Vollmann, and many other writers who have given us the great literature of the past half century. Some of the magazine's greatest hits have been collected by Picador in The Paris Review Book of People with Problems as well as The Paris Review Book for Planes, Trains, Elevators, and Waiting Rooms and The Paris Review Book of Heartbreak, Madness, Sex, Love, Betrayal, Outsiders, Intoxication, War, Whimsy, Horrors, God, Death, Dinner, Baseball, Travels, the Art of Writing, and Everything Else in the World Since 1953.
Praise For Object Lessons: The Paris Review Presents the Art of the Short Story…
"Hyperinteresting shoptalk from some of literary culture's best shops, and best talkers." —Kathryn Schulz, New York Magazine (Top 10 Books of 2012)
"The stories are indeed varied in their style, as the editors' note promises, but many of them left me with the same feeling: devastation." —The Christian Science Monitor
"Object Lessons [is] my new favorite gift book." —Elizabeth Taylor, The Chicago Tribune
"This thoughtful book will make you look at short fiction with new eyes." —Minneapolis Star Tribune
"As the 'Best American' anthologies begin their annual take-over of bookstore shelf space this month, short story fans should look past those displays to find this collection curated from the archives of The Paris Review." —The Cleveland Plain Dealer
"The editors call this a guide for young writers and readers interested in literary technique, and the book achieves that purpose while also serving as a tribute to the role The Paris Review has played in maintaining the diversity of the short story form. The collection reminds us that good stories are always whispering into each other's ears." —Publishers Weekly
"A compendium of The Paris Review's short story hits, curated with the ambitious, aspiring writer in mind. … Jeffrey Eugenides' discussion of Denis Johnson's "Car Crash While Hitchhiking" captures that story's heartbreak and serves as an essay on the virtues of the form itself. … A smart showcase of a half-century's worth of pathways in fiction." —Kirkus