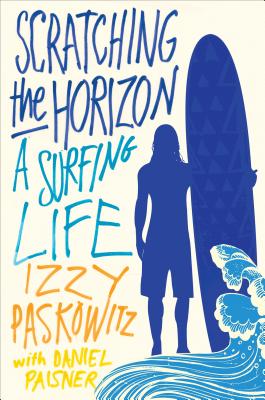 Scratching the Horizon (Hardcover)
A Surfing Life
St. Martin's Press, 9781250006004, 289pp.
Publication Date: August 21, 2012
* Individual store prices may vary.
Description
A bitchin' love letter to sand and sea, and a spirited inside account of life with the "first family" of American surfing
In 1956, Dorian "Doc" Paskowitz stepped away from a successful medical practice and began a lifelong surfing odyssey that grew to include his wife Juliette, and their nine children. Together, the Paskowitz clan lived a vagabonding bohemian existence, eschewing material possessions in favor of intangible riches like health and good cheer . . . all the while careening along the world's coastlines in search of the perfect wave.
In "Scratching the Horizon, " Izzy Paskowitz looks back at his unusual upbringing, and his lifelong passion for the sport that carries his family's stamp. As the fourth-oldest child in a family of inveterate surfers, rock stars, and beach bums, he is uniquely qualified to shine a light on a childhood that has come to symbolize the surfing credo, a reckless young adulthood that nearly cost him his sanity, and a maturing sense of self and purpose that allows him to lift others on the back of his experience.
As the father of a son with autism and the founder of "Surfers Healing," a foundation devoted to expanding the horizons of children with autism through surfing, Paskowitz has found a way to connect the surreal aspects of his childhood to the harsh realities of adulthood, and he shares these discoveries in this wickedly entertaining and transforming memoir.
About the Author
IZZY PASKOWITZ has competed in, and won, dozens of longboard titles, including the 1988 Hang Ten World Championship. He and his wife, Danielle, own and operate the world-famous Paskowitz Surf Camp. They also run the nonprofit organization Surfers Healing, which offers free surfing day camps to hundreds of autistic children and their families each year. Paskowitz lives with his family in San Juan Capistrano, California. DANIEL PAISNER is the co-writer of eleven "New York Times "bestsellers, including Serena Williams's "On the Line" and Denzel Washington's "A Hand to Guide Me," as well as the acclaimed Holocaust memoir, "The Girl in the Green Sweater," with Krystyna Chiger - an international bestseller. He lives in Port Washington, New York, with his wife and three children.
Praise For Scratching the Horizon: A Surfing Life…
"What a great insight into the wild and crazy ride that has been the life so far of Israel- a good and kind man who has carved out a beautiful, meaningful niche in the world of surfing by offering up all he knows to help others."  --Sarah McLachlan, Grammy Award-Winning Singer

"Izzy's story is of man's archetypal yearning for freedom, told from the heart of a surfer who has lived his dreams." --Flea, The Red Hot Chili Peppers
"The Paskowitz family has spent a lifetime sharing surfing with the world and looking after kids (their own and others!).  I'm eternally grateful to them for almost raising my little brother through their surf camp, and now I'm grateful to Izzy for sharing his family's story in these pages.  What a wild ride!"
--Kelly Slater, champion surfer and author of Pipe Dreams: A Surfer's Journey

 "I'm a fan of the Paskowitz family, on all levels, particularly the level of taking children with autism into the water. It's such an obvious, healing place for a kid to be, and if you look at the faces of these kids riding the waves you can feel and appreciate their spirit and their stoke, just coming to life. I vibe with it. I quite simply vibe with what they're doing, and now that I've ready Izzy's book I get it even more. It's such a sweet, sick, crazy life, and Izzy's set it all down and let us know his story in such a raw, honest, funny way. His book completely rocks." --Anthony Kiedis, The Red Hot Chili Peppers and author of Scar Tissue

"A true, never-ending adventure. The sort of story that inspires. The sort of message that will make you want to take a good, hard look at your own life. After all, Izzy's story is the stuff of legends. You can't make this shit up."
--Eastern Surf Magazine
or
Not Currently Available for Direct Purchase