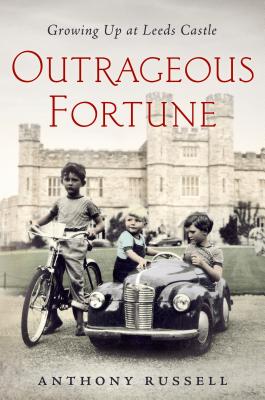 Outrageous Fortune (Hardcover)
Growing Up at Leeds Castle
St. Martin's Press, 9781250006011, 320pp.
Publication Date: November 26, 2013
* Individual store prices may vary.
Description
In his stunning memoir, Outrageous Fortune, Anthony Russell takes us inside his childhood growing up at Leeds Castle, with luxury and opulence few can imagine, and how he found his way in a changing society.

"I was lucky with lineage. Money, and lots of it, appeared to grow on trees, especially those which adorned the Leeds Castle parkland. Ancestors with glowing titles and extraordinary accomplishments filled the history books, but there would be consequences for being handed everything of a material nature on a plate, with no clear indication of what one might be expected to do with such good fortune."
Leeds Castle has long been hailed as the loveliest castle in the world. Originally built in the twelfth century as a Norman stronghold, the castle once housed Kings and Queens, but fell into disrepair for nearly a century, until Anthony Russell's grandmother, Lady Baillie, purchased it in 1926 and restored the fortress to its former glory. It was in the castle's fairytale setting, surrounded by a moat and acres of sprawling grounds, that Anthony spent his childhood in the 1950s.
It was a life of spectacular beauty and privilege, but for a shy boy often lonely and fraught with the fear of breaking some unwritten rule of the Castle Way. As Anthony reveals in his extraordinarily vivid and frank memoir, such a childhood was perhaps not the best preparation for modern life beyond the castle's walls. By the end of the 1960s, the polite reserve of the Castle Way was starting to give way to unconventional music, manners, and social freedom-simultaneously alluring and alarming to a young man who had grown up in splendid isolation in a world that would soon be gone.
About the Author
ANTHONY RUSSELL was educated at Stowe School, England. For more than five hundred years his family has served kings and queens of England as ministers, privy counselors, generals, and prime minister. He was raised at Leeds Castle, Kent, where his childhood was centered around the feudal world of his very rich grandmother, Lady Baillie, with occasional excursions to the much less grand castle of his other grandmother, Lady Ampthill, in Ireland. A writer, musician, and a composer, he currently divides his time between Los Angeles, California, and France. He is the author of Outrageous Fortune: Growing Up at Leeds Castle.
Praise For Outrageous Fortune: Growing Up at Leeds Castle…
"Well-observed...Wealthy Britons are so entertaining to read about..." —The New York Times Book Review
"Outrageously entertaining." —Examiner.com
"Anthony Russell reflects with sensitivity and precision on the opulence and grandeur of his childhood, lived in the serenity of two of the most beautiful castles in the British Isles." —Anjelica Huston, Academy Award–winning actress and author of A Story Lately Told: Coming of Age in Ireland, London, and New York
"A beautiful account of a boy's life behind castle walls, sometimes shocking, sometimes serene. Anthony Russell gives us a delightful insight into a world of vast wealth and privilege that is about to change forever. I loved every minute of getting to know the highly dysfunctional characters who magically appear at certain times for drinks, drinks and then more drinks." —Jeff Lynne, musician/record producer
"Anthony Russell's grandmother left an immaculate and beautiful legacy for the nation in the shape of Leeds Castle. But Anthony himself has improved upon that legacy, by injecting into it life, human interest and a fascinating insight into the way in which the family used the castle, in a memoir which engages and delights in equal measure." —Victoria Wallace, CEO Leeds Castle Foundation
"It takes time for a book to be accepted as a classic, but I am sure Anthony Russell's will be. The book might have been entitled, with a nod to Russell's grandmother's friend Noël Coward, Poor Little Rich Boy--for who else has had the experience of being brought up in unimaginable luxury while not receiving lavish attention? And who, if he had that that experience, would be capable of writing about it a little masterpiece like Outrageous Fortune?" —Bevis Hillier, author of Art Deco Style
"A few years ago, while filming the DVD for my 'Castles in the Air' concert at Leeds Castle, I decided to stay at the castle overnight and invited my family and friends to join me for dinner in the huge dining room there. I wanted us to get a glimpse of a way of life from a bygone era. How I wish I had read "Outrageous Fortune" before that night! This book is full of humorous and interesting personalities and anecdotes that made the castle and its past come alive! Ducks being 'launched' down a ramp and into the lake. Parrots being flown into England in first class! Even a 'virgin' birth?? Anthony not only brings the castle's past to life, but also shows the 'humanity' of Aristocracy." —Sir Cliff Richard, recording artist